Trump Maintains Presidential Tradition, Leaves Behind Letter for Joe Biden
Donald Trump bucked tradition on his last day in office by not attending the inauguration, but he did leave a note for incoming President Joe Biden.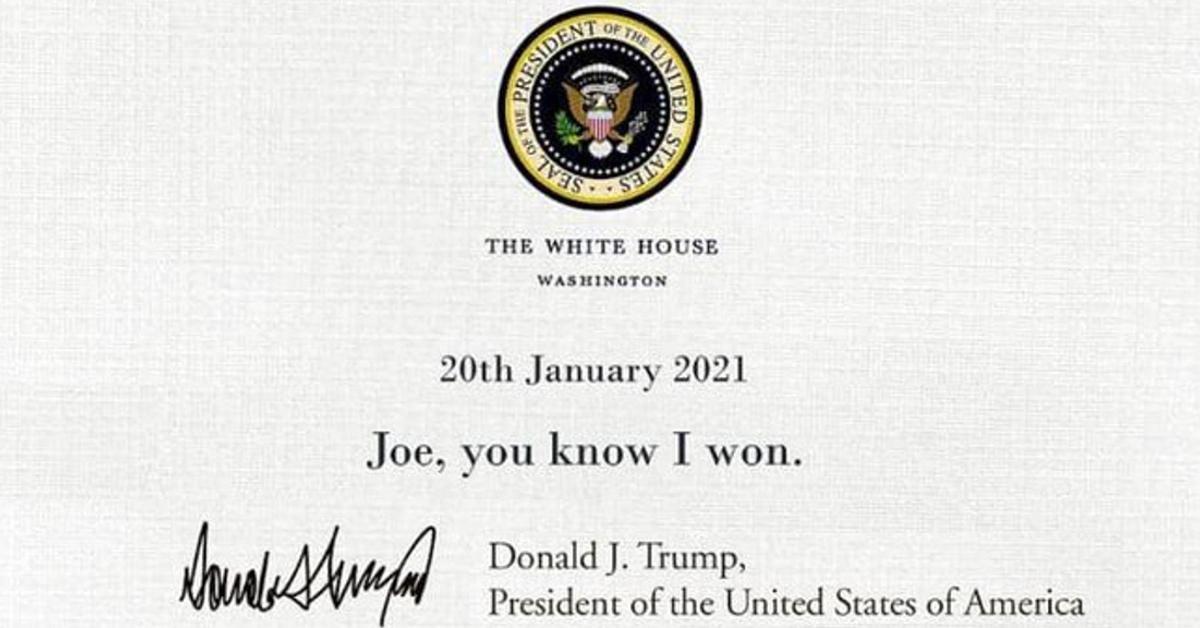 The 2020 presidential election culminated in shocking violence fueled by accusations of voter fraud that were found to be ultimately unfounded. Court proceedings ultimately saw the fraud cases thrown out, even though President Trump maintained that false votes were the key to his defeat in battleground states across the country.
President Trump never conceded the election and bucked tradition by refusing to attend Biden's inauguration. Many want to know if he partook in another presidential tradition and wrote a letter to Biden.
Article continues below advertisement
Did Donald Trump leave a letter to President Joe Biden? Yes.
The news that Trump decided to leave a letter on Biden's desk came as a surprise to many, considering that there were reports from several news outlets he wouldn't partake in the same traditions that other presidents participated in.
For starters, it became known shortly after the electoral votes were officially counted that Trump didn't plan on attending Biden's inauguration ceremony and would instead depart from the Oval Office before the ceremony.
Article continues below advertisement
He also didn't arrange a personal visit with Biden and his wife, as is par-the-course between past presidents, and Melania didn't meet with Dr. Jill Biden to give her a tour of the White House, a longstanding tradition between First Ladies.
The only "passing of the torch" tradition that Trump did partake in, it seems, was the customary letter from president to president.
Article continues below advertisement
What Did Trump's letter to Biden say? As of now, that's still under wraps.
While it's not known what was contained in the letter that Trump wrote to Biden, as these are often secret communications from leader to leader, we do know the contents of several letters that were exchanged between previous presidents.
George Bush Sr. wrote to Bill Clinton, upon welcoming him into the White House, "Your success is now our country's success. I am rooting hard for you," Bush wrote.
Barack Obama left a letter to Donald Trump, imploring him to try to keep the "instruments of our democracy at least as strong as we found them."
Mike Pence also left a letter behind for Kamala Harris, as his vice presidential successor.
Article continues below advertisement
And the "Joe, you know I won," letter is actually a meme, not the official letter.
While many people got a laugh out of the idea that Donald Trump would maintain that he still won the election after Joe Biden was declared the next President of the United States, and an official-looking piece of White House correspondence is actually floating around the internet, there's nothing to suggest that this is the actual letter Donald Trump left behind for Joe Biden to read.
Article continues below advertisement
And while the content of Trump's letter to Biden hasn't been revealed, many are pointing out the "childish" letters that the 45th President had left for journalists in the past and hoping that his note to Biden is nothing like those messages.
Article continues below advertisement
If you're hoping to see the contents of the letter, there's a good chance it might make headlines at some point, considering that it was only a matter of time before previous presidential correspondence was made available to the public.