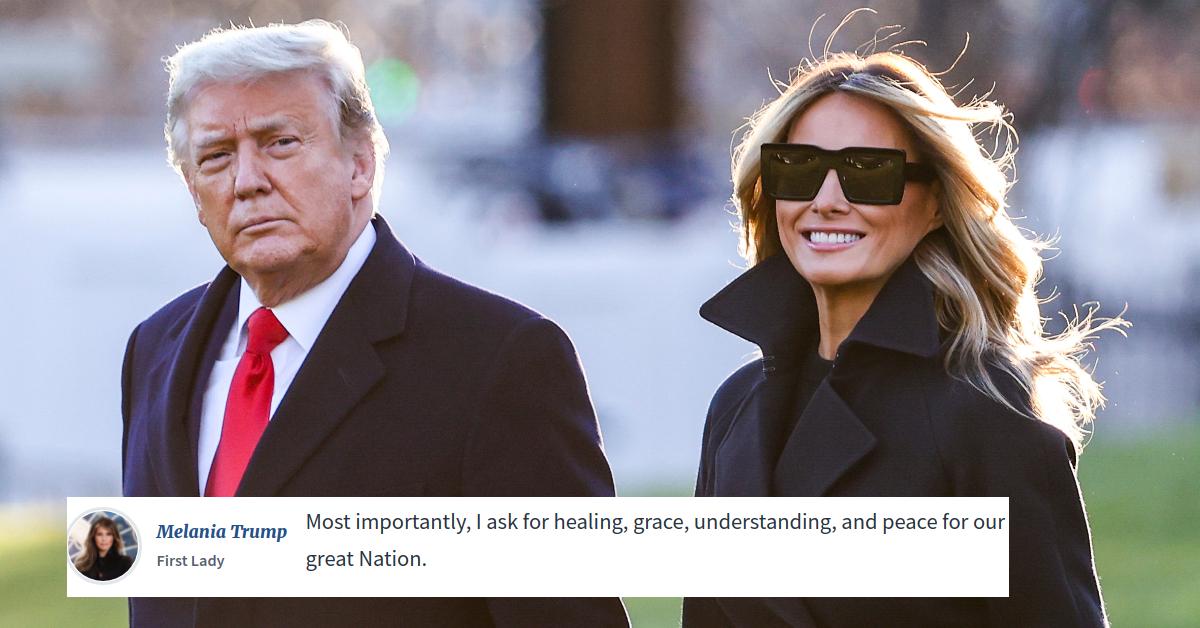 Melania Trump Condemns Capitol Riots, Racism in Farewell First Lady Letter
To call the four years of Donald Trump's presidency controversial would be an understatement. While the world of politics has always been filled with shady, underhanded tactics and personal attacks on people's characters, the events leading up to Trump's presidency and his time in office have seemed to shift the U.S. political landscape even further into extremist territory.
Several days after the violent protests from Trump supporters at the Capitol building, First Lady Melania Trump released a letter condemning the violence.
Article continues below advertisement
In the letter, Melania Trump condemned the violence at the Capitol riots.
She also condemned racism and asked for Americans to unite: "I implore people to stop the violence, never make assumptions based on the color of a person's skin or use differing political ideologies as a basis for aggression and viciousness. We must listen to one another, focus on what unites us, and rise above what divides us."
Speaking specifically about the riots, Melania Trump listed six separate people involved with the Capitol Building riots who died: "Most recently, my heart goes out to: Air Force Veteran, Ashli Babbitt, Benjamin Philips, Kevin Greeson, Roseanne Boyland, and Capitol Police Officers, Brian Sicknick and Howard Liebengood. I pray for their families comfort and strength during this difficult time [sic]."
Article continues below advertisement
Howard Liebengood, age 51, committed suicide days after being on duty during the Capitol riots. "His death is a tragedy that has deprived all of us a dedicated public servant. His family has suffered a devastating loss and asks that they be given space to grieve in private," Barry Pollack, Liebengood's family lawyer, told BuzzFeed News.
Mitt Romney shared words of kindness on Twitter in honor of Officer Liebengood, along with other members of Congress and Capitol employees.
Article continues below advertisement
Article continues below advertisement
Officer Brian Sicknick was pepper-sprayed and taken to the hospital following the Capitol riots. He texted his family that he was fine and in good spirits but soon suffered a stroke while under the hospital's care and was placed on a ventilator. He died before his family could make it from New Jersey to DC to see him.
Many feel that Melania Trump's letter failed to acknowledge the part her husband and his supporters played in the unconscionable violence that resulted in multiple deaths.
Melania Trump's letter has been the subject of criticism on social media.
Some have questioned the sincerity of Melania Trump's messaging in the letter, pointing out the fact that while she condemned the actions of the Capitol rioters and urged Americans to unite and "heal," she immediately pivoted to take the opportunity to castigate her critics and defend herself from "false misleading accusations."
Article continues below advertisement
While many questioned Melania's motives and messaging, there were others who applauded her letter and thanked her for her service.
Article continues below advertisement
But there are many harsh critics who weren't so grateful for Melania's thank you letter. Some called it "self-serving" and don't believe that she adequately condemned the actions of the Capitol rioters.
Article continues below advertisement
Article continues below advertisement
Article continues below advertisement