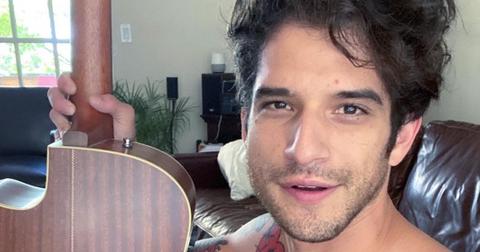 'Teen Wolf' Star Tyler Posey Is the Newest Celebrity Addition to OnlyFans
By Katie Garrity

Sep. 28 2020, Published 7:26 p.m. ET
Since the creation of the "exclusive content" website OnlyFans, celebrities have slowly been making their way onto the site to create their own profiles. OnlyFans, typically known for the allowance of explicit, adult content, has gained major traction in recent months when celebrities like Bella Thorne and Aaron Carter joined in on the action.
Article continues below advertisement
Another celebrity is getting in on the OnlyFans fun and fans are going wild. Teen Wolf star Tyler Posey recently announced that he joined the OnlyFans family.
Tyler Posey announced his OnlyFans with a naked serenade.
When Tyler Posey's OnlyFans account was announced on his Instagram page, he decided to sing a song to fans to celebrate the new venture. Tyler performed the diddy while sitting naked on a stool, with an acoustic guitar covering his unmentionables. "Welcome to my OnlyFans, I play guitar in my bare ass," he sang. "Hang with me, we'll be best friends. It's my OnlyFans."
Article continues below advertisement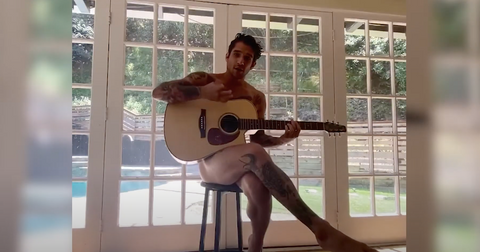 The 28-year-old actor decided to join the platform to connect more with his fanbase. "I noticed many of my fans commenting on my Instagram photos saying that I should join OnlyFans," he shared in a press release.
Article continues below advertisement
He adds, "I saw it as a really cool opportunity to get even closer with my fans and be more real with them. I get to talk about things on OnlyFans that I maybe wouldn't get to otherwise and connect with more people like me. I want to accomplish creating unique content and collaborating with my friends to bring a fun experience to my fans."
Article continues below advertisement
According to Tyler, fans can expect to see never-before-seen photos and videos, alongside teaser clips from music, film, and TV projects he is working on, as well as other exclusive content that will only be available on his OnlyFans profile.
Fans have had mixed reactions to the actor's debut on OnlyFans.
While some fans of Tyler Posey are thrilled to see that he has made the leap onto OnlyFans, there are a handful of others that see this as a grab for attention — attention that will be taken away from actual sex workers on the website, trying to make a living.
Article continues below advertisement
See celebrities doing Onlyfans doesn't sit right with me... Like what is the reason? You have money. You don't need a side hustle. All you're doing is taking away income from sex workers who actually need it. Bella Thorne and Tyler Posey, I'm talking to your greedy asses pic.twitter.com/BUnEKUmgD1

— ♤ (@thiccgiant) September 28, 2020
One Twitter user wrote, "when will rich celebrities stop joining only fans and taking the platform away from sex workers im so tired of this." Another countered that argument and mentioned that celebrities joining OnlyFans could actually be a good thing for sex workers.
Article continues below advertisement
They tweeted, "This is a great thing. Especially for sex workers. Celebrities who join can eliminate the awful stigma around being on the platform that a majority of creators face. And the exclusion of OFs creators from public platforms such as ig is a real issue. I say bring on more of them."
Tyler joins other celebrities like ex-girlfriend Bella Thorne on OnlyFans.
Tyler joins his ex-girlfriend Bella Thorne, who made her debut on the site in August 2020. She was met with backlash after she cashed in over $1 million in subscription fees. The problem was that many fans criticized her for making it harder for sex workers and influencers to make a living after OnlyFans placed a cap on the amount content creators can charge. Many OnlyFans users blame the cap on the allegations that Bella lied about the kind of content that her subscribers would be paying for.
Article continues below advertisement
Others pointed out how celebrities joining OnlyFans, like Tyler, feels as if they are taking over the platform and "gentrifying" it in a way. With the popularity of the site continuing to grow, the hope is that there will be enough room for everyone to release their exclusive content.