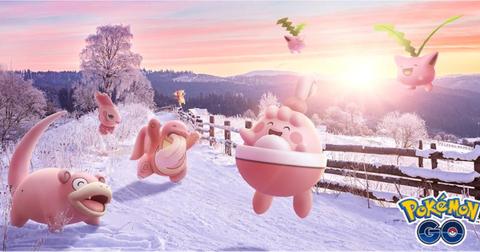 Pink Pokémon Have Taken Over 'Pokémon GO' for Valentine's Day
By Abi Travis

Updated
Happy Valentine's Day! Love is in the air and there are pink Pokémon all over the dang place in Pokémon GO! Best holiday ever, right? If you're hoping to fill your Pokédex with all the cutest critters, you're in luck. Here's a guide to this year's Valentine's Day Event in Pokémon GO.
This Valentine's Day, 'Pokémon GO' will be filled with a bunch of pink Pokémon.
There will also be a Raid Day to celebrate Valentine's Day weekend.
On Saturday, Feb. 15, Pokémon GO will host a Raid Day featuring Lickitung. Between 2 p.m. and 5 p.m. local time, trainers will have an increased chance of meeting Likitung that already know Body Slam during four-star raids — you might even encounter a Shiny Lickitung. Keep in mind that if you need a Raid Pass, you can get up to five of them for free by spinning Photo Discs at Gyms.
And don't forget about the event-specific Field Research Tasks!
So far, we know about five Field Research Tasks that are specific to Valentine's Day weekend:
Evolve a Hoppip for a Cherubi encounter.
Defeat Team GO Rocket for a Chansey encounter.
Catch five Slowpoke or Whismur for 1,000 Stardust.
Hatch three eggs for a Lickitung encounter.
Catch 14 Luvdisc for an Alomomola encounter.
How long does the Valentine's Day Event last in 'Pokémon GO'?
The event will be ongoing from Friday, Feb. 14 at 8 a.m. to Monday, Feb. 17 p.m. (local time). That means you can seek out pink pocket monsters all weekend! If you happen to have a partner who also enjoys playing Pokémon GO, voila! Your whole Valentine's weekend is already planned! Nothing says "I love you" like a herd of pink Pokémon, right?