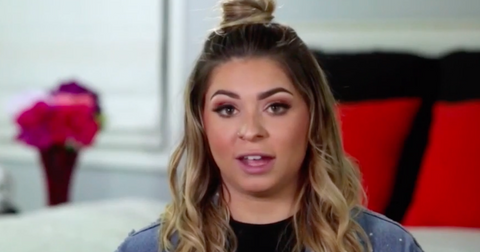 Victoria Caputo's Wedding Is Shaping up to Be an Elegant Affair
By Michelle Stein

Updated
Theresa Caputo's daughter is all grown up — and getting married! At this point, the 25-year-old daughter of the Long Island Medium star has been engaged for the better part of a year. The wedding planning is still full speed ahead, judging by social media updates. And from the looks of it Victoria Caputo's wedding is shaping up to be an elegant affair.
On Saturday, Jan. 11, fans will get a glimpse of Victoria's wedding gown on Say Yes To the Dress. (The episode airs at 8 p.m. ET on TLC.) Victoria paid a special visit to Kleinfeld Bridal in New York City back in May.
A December episode of Long Island Medium already featured part of the bride-to-be's journey picking the wedding dress of her dreams. It also included her famous mom, Theresa, according to an Extra TV sneak peek — and unsurprisingly, the medium couldn't make it through a visit of her daughter trying on wedding gowns without doing a spiritual reading.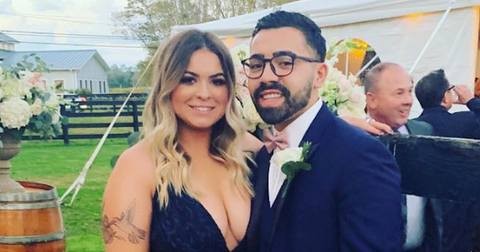 Who is Victoria's fiance?
Victoria and Michael Mastrandrea started dating back in July 7, 2017. Since then, both of them have posted regular Instagram updates featuring them as a couple. (Fun fact: Aside from their mutual love for one another, they both appear to have an affinity for tattoos.)
In February 2019, Theresa announced her daughter had become engaged to boyfriend Michael Mastrandrea. "So this HAPPENED! Victoria's ENGAGED," the Long Island Medium star wrote on Instagram at the time. "Congratulations to my beautiful baby and her future husband Michael. Let the planning begin!"
On May 27, the bride-to-be posted shots from their engagement party. And honestly, it looks like everyone had a blast celebrating their upcoming nuptials. "Can we have a redo please?" Victoria captioned the Instagram post, also declaring, "Best night ever."
When is Victoria getting married?
The Long Island Medium and Say Yes to the Dress episodes may have aired recently — but in real life, it was actually before her engagement party that Victoria paid a visit to Kleinfeld Bridal in New York City. On May 16, Theresa took to Instagram with photos of herself and Victoria, declaring, "Vic said YES to the DRESS!! Thank you to Ronnie and everyone at @kleinfeldbrida for such an amazing day."
For the most part, it seems Victoria hasn't been a "bridezilla" when it comes to planning her nuptials, as Theresa told Extra in May. "The wedding planning has begun," the mother of the bride declared. "Victoria just knows what she wants and it always works out. Nothing crazy, very laid back... I have taken such a back seat. I said whatever she wants, within reason ... and she is sticking to it."
As for the date she'll be walking down the aisle? That information hasn't been announced. And it's probably safe to assume the Caputo family won't be shouting the details out to the general public until after the ceremony. However, in a September 2019 Instagram post, Victoria shared her wedding would be "in a year," according to Heavy. So it looks like a fall 2020 wedding date wouldn't be out of the question.
Judging by photos from the engagement party — including the beautiful dress Victoria wore for the event — Theresa's daughter's upcoming wedding is shaping up to be an elegant affair. (Granted, viewers will have a better idea of what the bride-to-be's wedding vibe will be on Say Yes to the Dress.) Whatever look she chooses, we're sure Victoria will look absolutely stunning on her big day.