A Massive Video Game Bundle Is Being Sold on itch.io to Support Ukraine During the Crisis
A massive video game bundle is being sold for incredibly cheap to raise funds to support Ukraine. The country has been under siege for several days.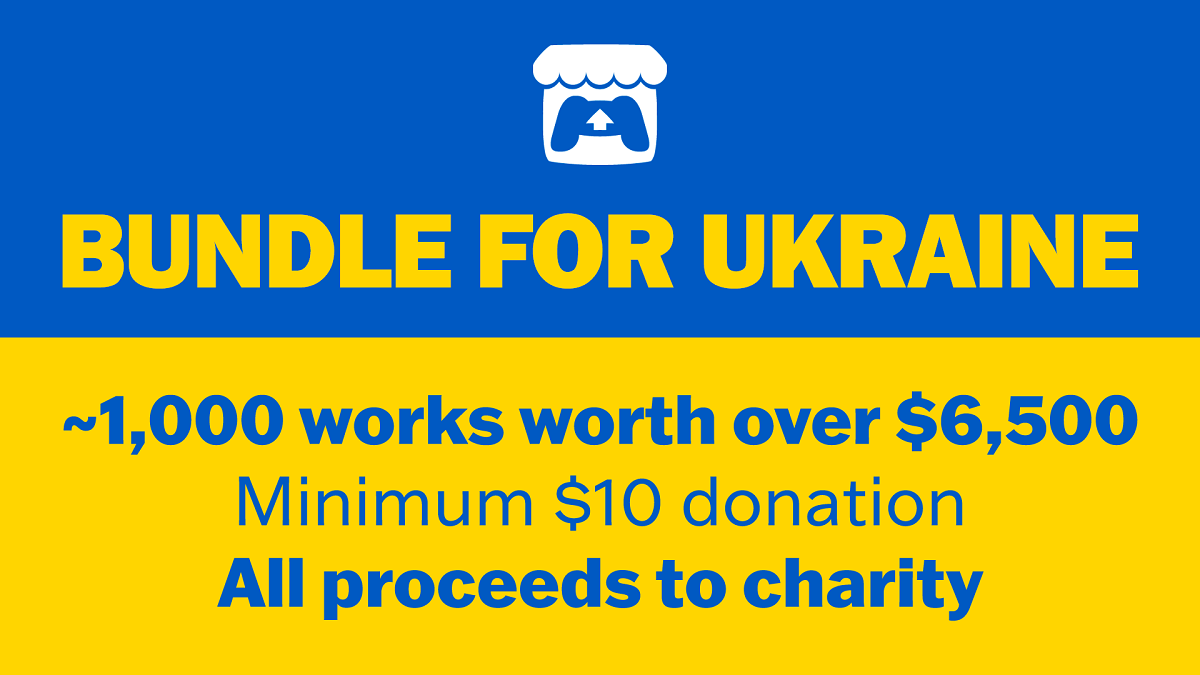 As the country of Ukraine continues to struggle under the ongoing Russian invasion, millions of Ukrainian citizens have fled their homes in order to escape the attacks. With so many people displaced and struggling to find safety amidst this historic crisis, people from all over the world have been pouring in donations to support the relief and evacuation efforts in the area. On itch.io, you can even buy a massive video game bundle to support Ukrainian citizens.
Article continues below advertisement
Russia's invasion of Ukraine has received worldwide condemnation as the effort to help Ukrainian citizens goes global. NPR recently reported that more than 2 million people are fleeing their cities as part of a mass evacuation. Aside from regular donations, people from around the world have taken a stand to defend Ukraine in several ways. Some have even booked Airbnbs in the region to support citizens living in disaster areas. itch.io also plans to support Ukraine with their new collection.
Article continues below advertisement
You can buy a massive video game bundle on itch.io to support Ukraine.
itch.io is an open digital marketplace for indie developers to share and sell their video games. Creators are able to set their own prices, design their own pages, and even adjust their sales pitch to get their game on the market. This open platform makes itch.io incredibly conducive to creating bundles to aid various relief efforts. The site has previously hosted relief bundles in response to disasters like Hurricane Ida in Louisiana. Now, there's a bundle to help Ukraine.
The succinctly-named "Bundle for Ukraine" is hosted by Necrosoft Games and features content from over 733 creators on itch.io. The official listing reads: "As game developers, we want to create new worlds, not to destroy the one we have. That's why we've banded together to present this charity bundle to help Ukrainians survive this ordeal and thrive after the war ends." The proceeds from this bundle will go toward International Medical Corps and the Voices of Children support organization.
Article continues below advertisement
The bundle includes 992 items in games and content, which means a whole lot of games going toward an enormously good cause. You can buy the $6500+ bundle for as little as $10, but the hosts urge customers to pledge what they can as part of their donation effort. You can essentially name your own price as you decide what you're able to contribute to Ukrainian relief. As of writing, the Bundle for Ukraine has raised over $2.7 million as they attempt to reach $4 million in donations.
The bundle includes literally hundreds of games across several genres. It even features popular indie hits like the first-person action game Superhot and the award-winning puzzle game Baba Is You. With almost a thousand games in this bundle, there's something in here for everyone to play. Even if you don't have the time to play them all, your donations will certainly help the relief effort in Ukraine.
The Bundle for Ukraine will be available until Friday, March 18.