Little Kid Snatches and Eats Every Ingredient While Cooking With Mom in Viral Videos
Cooking With Cade is about to be your new favorite cooking show. Not much cooking gets done, but Cade is adorable.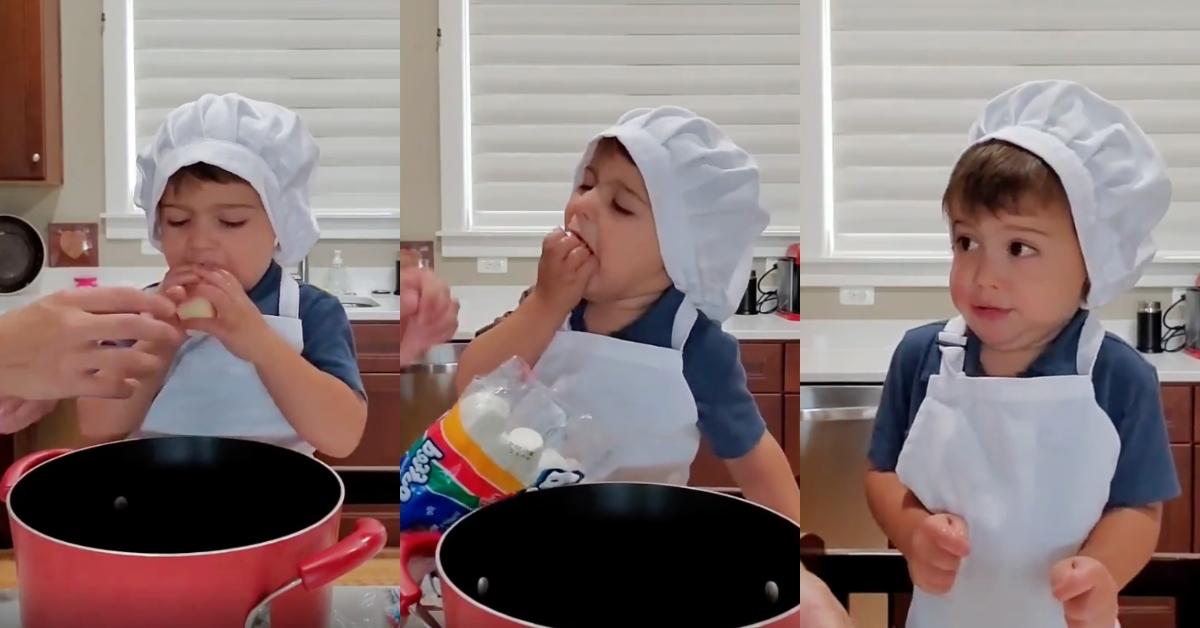 Most cooking shows show you how to make a dish step by step. They're clear and authoritative and calming to watch. Cooking With Cade is not most cooking shows.
Article continues below advertisement
Cade is a toddler who loves to cook, and by cook I mean snatch all the ingredients away from his (very patient) mom and shove them in his mouth before they make it into the mixing bowl. The internet absolutely lost it over the videos of Cade cooking, and for good reason. They're hilarious and adorable.
Article continues below advertisement
The kid shoved a whole stick of butter into his face! I just cannot deal. And neither can the rest of the internet. "Your little son brings me so much joy," someone wrote on Instagram. "I absolutely love watching those videos. They crack me up."
"To be fair, this is also me and butter," another person wrote. Cade is nothing if not relatable. Cade and his mom, who deserves a Nobel Peace Prize for her patience and sense of humor, have racked up 330,000 followers on Instagram. There are tons of videos where the toddler and his mom (and occasionally, his grandma!) cook fun things together. Cade — surprise, surprise — mostly likes the eating part.
Article continues below advertisement
The way he just goes for a handful of sugar and tries to jam it into his mouth is, frankly, admirable. Cade's cooking videos are really just lessons in going for what you want, living your dreams, and being your best self. His faces are priceless. Everything about these videos is the best.
Article continues below advertisement
When the video of Cade and his grandma baking cookies went viral on Twitter, some people couldn't understand the patience his grandma had for his behavior. But lots and lots and lots of parents were basically like, "Anyone complaining about this kid's behavior clearly has never dealt with a toddler before." They don't call it the "terrible twos" for nothing!
Article continues below advertisement
Cade's mom, Christy Hagedorn, told Insider that she originally started posting these videos in order to keep in touch with her parents and sisters, who live in different states. She said "she was shocked when the video gained so much traction, but she also understands why it resonated."
It was the middle of the pandemic; people were trapped at home and unable to see their family and friends, and Cade's video was just a chaotic piece of joy that burst through all the noise.
Article continues below advertisement
As Insider also points out, "The video also lifts the veil on the unique set of challenges working parents of young children have faced since the pandemic hit." Cooking With Cade is pretty much a perfect distillation of what living through 2020 has felt like. And it involves a cute toddler in a chef's hat. What more could we need?
Christy has been stuck at home for months, in charge of teaching and keeping Cade entertained while her essential worker husband is out of the house. In addition to baking, she takes Cade hiking and sets up a water table for him. While he's busy, she takes conference calls and does work from home. "You try and multitask, which no one really can," she said.
Article continues below advertisement
We're all Cade right now. We're all frantically grasping for sticks of butter or other things that make us happy. 2020 has been a rough year! But Cade and his mom have provided lots of laughs, and that's no small feat.