Mary Gibbs, the Original Voice of Boo in 'Monsters Inc.', Is All Grown up Now
The impact that 'Monsters Inc.' has had on a generation of children is indescribable, but where is the voice actor who played Boo in the film now?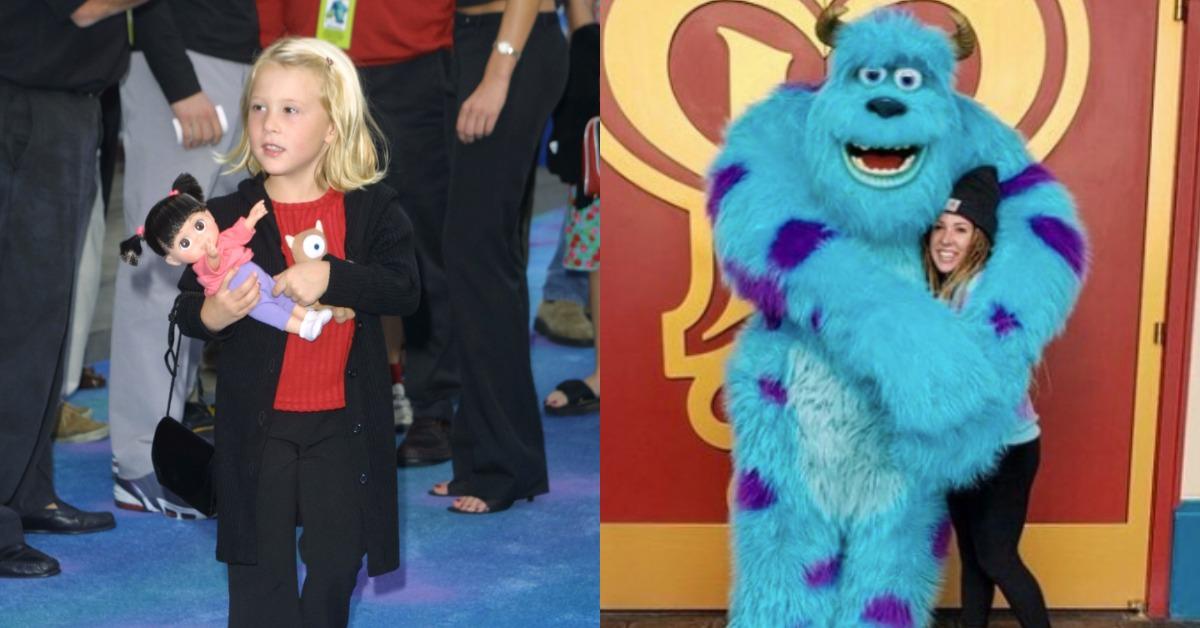 Ever since it first premiered back in 2001, Monsters Inc. has become one of the most popular children's movies of the 21st century. With a classic storyline, lovable characters, and plenty of memorable moments throughout, the film has earned its place in pop culture history.
Article continues below advertisement
Of course, a lot has changed in the roughly 20 years since the film came out, including the lives of many of its stars. Case-in-point: Mary Gibbs, who voiced Boo in the film. When Monsters Inc. came out, Mary was a child just getting started in her career, but where exactly is she now? Keep reading for all of the known details.
Article continues below advertisement
Where is Mary Gibbs, the voice of Boo in 'Monsters Inc.' now?
It has been a long time since Mary was the voice of Boo, but she is still doing pretty well for herself. According to her Instagram, Mary currently works as an event producer for Hyre Fire & Flow Festival, a video jockey for DJs Spaceman and Boo, a cinematographer, and a bodybuilder.
As for her pastimes, it appears that Mary is very much into electronic music, dancing with fire, and working on her fitness. Through vlogs on social media, Mary has also documented one of her most difficult battles in life: a 10-vertebrae spinal fusion from scoliosis back in 2012.
She fought back hard against the physical limitations the surgery imposed on her, and within a year of being operated on, Mary was pretty much back to her old self, deadlifting 250 pounds and consistently in the gym.
Article continues below advertisement
As for her work beyond the original Monsters Inc., Mary took part in a series of video games based on the movie. These included Monsters, Inc. Scream Arena; Mike's Monstrous Adventure; Monsters, Inc. Scream Team Training; and Monsters, Inc. (the video game). She also lent her voice to the creation of the 2015 film Inside Out.
Article continues below advertisement
Mary's journey to becoming the voice of Boo was largely due to sheer coincidence.
Mary, who was born on Oct. 5, 1996, was barely at the age where most would begin riding a bicycle on their own when she was roped into the Monsters Inc. universe. In an interview with The Morning Show in 2020, she explained how it all came to be.
"I have vague memories," Mary explained, noting that her father was instrumental in her taking part in the film. "My dad was a storyboard artist on the movie. Originally, they just needed a little girl to draw. So he brought me in just for that."
However, as time went on, Mary's bit role turned into something much more permanent. "As the movie progressed, they needed someone for scratch dialogue. But the directors thought I was doing great and wanted to try it out for the whole movie."
Article continues below advertisement
Mary was quick to admit that she wasn't a natural when she first entered a sound booth. "From two-and-a-half to three-and-a-half, I was brought into the recording studio and chased around with a microphone," she explained. "If they wanted me to say something specific, a lot of the times the director would use a Cookie Monster puppet to talk to me. They would definitely have to be creative to try and feed the lines to me."
Nonetheless, the series of coincidences that brought Mary and the Monsters Inc. creators together were clearly meant to be, as the young star's voice helped define the movie as we know it today. When it was originally released, Monsters Inc. grossed roughly $800 million at box offices and was so successful that it spawned two short films, a slew of video games, a sequel titled Monsters University, and a Disney Plus TV series.