"Little Clearance Lesson for You" — Walmart Shopper Shares How to Spot Real Clearance Items
A Walmart customer shared how customers can tell if a clearance sticker is accurately reflecting an item's "true" clearance price.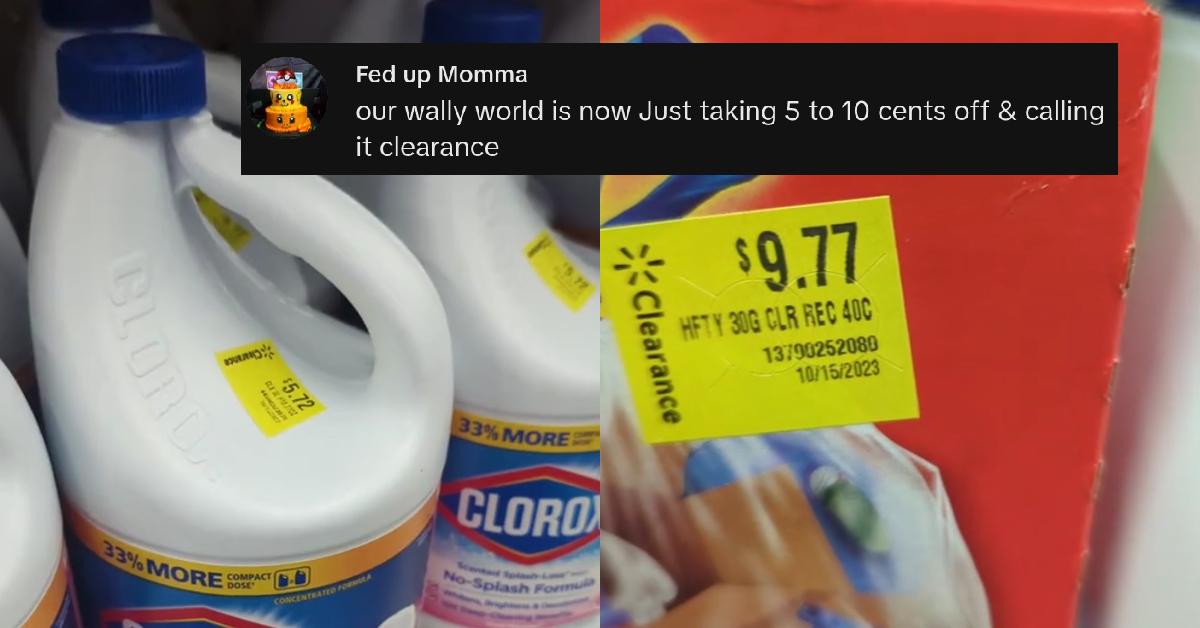 A Walmart shopper shared a handy-dandy little hack to let you know whether or not your local Wally World is trying to dupe you into thinking you're paying the bottom-dollar price for clearance items.
Article continues below advertisement
Psychological research dictates there are throngs of people who simply can't resist the prospect of a good deal and will perform all sorts of anxiety-driven mental gymnastics to coerce themselves into thinking they need to purchase an item for use "down the line" simply because it's priced at such an appealing cost point
Article continues below advertisement
TikToker Celia Cook (@powerpellets) posted a viral clip showing folks how to not get duped by what looks like this type of psychological retail warfare in action, where she shows the distinction between actual clearance price tags and fake clearance price tags.
Article continues below advertisement
In her video, she breaks down that just because a tag is rocking the yellow aesthetic meant to alert that there's a special deal going on and that the word "clearance" is vividly printed on the sticker, this doesn't necessarily mean that the price has changed at all.
Celia begins her TikTok showing off tubs of Clorox bleach which have yellow clearance stickers affixed to them. She says in the clip: "Little clearance lesson for you some Walmarts have this beautiful clearance aisle and if you look at the stickers you will see they're bright yellow make everyone wanna buy them."
Article continues below advertisement
She then swings the camera around to a package of clear hefty trash bags, showing off a price of $9.77. She indicates, however, that Walmart isn't exactly being honest with its clearance pricing.

Article continues below advertisement
"But if you pay attention, this one is not a clearance item that's the regular price. Walmart has just deleted it, it's no longer selling it in the store."
Then, Celia draws her attention to another item, a children's bedding set that shows another clearance item sticker on it that has a singular, important differentiating marker when compared to the sticker on the Hefty box.
That difference is an indication of the clearance items previous price: the bedding set used to be $34.94 — it now sells for $9.00, which is a pretty darn good deal if you're in the market for a twin bedding set.
Article continues below advertisement
"This is what an actual clearance sticker looks like. Notice it has 'was' amount, no 'was' amount, 'was amount,'" she says as she illustrated the differences between the two clearance sticker types before the video cuts out.

Article continues below advertisement
They titled their piece, which received over 12,000 upvotes on the platform, "Stores like Walmart will put items on clearance without reducing price," adding in the body of the post: "Many people don't realize when going into the clearance section of a store like Walmart, they add a yellow sticker that doesn't mention a previous price. This is often to make a person believe the price is reduced but in fact they just want to sell them faster without reducing first."
Article continues below advertisement

One Reddit user who responded to their post wrote that they are a Walmart employee and that this is a standard practice in the location they work in: "Yep. I work at a Walmart. If the yellow sticker doesn't have a 'Was' price on it, then it hasn't been marked down. Usually our 'clearance' sections are just stuff that we don't carry anymore that management is too cheap to actually give a proper markdown."
Article continues below advertisement
Interestingly enough, folks who resided in Sweden and the UK mentioned that this type of misleading pricing practice was illegal in their respective countries.
Commenters who responded to Celia's post also remarked that they've noticed some less-than-savory pricing practices while shopping at Walmart themselves: "as a walmart employee, I'll tell you right now that if someone can't find the right labels they'll use what they can find," one said.
Article continues below advertisement

Another wrote: "our wally world is now Just taking 5 to 10 cents off & calling it clearance"
While, like many other users who replied to her TikTok, another said this clearance sticker mix-up was more than likely a result of employee error: "I work at Walmart. the associate probably was too lazy to get the correct price printer."