Is It True That Aunt Jemima Became a Millionaire? Probably Not
Is there any truth to the popular claim that Aunt Jemima was a millionaire before she died? Here's what we know about the popular figure's legacy.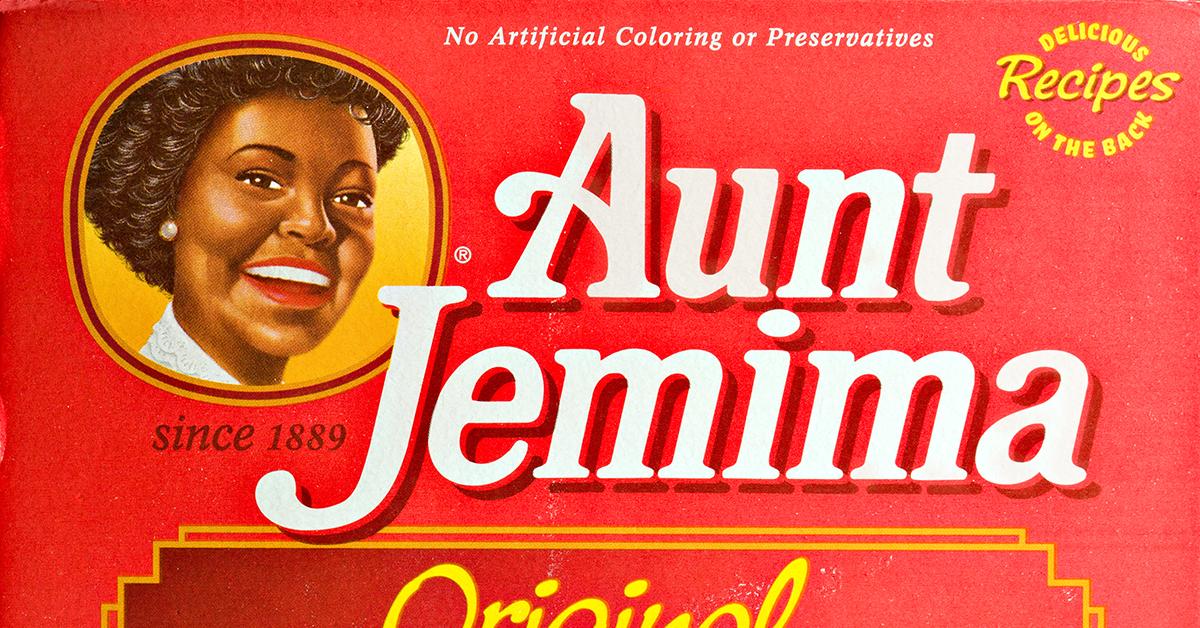 It's encouraging to see that companies are doing something about brands that stem from racist imagery. In the wake of the George Floyd marches, Quaker Oats announced that they would get rid of Aunt Jemima's degrading mammy stereotype, which in turn inspired a wave of companies to change their own problematic brands.
Article continues below advertisement
From Uncle Ben's and Cream of Wheat to Mrs. Butterworth and Land O'Lakes, many would agree that these upgrades are long overdue. But aside from seeing these owners finally hold themselves accountable, another major plus is that more people are becoming aware of the racist history behind these brands.
Article continues below advertisement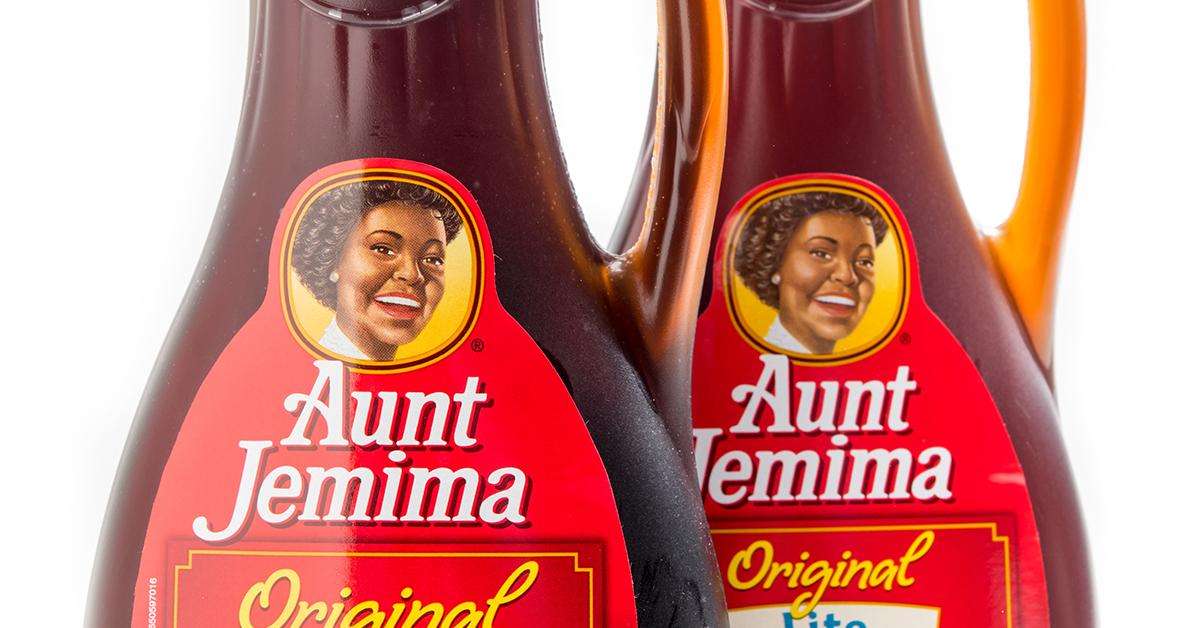 Who exactly is Aunt Jemima?
In the late 1800s, Aunt Jemima wasn't a person, but a popular "mammy" stereotype (or what many consider the female version of the "Uncle Tom" caricature).
Article continues below advertisement
The original character logo was a heavyset, dark-skinned woman with a bright smile and a scarf over her head. But by 1890, the R. T. Davis Milling Company decided to bring this character to life. They hired Nancy Green, a Black woman who looked quite a bit like the character of Aunt Jemima, to be the brand's new spokesperson.
Article continues below advertisement
Before she was dubbed the "Pancake Queen," Nancy was born into slavery in Montgomery County, Ky. She grew up to become a talented cook, storyteller, and activist who fought against poverty. But it wasn't until she turned 56 that she got recruited for Aunt Jemima. She became the first living trademark in the advertising world, and while the recipe that she advertised was not her own, she continued to portray the character until she died in 1923.
Was Aunt Jemima a millionaire?
Several users on social media have been honoring Nancy Green by mentioning her accomplishments, including her missionary work, her activism, and the fact that she made history as one of the first corporate models in America. However, many are also claiming that, due to her Aunt Jemima success, she became one of the first Black millionaires. But is this true?
Article continues below advertisement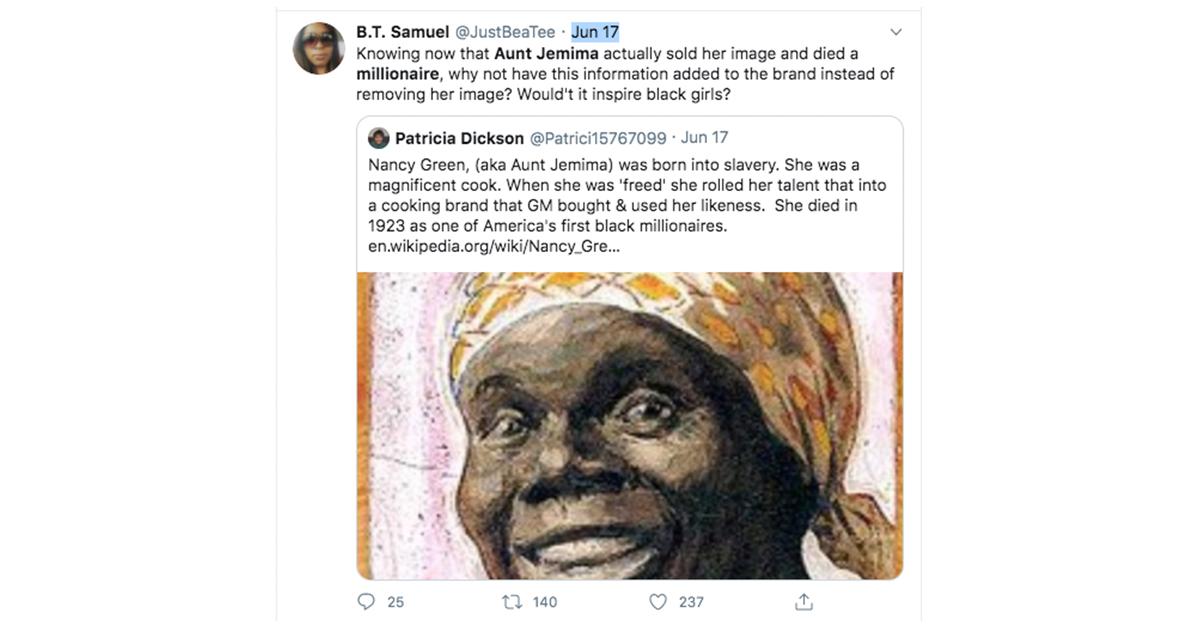 According to the African American Registry, Nancy had a lifetime contract with the brand and she traveled on tours across the country, which led to an increase in sales. She even received a medal and certificate for her success. However, there's no concrete evidence that she got paid for her services.
Article continues below advertisement
It's worth noting that in 2014, PepsiCo got hit with a $3 billion lawsuit by the great grandsons of Anna S. Harrington, another Black woman who portrayed Aunt Jemima in 1935. The suit claimed that while Anna contributed to the brand's success, she and her family never received the compensation that they were promised.
Since Anna was never paid for her work, it seems very unlikely that the woman who preceded her got any compensation. But even if she did, it's possible that she received very low wages due to race and gender discrimination.
Article continues below advertisement
What will become of the Aunt Jemima brand?
On June 17, 2020, Quaker Oats released an official statement to announce that they will be changing the brand in order "to make progress toward racial equality." Although previous attempts were made to make Aunt Jemima less offensive, their changes were not enough.
Article continues below advertisement
Kristin Kroepfl, vice president of Quaker Foods North America, said, "We recognize Aunt Jemima's origins are based on a racial stereotype. As we work to make progress toward racial equality through several initiatives, we also must take a hard look at our portfolio of brands and ensure they reflect our values and meet our consumers' expectations."
Not long after this announcement, other companies also announced that they'd be repackaging their products because of the racist history connected to their brands. It's sad that it took this long to get here, but it definitely feels like a small step in the right direction.