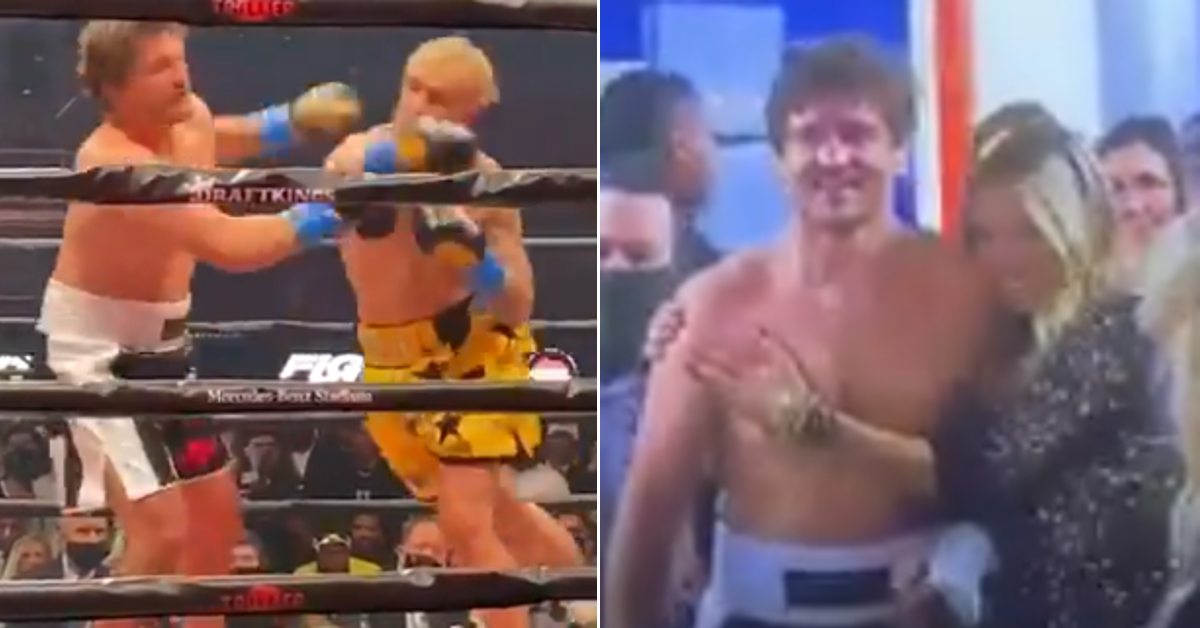 Fans Question Ben Askren's Smiling Post-Fight Pic Against Jake Paul — Was the Fight Fixed?
The fight game is a ruthless business. You can only be knocked out so many times before your physical being is changed forever. Brain damage/CTE is also a very real, harsh reality that tons of former pugilists have to deal with. Just ask Spencer Fisher. And even if you are a successful pro brawler, unless you know how to sell your bouts and fans get behind you, you're not going to make a ton of $$$.
Which is something Ben Askren must've understood in his bout against Jake Paul. People are dying to know: Was their fight fixed?
Article continues below advertisement
Was the Jake Paul fight against Ben Askren fixed? Tons of people think so.
Many believe that Ben was just looking for a payout. It's difficult to blame Ben if that was indeed the case. Askren has a hell of a combat sports resume. The man loves wrestling so much that he decided to get into Mixed Martial Arts so he could make money wrestling, and he's taken a bit of damage over his career in order to live that dream. He secured titles in Bellator and One FC's welterweight divisions, rocking a dad bod and a visible case of hinged hips/levoscoliosis.
In spite of his accolades, Ben isn't necessarily known for his striking acumen.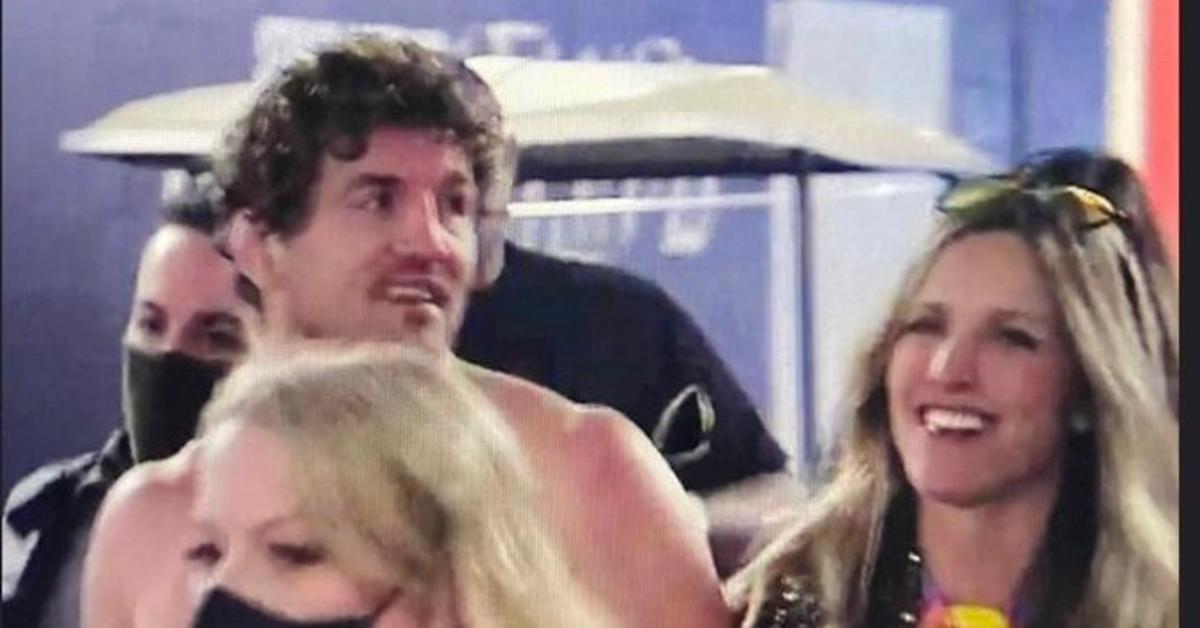 Article continues below advertisement
In fact, his skills have been oft-maligned and ridiculed by other fighters and MMA fans for a very long time. This hasn't really seemed to bother Askren, who's made his in-fight strategy very, very clear: Get the fight to the mat and either secure a submission or get in a dominant position and hit the other person in the head until the ref stops it.
And Askren proved he could easily do that for 25 minutes straight if need be.
However, his tenure in the UFC wasn't as successful as his runs in other organizations. He entered into Dana White's promotion with an undefeated record, which looked like it was going to be compromised in his bout against Robbie Lawler.
A controversial submission victory in favor of Askren against Lawler had fans upset. But they were probably delighted to see Jorge Masvidal put "Funky" on the receiving end of the fastest K.O. in UFC history.
Article continues below advertisement
Ben took the loss in stride, tweeting shortly afterward, "Well that sucked." He'd go on to fight Damian Maia in the UFC, losing a lopsided decision, and he then retired from Mixed Martial Arts competition.
Sometime later, after much-hated YouTuber-turned-amateur-boxer Jake Paul was lobbying for a fight against Conor McGregor, it was revealed his next opponent after former NBA star Nate Robinson would be Ben Askren.
Article continues below advertisement
Who has Jake Paul fought before?
People criticized the fight because Askren, who has arguably some of the worst striking in all of MMA, was another cherry-picked opponent by Paul, who regularly trains boxing with top-level instructors. Paul is also fairly large at 6'1 and 190 lbs., and he routinely fights people he's either bigger than or don't regularly practice/spar boxing, like Nate Robinson (5'9, 180 lbs.) and fellow YouTuber AnEsonGib (5'7, 132 lbs.).
Article continues below advertisement
But many believed that despite Askren's flat-footed fighting style and lack of striking experience, his ability to take hits and go up against legitimately scary kickboxers and boxers across several different MMA promotions would be more than enough for him to win a victory against Paul.
That wasn't the case. Jake Paul clipped Askren with a one-two in the first round that sent Ben to the canvas, and the ref waived the fight after Ben got back up.
The Triller PPV was a tremendous success, securing over 1.4 million buys and gaining more search results and coverage than Wrestlemania 37.
But fans noticed after the bout that Ben Askren was all smiles with his wife Amy by his side. She was hugging him as he walked through the arena. It was hardly the demeanor of a fighter who was embarrassed by a cocky and annoying half-bearded YouTuber.
Article continues below advertisement
This led many people to believe that the fight between Jake Paul and and Ben Askren was rigged.
While Jake Paul seems to have been taking the fight seriously, it appears that after the match, Askren was very, very happy. And it could be because he received a bigger payout from his match against Jake than he made in his entire MMA career, especially if he had someone place a huge bet on him to lose via first-round knockout in a specific minute.
Article continues below advertisement
Obviously betting on yourself to take a dive is illegal, but at the same time, it would need to be proven that Ben took said dive. And their fight being an exhibition-style freakshow style match-up, it probably won't be investigated that thoroughly.
So is it possible that Ben threw the fight? Here's what we do know: He was extremely happy after the fight, and "Funky" isn't the kind of guy who really cares what other people think about him.
Article continues below advertisement
He's shown up to media events/press conferences in flip-flops, gotten under people's skin, been super vocal about his evaluations of other fighters, and made plenty of enemies with his brusque manner of talking and certain aspects of the fight game.
Plus, it's kind of hard to "take a fight seriously" against someone like Jake Paul. Askren taking a dive to lose a fight he probably didn't even train for would be the ultimate troll job.
This could've all been "optics" to get the odds closer in his favor and maximize whatever payout he was presumably trying to bank on. Paul was a -165 to win against Askren, meaning you'd need to bet $165 to win $100 (a 60.6 percent payout).
Article continues below advertisement
How much did Ben Askren get paid to fight Jake Paul?
Ben's salary for the bout was a whopping $500,000, and he could've very easily dropped all of that on a bet to lose against Paul. So what could his ultimate payout have been? Taking into consideration the 60.6 percent profit payout, if Askren just bet all of that on himself to lose, he would've walked away with $803,030 from that one fight alone.
Article continues below advertisement
But if he took things further and placed a specific bet to go down in the first round, within a specific minute, the odds for that would've easily been a 10 to 1 payout, maybe even more.
So Ben could've easily walked away with $5 million or more for inflating a YouTuber's ego and losing a boxing match after saying he hates striking and only ever got into MMA for wrestling anyway.
Plus, his contract may have included PPV points for the match. So there could be any number of reasons why he was smiling so much after the bout. Besides, it's not like he has to prove anything to anyone in the realm of fighting. The dude's got an impressive resume, no matter what you think of him.