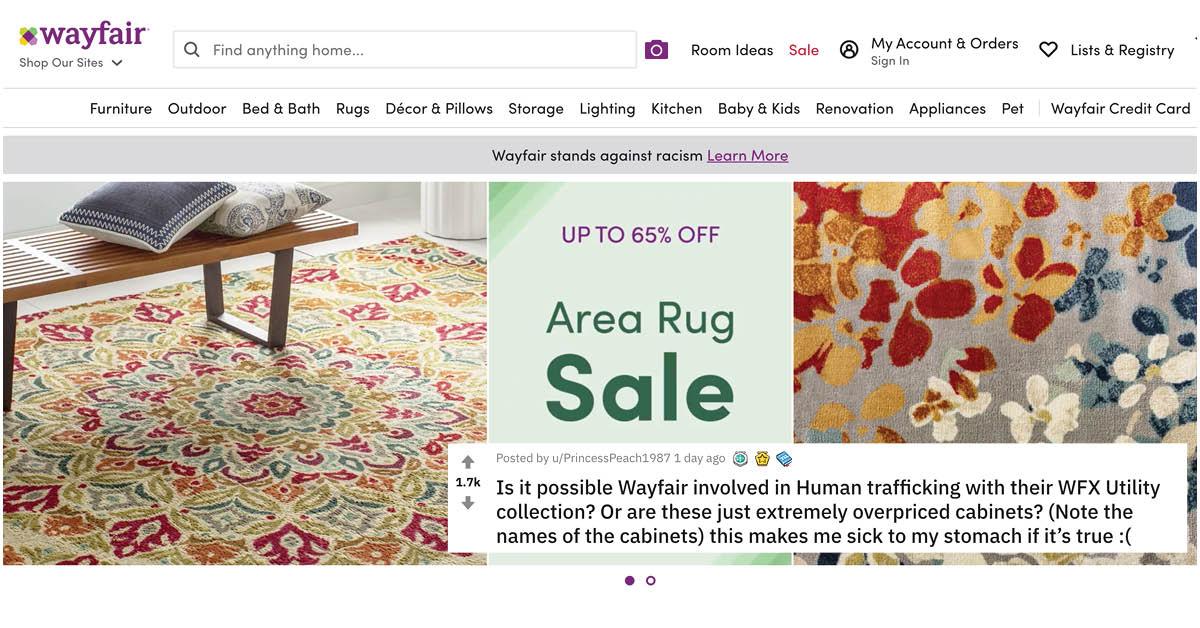 Wayfair Accused of Child Trafficking With Suspiciously Expensive Cabinets and Pillows
Popular online furniture retailer Wayfair is now the target of a conspiracy theory that it participates in child trafficking. On July 10, users on Twitter shared screenshots of some suspiciously priced items on the store's site, claiming it was evidence that the furniture company is participating in child trafficking. This theory originated on Reddit.
Article continues below advertisement
While there is little evidence to back this up, Twitter users have taken the conspiracy as part of the #pizzagate conspiracy, causing Wayfair to trend on Twitter.
This has erupted into many users sharing examples of the furniture on Twitter, claiming the names attached to the products correlate with the names of missing children. Many of these missing children reports were made in 2020.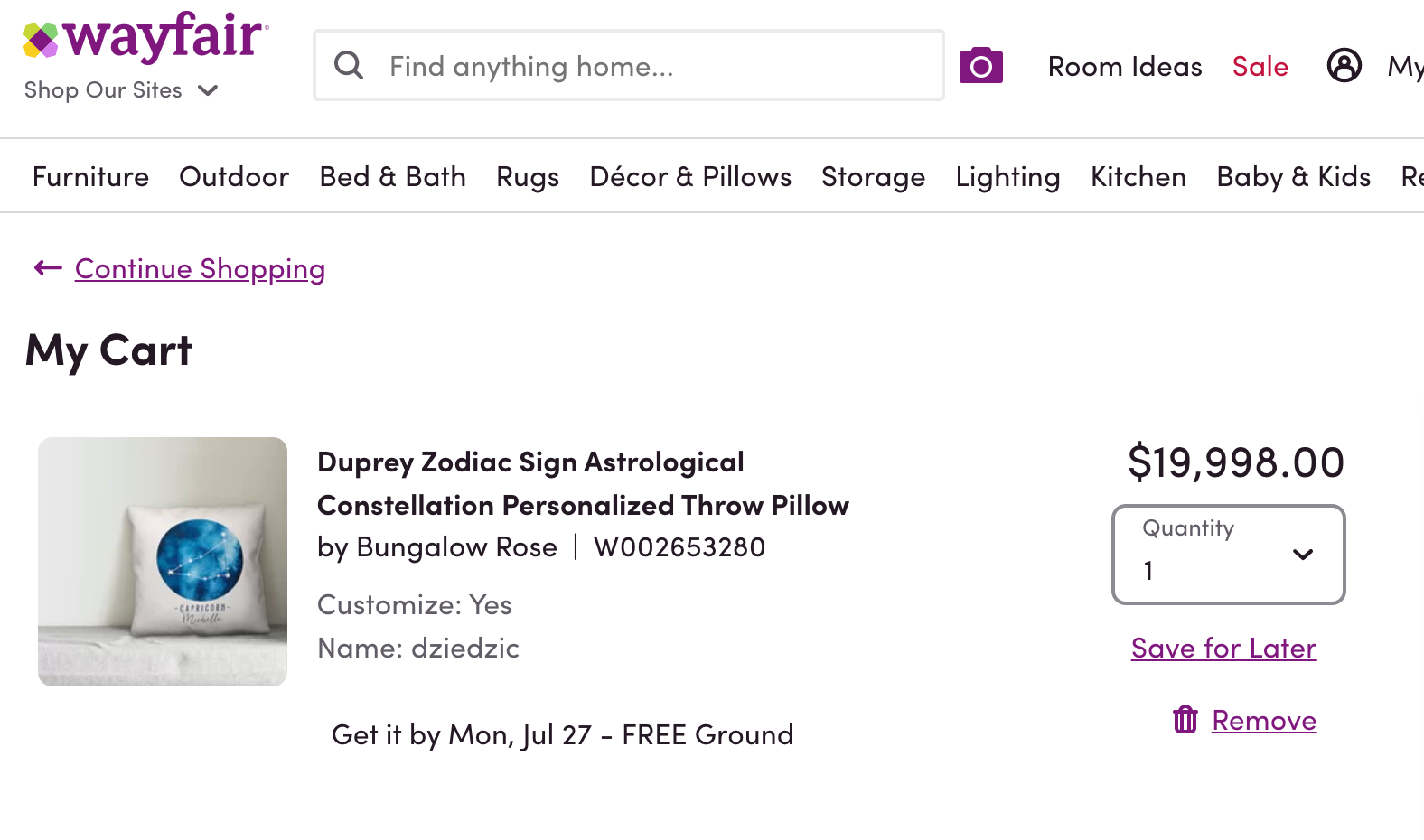 Article continues below advertisement
These Wayfair products allegedly have the names of missing children.
The rumor that Wayfair is participating in sex trafficking started when some shoppers noticed that a few of the items on the site were outrageously priced, specifically some simple five-shelf storage cabinets and throw pillows. Each of these items would cost anywhere from just under $10,000 to $14,000 — a suspiciously high price for a basic piece of furniture.
Article continues below advertisement
In addition to $12,000 storage cabinets and $10,000 throw pillows, users also noticed that many of these items, while appearing to be the same product, had different names attached to them. Names like "Anabel," "Yaritza," and "Samiyah" would precede the products' names, creating different listings for what looked like the same products.
Article continues below advertisement
Twitter users jumped on their suspicions and claimed that some of the names being used for these products correlated with missing children, sharing screenshots of the missing child reports they found online. Many of the products on the site only had first names associated with them, though some claimed it was odd that the more unique names matched missing person reports.
While we can't confirm all of the missing person reports being shared online, certain ones, like "Samiyah," were previously reported missing, but have since been found. Some of the other names are connected with missing children, though we are unable to confirm if they were found.
Article continues below advertisement
Wayfair allows third-party retailers to sell on their website.
Part of the reason why Wayfair has thousands of furniture listings on their site is they allow third-party companies to sell their products using Wayfair's site. Many of these products are listed by the same companies, specifically Bungalow Rose for the throw pillows and WFX Utilities™.
Article continues below advertisement
Bungalow Rose is a decor company that is frequently sold as a third-party product on various websites, like Walmart and AllModern. On these sites, the throw pillows that raised suspicion on Wayfair are not listed, and most of the other products listed are reasonably priced.
According to Justia Trademarks, WFX Utilities™ is a trademark owned by Wayfair, meaning the products are associated directly with the brand.
At this time, Wayfair has not commented on the claims being made about their company online, though some of the products that drew suspicion have since been removed from the retailer's website.