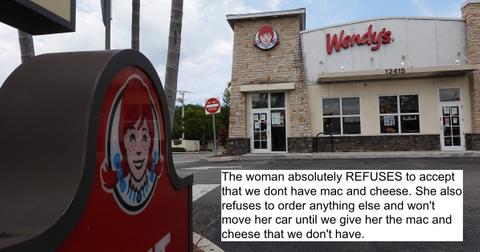 Wendy's Customer Demands to Be Served Mac and Cheese, Gets the Cops Called on Them
By Robin Zlotnick

Updated
"Ma'am, this is a Wendy's," has become a common meme. It's a phrase said when someone makes outrageous demands in the wrong place, where there's no possibility of those demands being met. It doesn't always have to be an actual Wendy's. But in the case of this viral story, it was.
A Reddit user asked fast-food workers to share their moments like these, and one user who used to work at Wendy's responded with a long and crazy story about the woman who demanded mac and cheese and wouldn't leave until she got it. But the thing is, Wendy's doesn't serve mac and cheese.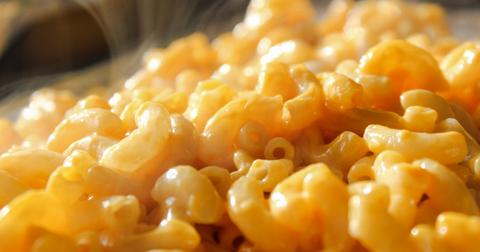 They once had a woman come through the drive-thru at their Wendy's and order mac and cheese. They write, "I politely informed her we did not have that. She insisted we did. I told her we definitely didn't. She got angry and yelled that yes we did."
They went back and forth like that for a while until the employee told her they'd been working there for three years, and Wendy's has never served mac and cheese. "Yes you f--king do!" she yelled back. "I can see it on the menu board. It's RIGHT there right in front of me on the menu."
They tell her that whatever she's looking at on the menu board is not mac and cheese. It just isn't! But she won't accept that answer and says she is not leaving until she gets her mac and cheese. Now, put yourself in this woman's shoes for a second. You think you're seeing mac and cheese on the menu board. The person who works there is telling you the restaurant has never served mac and cheese and that whatever you're seeing isn't it.
Why don't you believe them?! How would it benefit them to lie to you about serving mac and cheese?! If they had it, they'd just give it to you. Clearly, they don't have mac and cheese. But evidently, she was not in a place to accept logic. She just really wanted mac and cheese.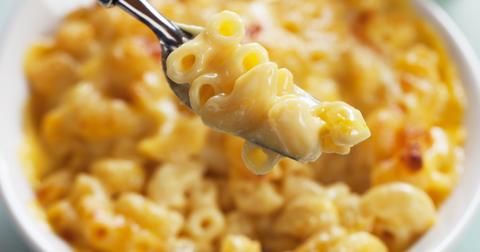 And who can blame her? It looks delicious. Anyway, at this point, the woman has been holding up the drive-thru line for 10 minutes. The manager comes over, but the woman refuses to accept that they don't serve mac and cheese (even though she's now heard it from two employees) and won't move until she gets her mac and cheese.
Half an hour of this nonsense goes by. Eventually, the manager tells her that if she doesn't leave, he's going to call the cops. She screams that she can't understand why they're doing this "when she can CLEARLY see" the mac and cheese on the menu board.
OP decides they've had enough and actually goes outside to talk to the woman. They ask her to point out on the menu where she's possibly seeing the mac and cheese. They write, "She points confidently and says, 'Right there!" with all the conviction of someone who is absolutely sure they just proved some big dumb idiot wrong and that they will be hailed as a hero."
OP continues, "I look where she's pointing. I see it. I sight heavily as a bit more of my soul dies." Reader, she was looking at a picture of mandarin orange slices that came with the kids' meal.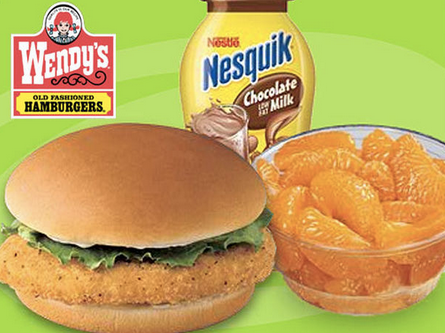 I suppose it sort of looks like mac and cheese, if you believe the photo is really discolored and you have really bad eyesight. OP tells her once again that they do not serve mac and cheese, and to leave before the cops get there.
They wrote, "She looks confused, looks at the menu board again, the realization dawns on her, and she drives off without a word. I go back inside and scream in the walk-in freezer for 10 minutes."
I understand misinterpreting the picture. I even understand trying to order mac and cheese once even though you don't see the words anywhere on the menu. What I don't understand is believing that several fast-food employees are lying to you about what they serve just because they for some reason don't want to give you mac and cheese?! How hard is it to realize you were wrong, move on, and order something else?
Even if in your heart of hearts you still believe that they serve mac and cheese, you just can't hold up a line for that long. Whew. Imagine that woman's embarrassment. Yikes.