50 Cent and Ex Vivica A. Fox Are in a War of Words
Although they once dated, there is now a war of words between Vivica A. Fox and 50 Cent, but what did Vivica say to start the feud?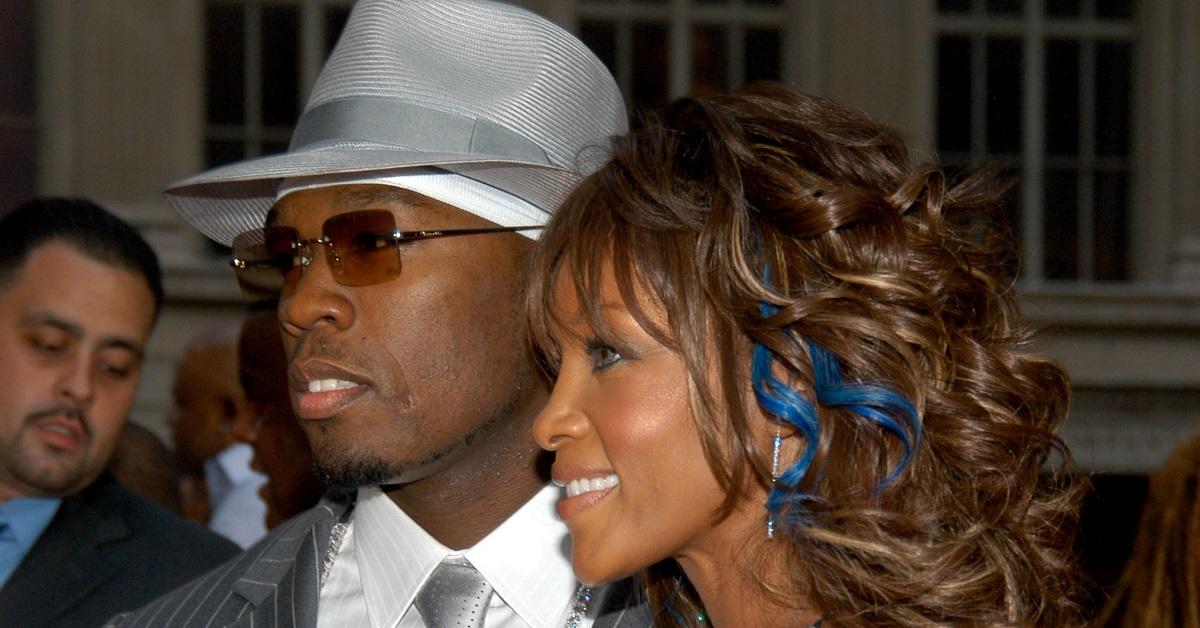 50 Cent is no stranger to controversy, but his most recent battle has brought him face to face with one of his exes. In a recent appearance on Lil Wayne's Young Money Radio, the rapper went on an extended diatribe about how Black women get angry at him for dating "exotic women." The rant earned him quite a bit of backlash, including some from his ex Vivica A. Fox.
Article continues below advertisement
What did 50 Cent say on the show?
In the interview, 50 Cent said that he thought "exotic women" were different. "That s--t looks a lot different from the s--t you see in the neighborhood all the time," he said. "That s--t look like it come off a boat...something you can't just get. But they get angry, 'How did you end up with this motherf--ker?' I'm like, 'Huh?' My instincts always make me defensive, so I look at it like 'look at this angry Black motherf--ker. Get the f--k out of here, trying to f--k up the whole vibe.'"
Article continues below advertisement
The comments sparked an almost instant backlash.
Almost immediately, the rapper faced criticism for his remarks, which Lil Wayne appeared to co-sign. One notable critic was his ex Vivica A. Fox, who responded to the comments on the July 7 episode of Cocktails With the Queens. In the interview, Vivica said that 50 cent had "f--kboy tendencies," and that he's intimidated by Black women.
"When I read that [his comments] I was like really?" Vivica said. "You would say that because you don't want anyone to challenge you. You want somebody to sit over there like a pretty little dog that you can just [pet] right? You can't handle a Black woman. Can you?"
Article continues below advertisement
50 Cent responded to Vivica's comments.
The rapper wasn't content to let Vivica's comments stand, and responded with an Instagram post. In the caption to the post, 50 Cent said that Vivica was "still in love with him," even though they had only dated for four months 17 years ago. He added that she was "still angry" with him all these years later.
Article continues below advertisement
Vivica got plenty of support from women online.
Vivica was not the only person to criticize the rapper for his remarks. Lil Wayne's daughter also weighed in, tweeting her support for other Black women. "I'm black! I'm beautiful! I'm enough! I'm exotic! I'm amazing! I'm one of a mf kind !!!! Now where my black beautiful Queens at?" she wrote in the tweet.
"Bruh f--k lil Wayne and 50 cent. I'm so sick of black men making it seem like black women are jealous of women of other races," another Twitter user added, while a third wrote "When I see black men acting like 50 cent and Lil Wayne, I don't get angry just disappointed. Projecting your self hate on to black women is pathetic."
Even 50 Cent's girlfriend got in on the criticism. She posted wishing her man a happy birthday, but also added, "Don't worry ladies I already knocked him upside his big a-- head."