"SSB" Means a Few Different Things, but There's a Specific Definition on Snapchat
If you've seen your friends append the "SSB" acronym on Snapchat and wondered to yourself, "What does that even mean?!" we've got you covered.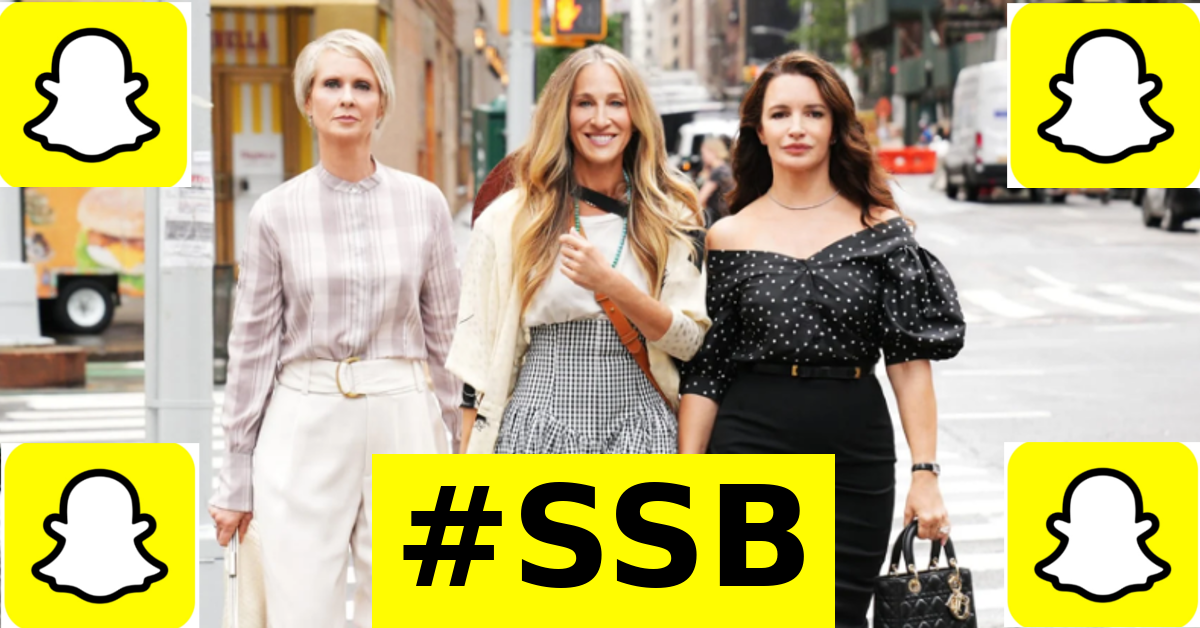 If you want to feel like an old fart, just spend a little bit of time on a new social platform. You'll be assailed with more unfamiliar acronyms than you'll ever want to comprehend in your life.
The good news is that if you just ignore these new terminologies long enough, they'll probably fall out of fashion and then get replaced with something else. Case in point: No one calls pictures of attractive individuals "thirst traps" anymore, nor does anyone refer to their beloved as "bae."
Article continues below advertisement
Acronyms, however, tend to persist a little longer. This new term that's used on Snapchat, "SSB," actually has several definitions. It even has roots in an older TV series (that's gotten the HBO Max reboot treatment). So what does "SSB" mean on Snapchat?
Article continues below advertisement
What does "SSB" mean on Snapchat?
Quite simply it means: "Send snap back." If someone sends you a Snapchat photo and they attach "SSB" to it, that means they want you to return the favor. It can be assumed that they want a photo in a similar vein to what they sent you. So if a dude snaps you a picture of his feet with an "SSB" caption, then that probably means they want to check out your toes.
It could also just mean that they want to message back and forth with you, but you generally should try and measure the vibe of the conversation, too.
There are other definitions for the acronym outside of Snapchat as well, so we'll go over those.
Article continues below advertisement
What does "SSB" mean on 'Sex and the City'?
The acronym refers to a Sex and the City term called "Secret Single Behavior," and it succinctly describes the type of behavior that one engages in while they're alone in their home and no one else is around. It acknowledges that there's a certain type of theater or pageantry to one's existence when one is dating or romantically involved with someone.
Article continues below advertisement
That "Secret Single Behavior," or "SSB," is kept from the significant other in order to maintain a certain level of sanity. However, Carrie (Sarah Jessica Parker) soon realizes that the "SSB" rules don't apply to the dude that she's dating because she just wants to spend time with him and sit in his lap while he's reading a book.
But there are some specific "SSB" acts that the characters in the show get into. Charlotte meticulously goes over her each and every pore in the mirror. Carrie's "SSB"? Stacking saltines between bits of jelly. She would never do this in front of anyone else.
Article continues below advertisement
"SSB" can also be short for 'Super Smash Bros.'
If you head on Twitter and then type in "SSB," you'll probably see a bunch of tweets referring to Nintendo's popular brawl-for-all franchise.
Article continues below advertisement
Do you use the "SSB" acronym, and does it mean anything different for you? I'm pretty much there are fishmongers around the world who use it as shorthand for "Super Salty Branzino" but I've never mongered fish so I can neither confirm nor deny that.