What Does the Blue Check Mean on Instagram? And How Can You Get One?
What does the blue check on Instagram mean? And is it possible to buy one for your own account? Here's what you need to know.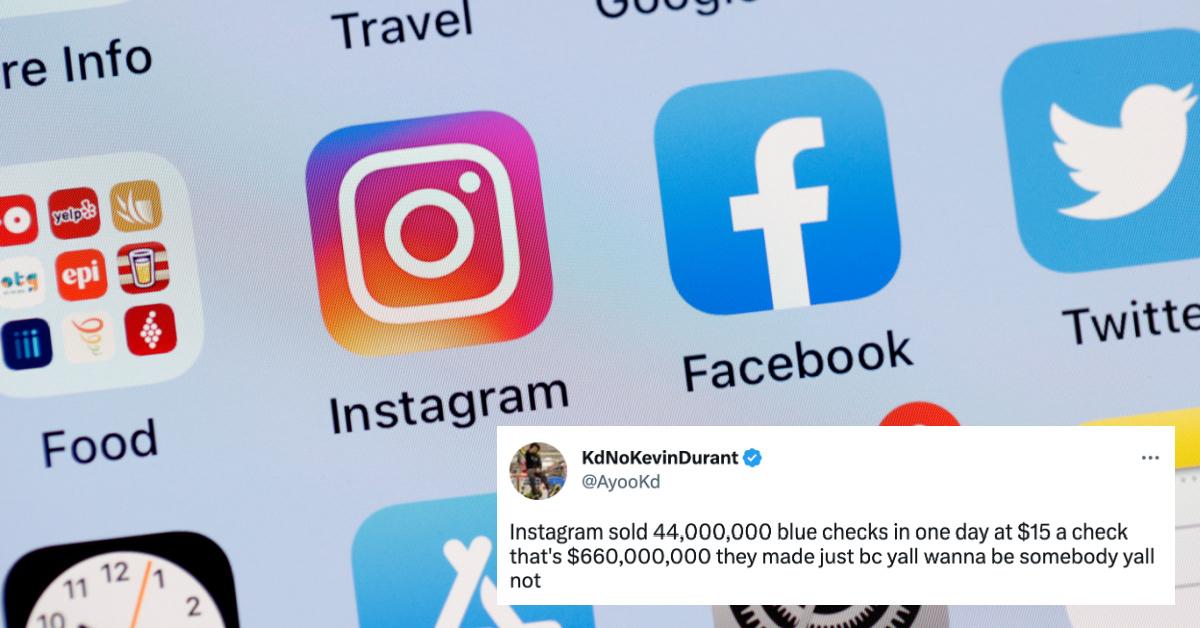 When Twitter first started adding blue checks to verified users' accounts, getting one was sort of a point of pride. Not just anyone could have the coveted blue check; it was reserved for famous and notable people who might otherwise be impersonated elsewhere on the internet. Now, though, things are a bit different.
Article continues below advertisement
When Elon Musk purchased Twitter in 2022, anyone could have a blue check ... for a price. Twitter Blue offered users the chance to pay for the blue check mark. And then it disappeared. And then it came back. And then there were gold check marks. It's been a real whirlwind at Twitter, to say the least. Now, something similar is happening on Instagram. here's what you need to know.
Article continues below advertisement
What does the blue check mean on Instagram?
When you see a blue check mark next to an account name, it basically means the same thing that it used to mean on Twitter and Facebook. A blue check on Instagram means the platform has confirmed that the account holder is actually who they say they are. That still doesn't stop the fake accounts, but it does help followers know they're following who they intended to.
For many, the blue check mark is seen almost as a status symbol. If you have one, it's a sign that whatever social media platform you're on deems you "worthy" enough to be distinguished from any imitators who may potentially attempt to pilfer your online identity. You can read more about Instagram's verification policy here.
Article continues below advertisement
And while many associate the check marks with notable public figures, celebrities, artists, personalities, etc., they are also helpful for folks who work in government or represent specific media brands. However, in March of 2023, Meta rolled out Meta Verified on Instagram and Facebook, which allows anyone to purchase a blue check for their profile. And many people did — Instagram reportedly sold 44 million blue checks in one day (to the tune of $660 million total). If you want your own piece of the action, here's what you need to do.
Here's how to buy a blue check on Instagram.
If you were wondering how to get one of those blue check marks on your own Instagram profile, there's actually a pretty straightforward process for how to get that done. But it's gonna cost you. You'll also probably be stuck on the waitlist for a bit.
Article continues below advertisement
Here's what you do:
Open up Instagram.
Tap the hamburger menu in the upper right-hand corner.
Tap "Meta Verified."
Decide whether you really want to spend $14.99 per month for a little blue check on your account.
If you do, then tap "Join waitlist."
Article continues below advertisement
Is Meta Verified worth it?
As previously mentioned, the blue checks on Instagram now cost $14.99 per month. Is it worth it? Look, that is a decision you're going to need to come to on your own. Here's what Meta says that will get you:
Enhanced verification (aka the blue check mark)
Proactive protection with active account monitoring
Direct support ("from a real person")
Exclusive extras (e.g., stickers that are only available to Meta Verified subscribers)
You might say that one can't put a price on the feeling of being an actual verified Instagram user, but it turns out that you totally can, and that price is $14.99 per month. If you want to spend approximately 180 bucks per year for exclusive stickers and a blue check mark, well ... you can! It's your money.