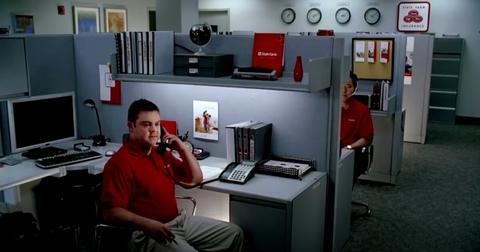 The OG "Jake from State Farm" Is Alive and Well, People
By Allison Cacich

Updated
As always, the Super Bowl commercials received just as much attention as the big game itself, but only a few 2020 ads really lit up social media. One of them was State Farm's 30-second spot, which put a new twist on an old classic.
What happened to Jake from State Farm?
Back in 2011, the company hit the jackpot with their "Jake from State Farm" commercial, featuring an actual agent who worked for the insurance provider at the time. The ad begins with a wife coming down the stairs in the middle of the night to discover her husband on the phone.
"Yeah, I'm married. Does it matter," the husband says quietly into the landline. "You'd do that for me? Really? I'd like that." Naturally, the wife wants to know who he's talking to at three in the morning, but doesn't believe him when he says it's "Jake from State Farm."
She grabs the phone from her husband and asks, "What are you wearing 'Jake from State Farm?'" to which the agent replies, "Uh, kakis." The wife still isn't convinced.
In State Farm's 2020 take on the nine-year-old spot, the same couple is having the exact same argument, but this time, there's a new Jake in the mix. "Uh, kakis," Jake 2.0 also answers before asking a co-worker, "Hey, do they ever ask you what you're wearing?" Turns out, his colleague is none other than OG Jake!
"Uh, yeah," the original Jake from State Farm says, popping his head out of his cubicle. So yes, there is a new Jake from State Farm, but the former Jake is still being a good neighbor.
Here's how insurance agent Jake Stone became "Jake from State Farm."