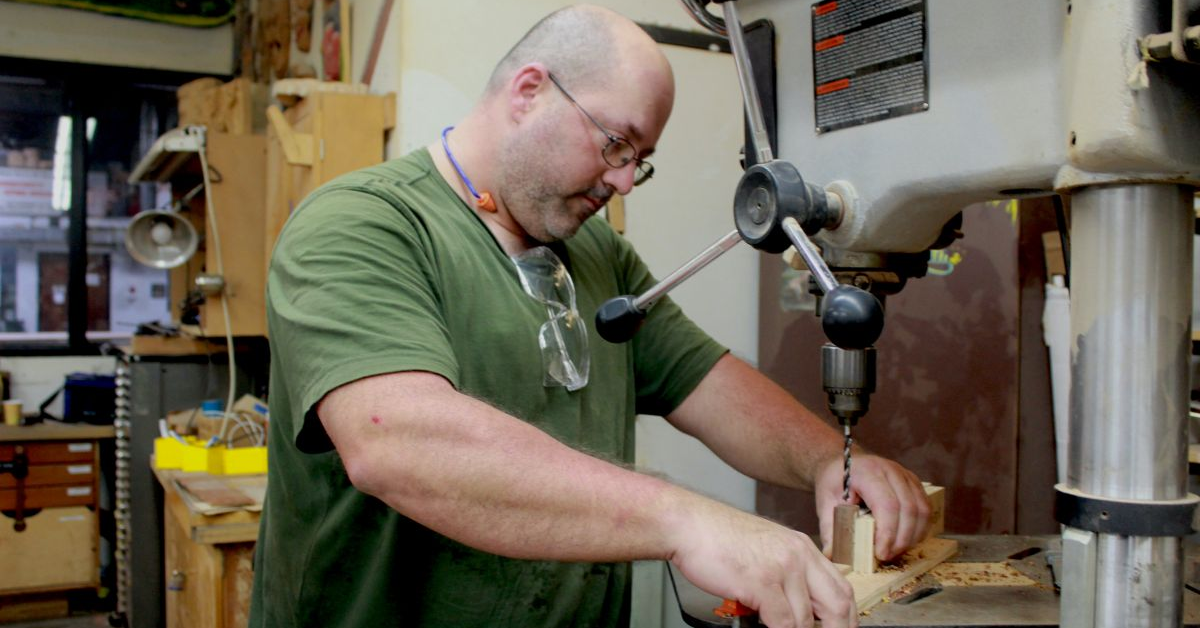 Aaron Mattia Was Honored After the First Episode of 'Making Fun' — What Happened to Him?
Netflix's latest reality series Making Fun is a delightful show that follows inventor Jimmy DiResta as he takes ideas for inventions from children and then uses his crack team to make those inventions a reality. The show is designed to be pretty light entertainment, but the first episode of the series ends with a tribute to Aaron Mattia, which led many to wonder who Aaron was and what happened to him.
Article continues below advertisement
What happened to Aaron Mattia?
The team at The Crucible paid tribute to Aaron's death in August 2021, saying that he would be dearly missed by everyone at The Crucible, which is a nonprofit dedicated to industrial and fine arts. Aaron left The Crucible in 2019 to begin working with Jimmy, but they still paid a loving tribute to him. In their tribute to Aaron, whose real first name was Jeremy, The Crucible discussed his history with the nonprofit.
Article continues below advertisement
He first joined a decade ago, and began teaching there in 2016. Before joining The Crucible, Aaron served in the Marines for 10 years, including two tours in Afghanistan, and he also worked with the team at MythBusters to build several things for them. His creations were so prolific on TV that Aaron once said on Instagram that most of the stuff he had built had been "blown up on TV."
Jimmy paid tribute to Aaron.
Through his podcast and on Instagram, Jimmy paid tribute to Aaron and his love for making things. "Aaron loved the maker community and was at home in the shop," Jimmy said. "He was a great guy that wanted to see everybody succeed. He was a problem solver he was an organizer and at heart he was an artist trying to figure out his place in the world."
Article continues below advertisement
Jimmy went on to reflect on the mark Aaron left on the maker community, as well as his behind-the-scenes work on a different TV show.
"He was so proud of his part behind the scenes on MythBusters, often talked about how Jamie Hyneman was a big inspiration to him. And how being on the show team inspired him," he wrote.
Per Aaron's IMDb profile, he also worked on the shows MythBusters Jr. and Top Chef, and the TV movie documentary Dangerous Toys.
"I met him when he came to one of the welding classes three years ago and was talking about how he was unhappy in San Francisco," Jimmy continued. "I invited him to come live in East Durham I told him he could use my shop. He arrived in NY the week of the first maker camp. Shortly after that he became integrated into the shop. It was like he was always there picking up after me, organizing my mess and making the place better for everybody here."
Article continues below advertisement
"Aaron I love you and I miss you already. RIP. He would have been 48 this October," Jimmy concluded. Although Jimmy was the most famous person to pay tribute to Aaron, he wasn't alone. Tributes came pouring in from people who knew him, with the dedication on Making It only one indication of the impact he had on people.
It's unclear how exactly Aaron died, but it's clear the he'll be remembered by those in the maker community for years to come. His life was cut tragically short, but Aaron is leaving behind a lasting legacy of passion for his work.