New York Jets Rookie Breece Hall Has Suffered a Season-Ending Injury
What happened to Breece Hall? The New York Jets rookie running back was carted off the field during the Week 7 matchup against the Denver Broncos.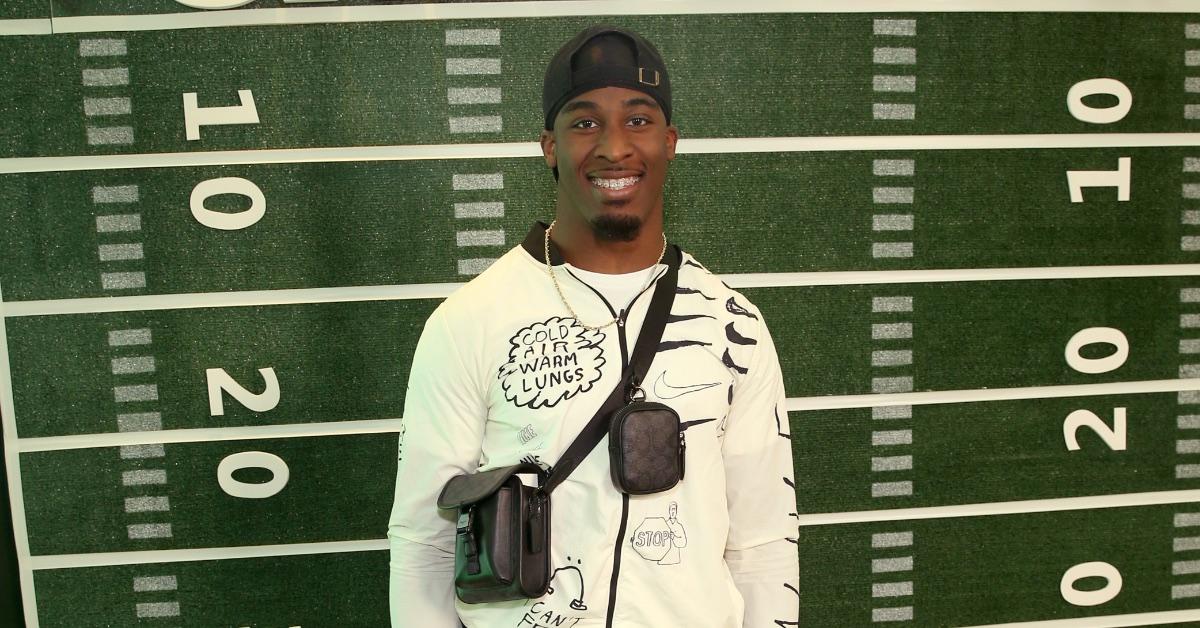 Since making his NFL debut with the New York Jets, rookie Breece Hall has quickly made a name for himself among the best up-and-coming running backs in the league. He had his career-best game during the sixth week of competition, rushing for 116 yards and leading the Jets to a 24-10 victory against the Green Bay Packers.
Article continues below advertisement
After being voted FedEx Ground Player of the Week for Week 6, many believed Breece would deliver yet another dominant performance during the Jets' next game; however, that was far from the truth. Although he rushed for 72 yards and scored a touchdown, Breece was sadly carted off the field in the team's 16-9 win against the Denver Broncos.
So, what happened to Breece Hall? Here's what we know.
Article continues below advertisement
What happened to Breece Hall?
On Oct. 23, the Jets gained an early lead against the Broncos thanks to an impressive 62-yard touchdown from Breece Hall in the first quarter. Unfortunately, his day suddenly came to an end late in the first half; he was slow to get up after a two-yard run and was eventually carted off the field. Breece was then ruled out for the rest of the game with a knee injury.
Breece Hall injury update — the Jets fear the rookie tore his ACL.
Following the game, Jets head coach Robert Saleh told reporters that the initial diagnosis of Breece Hall's knee injury is "not good," per Rich Cimini of ESPN. Robert added that Breece likely tore his anterior cruciate ligament (ACL).
"He's a heck of a football player," Saleh said. "When you lose great football players, it's not good."
Article continues below advertisement
Just a few hours later, a source revealed to Adam Schefter from ESPN that Breece had indeed suffered a torn ACL, as well as a minor meniscus injury. Breece will therefore need to undergo season-ending reconstruction surgery.
Article continues below advertisement
Jets starting quarterback Zach Wilson also spoke with the press after the game and revealed he wasn't aware of the three lost offensive starters (Alijah Vera-Tucker and Corey Davis also didn't finish the game).
"I didn't even know what was going on, but I'm just in the huddle like, 'Where they at?'" he stated via ESPN. "It's tough because all of those guys are great players. They're all balling. But unfortunately, it's part of the NFL, right?"
According to the Mayo Clinic, patients will experience several weeks of physical therapy ahead of their surgery as the goal is to reduce pain and swelling, strengthen muscles, and restore the knee's full range of motion.
Article continues below advertisement
Once all is said and done, the subject will undergo the reconstruction procedure. The surgeon will replace the damaged ligament with a "segment of tendon" — the replacement tissue, known as a graft, either comes from "another part of your knee or a tendon from a deceased donor."
After surgery, the patient should "strive to regain a range of motion equal to that of your opposite knee" within the first few weeks post-operation. The medical center noted that recovery for ACL reconstruction generally takes about nine months.
In Breece's case, it may take eight months to a year until he returns to the football field full-time.