Cheslie Kryst, Prominent Activist and Former Miss USA Winner, Has Died at 30 Years Old
What happened to Cheslie Kryst? A passionate activist, fashion lover, and Miss USA 2019 has passed away aged 30. What happened?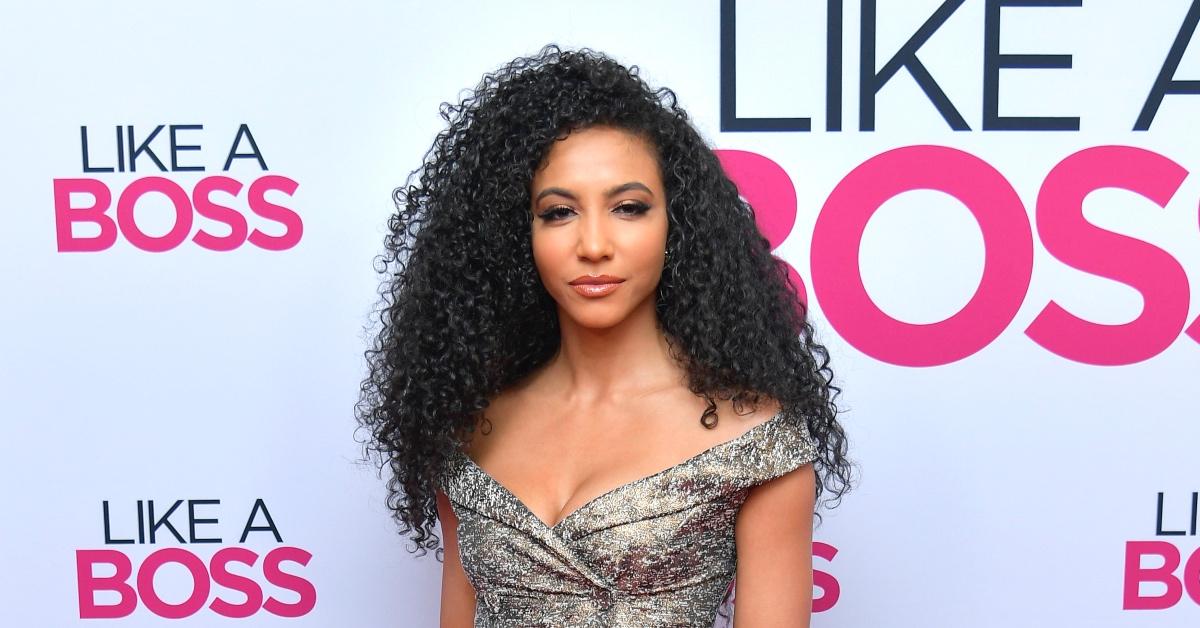 Content warning: This article contains mentions of suicide.
A Wake Forest University graduate who rose to fame after being crowned as the winner of Miss USA in 2019 has died at only 30 years old. A successful attorney, media personality, and Extra correspondent, Cheslie passed away in the last days of January 2022. What happened?
Article continues below advertisement
Cheslie Kryst, the winner of Miss USA 2019, has died aged 30.
"In devastation and great sorrow, we share the passing of our beloved Cheslie," Cheslie's family shared on Instagram. "Her great light was one that inspired others around the world with her beauty and strength. She cared, she loved, she laughed, and she shined."
"Cheslie embodied love and served others, whether through her work as an attorney fighting for social justice, as Miss USA and as a host on Extra," they added. "But most importantly, as a daughter, sister, friend, mentor, and colleague — we know her impact will live on."
While there has been speculation about suicide as the cause of Cheslie's death, it appears that the rumors are true. People reports that the NYC Chief Medical Examiner has ruled that Cheslie's death has been officially ruled a suicide.
Article continues below advertisement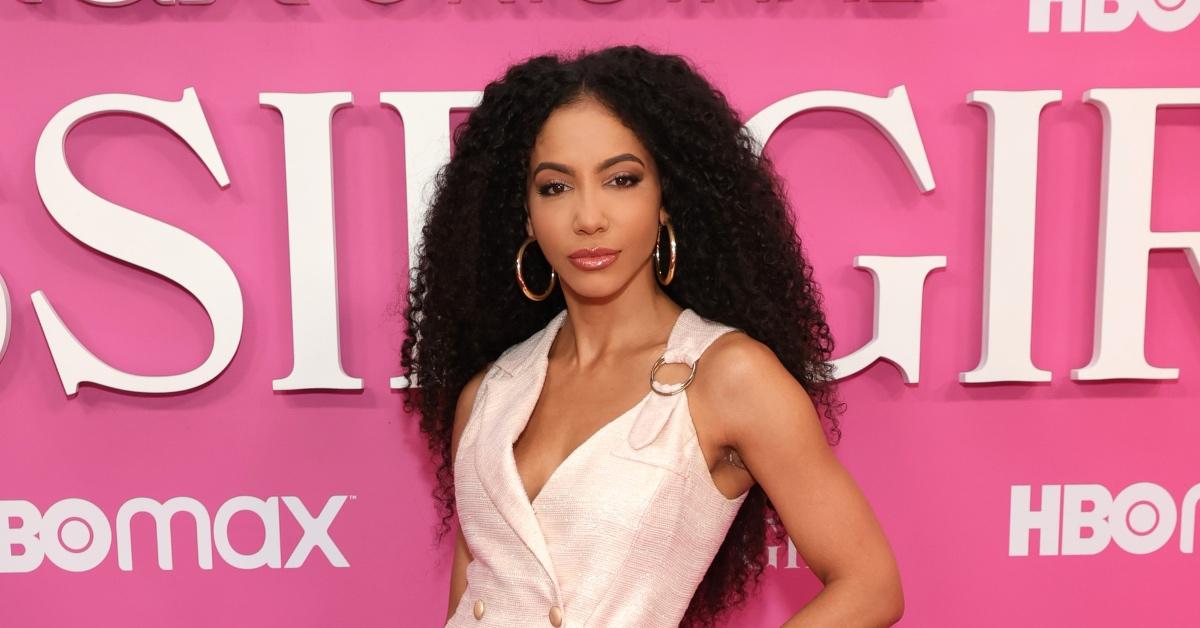 Cheslie's mom, April Simpkins, has broken her silence about her daughter's death.
As the devastating news about Cheslie's death continues to make its rounds online, her mother, April Simpkins, model and the winner of Miss North Carolina USA in 2002, has broken her silence. In a tear-jerking Instagram post, April explains how deeply she's been affected by Cheslie's unexpected death.
Article continues below advertisement
"I have never known a pain as deep as this. I am forever changed," April wrote. "Today, what our family and friends privately knew was the cause of death of my sweet baby girl, Cheslie, was officially confirmed. While it may be hard to believe, it's true. Cheslie led both a public and a private life. In her private life, she was dealing with high-functioning depression which she hid from everyone — including me, her closest confidant — until very shortly before her death."
Article continues below advertisement
She continued to share how infectious Cheslie's personality was and how vital she was in their family unit. The grieving mother also shared that Cheslie was much more than her daughter, but her very best friend.
April continued, "I love you baby girl with all my heart. I miss you desperately. I know one day we'll be together again. Until then, rest easy and in peace."
April closed out the tribute post by thanking people for respecting the family's privacy as they grieve and asked for folks to "make a donation to Dress for Success, an organization that was dear to her heart," as opposed to sending flowers. Cheslie served as an ambassador for Dress for Success Charlotte, an organization helping women achieve economic independence.
Article continues below advertisement
Cheslie Kryst appears to have left behind a suicide note.
Cheslie left behind a note, according to outlets like New York Post and The Sun. While the note supposedly did not contain a motive for her actions, it did state that she would like to leave everything to her mother. Further details contained in the note are not available to the public.
Article continues below advertisement
Cheslie Kryst followed in her mother's footsteps as a beauty queen.
Cheslie was born in Jackson, Mich., on April 28, 1991, to Rodney A. Kryst, a bodybuilder, and April Simpkins, a model and fellow beauty queen.
Cheslie decided to follow in her mother's footsteps at a young age, earning the title of Miss Freshman at a contest held at the Northwestern High School in Rock Hill, S.C., among others. She graduated cum laude from the Darla Moore School of Business with a degree in marketing and human resources management.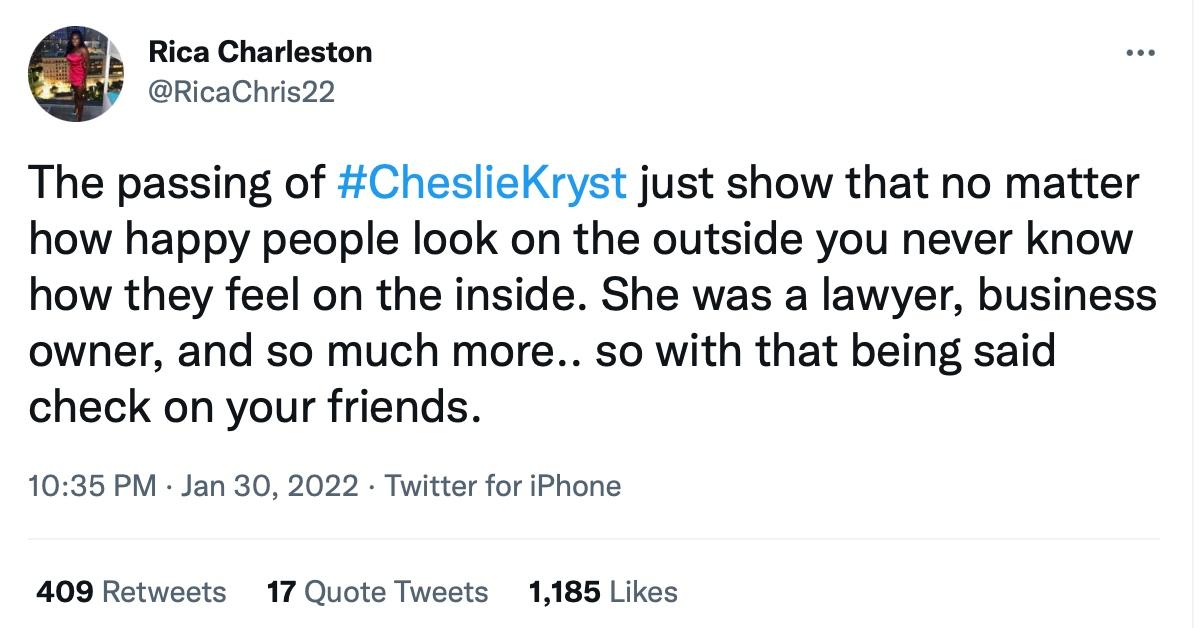 Article continues below advertisement
Cheslie obtained a dual degree from Wake Forest University in 2017, earning a Juris Doctor from the Wake Forest University School of Law and a master's degree in business administration from the Wake Forest University School of Business.
In a March 2021 essay for Allure, she shared new details about her early adulthood, perhaps to caution others against sacrificing their well-being in the pursuit of excellence.
Article continues below advertisement
"I joined a trial team at school and won a national championship. I competed in moot court, won essay competitions, and earned local, regional, and national executive board positions," she wrote. "I nearly worked myself to death until an eight-day stint in a local hospital sparked the development of a new perspective."
Article continues below advertisement
Before winning the Miss USA pageant in 2019, she joined Poyner Spruill LLP as an attorney specializing in complex civil litigation. An outspoken advocate for criminal justice reform, she worked pro bono for clients convicted for low-level drug offenses.
Aside from Dress for Success, Cheslie worked with other charitable organizations. She also founded White Collar Glam, a blog and boutique helping people find affordable work attire.
If you or someone you know are experiencing suicidal thoughts, call the National Suicide Prevention Hotline at 1-800-273-8255 or text HOME to the Crisis Text Line at 741741.