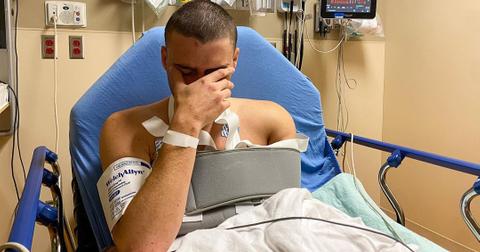 What Happened to Dallmyd? The YouTuber Needed Surgery After a Horrible Accident
By Larry Stansbury

Updated
Jake Koehler, as known by his screen name Dallmyd, is a seriously popular YouTuber. Currently, his channel boasts more than 9.9 million subscribers — and the content creator is expected to surpass 10 million very soon. However, he recently released a video stating that he's been in a huge accident.
Let's take a closer look at what happened to Dallmyd. Because fans were seriously worried about the YouTube star — and from the looks of it, he's pretty banged up.
Dallmyd revealed had been in an accident.
In a YouTube video titled "Was in a Bad Accident, Rushed to the ER," Jake revealed he had been in a serious crash. "I'm in Orlando, Florida, right now in an emergency room," Jake explained in the video. He added that although was making the video at 9 p.m. on March 13, the accident had actually happened a few hours earlier at 5 p.m.
Dallmyd also shared with his followers that he is OK but in a ton of pain. "I broke my shoulder, tore all muscles, tendons, got 13 screws and a metal plate in my arm," he wrote in the video's description.
"It's the worse pain I've ever felt in my whole life," he said, breaking down in tears. "I don't want to just ghost y'all for a little bit, you know? If there's not videos the next couple of days, I just want ya'll to know I'm freaking hurting."
The video continued post-operation with another update. "It's going to be a long road to recovery," Dallmyd said. "But I just wanted to show you all how lucky and blessed I am."
Jake also shared an Instagram post about what happened after the accident. "I broke my shoulder, tore all muscles, tendons, got 13 screws and a metal plate in my arm. Bare [sic] with me as I think outside the box for ways to create new videos," wrote via Instagram post. "Thank you all for you support. Love you guys."
Dallmyd's girlfriend, Kyndall Johnson, posted about his accident.
The YouTube star has been dating social media personality Kyndall Johnson since 2017. They both have made appearances on each other's social media accounts numerous times, sharing their love. She is the founder of Kostlich & Couture, a clothing boutique.
Not long after Jake's accident, Kyndall also took to Instagram to fill in her followers on the details.
"On February 27th Jake got into a[n] accident. We were rushed to the hospital where we found out he broke his shoulder, tore every muscle, tendon and got 13 screws and a metal plate in his arm," she wrote on the Instagram post."
Kyndall gave her followers a heads-up that Dallmyd wouldn't be posting new videos for a bit, but not to worry — because "when he is able I promise you there will be some super bad-ss content coming you're[sic] way."
She concluded, "He's so in love with what he does and I wish I could give you 100 more examples but all in all @dallmyd you're my mentor, my person, my rock, my bestest friend and I'm so incredibly proud of you and what you're accomplishing each and everyday. I love you and always will."
Kudos to Jake for having the courage to open up about his horrible accident so soon after it happened. Hopefully his healing journey is a smooth one — and then before fans know it, he'll be good as new and ready to create more YouTube videos.