Did Demi Moore Get Plastic Surgery? Her Fendi Runway Walk Had People Worried
After seeing Demi Moore walk down the runway, fans of the actress are asking: "What happened to her face?" Here's what to know.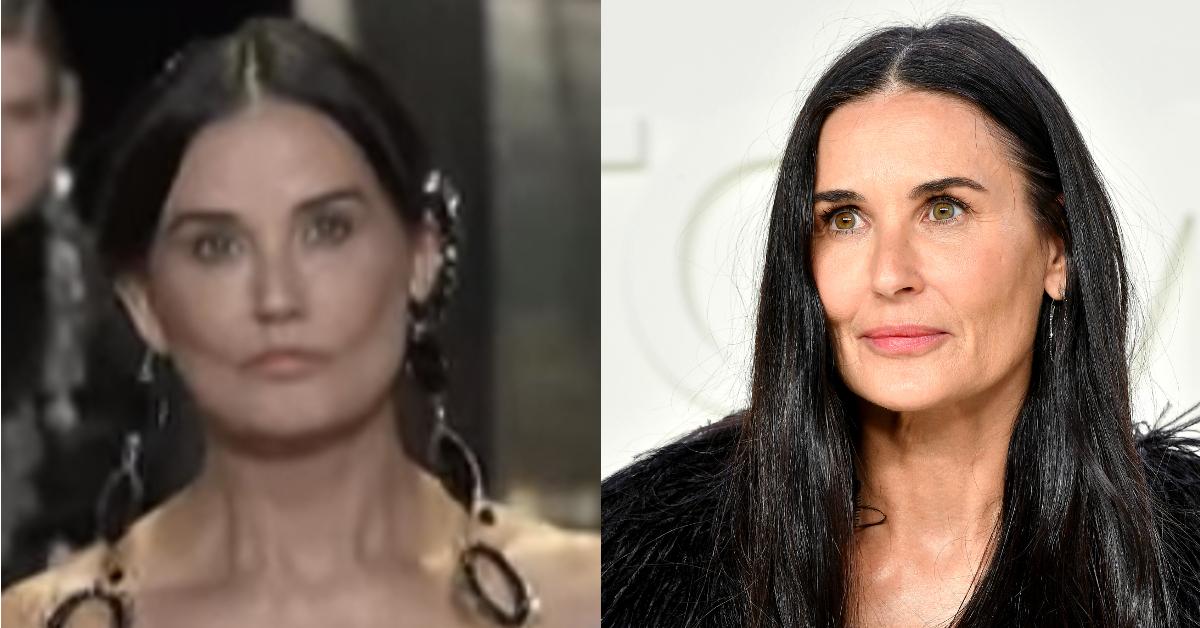 Whenever a celebrity's adoring public doesn't see them for a while, any drastic change usually elicits a strong reaction from their fanbase. Parks & Rec fans were shocked to see the body transformation that Chris Pratt made between filming the beloved NBC comedy and movies like Zero Dark Thirty, Moneyball, and the Marvel smash hit Guardians of the Galaxy.
Time between public appearances also makes fans aware of any cosmetic procedures that may have taken place, and could be why so many folks are asking: "What happened to Demi Moore's face?"
Article continues below advertisement
What happened to Demi Moore's face during her Fendi runway appearance?
People noticed the stark lines on the G.I. Jane actress's countenance as she sauntered down the runway during Paris Fashion Week on Wednesday, Jan. 27, 2021. The 58-year-old was rocking a swooping, elegant black outfit: a long-sleeved jacket that hung around her shoulders paired with matching pants of the same material.
She was also rocking long, dangling black earrings during the surprise appearance that made headlines. However, a lot of the conversation centered around her face and not the garments she was wearing. One Twitter user wrote, "Doesn't look anything like Demi Moore to me. And if it is Demi Moore, the surgeon that did that to her is a quack."
Article continues below advertisement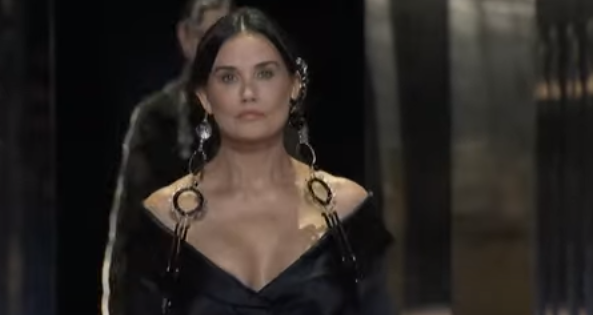 Others chimed in stating that she looked unrecognizable to them and that they couldn't believe she went and did "stupid stuff to [her] face."
Article continues below advertisement
Article continues below advertisement
This isn't the first runway that Demi's walked on recently, either. She recently made an appearance on Rihanna's Savage x Fenty show, rocking a bodysuit with fishnet stockings. Many pointed out the stark difference in her facial expression between the two shows, and refuted the fact that it could just be a bad makeup or contouring job gone wrong.
Article continues below advertisement
Demi Moore recently made headlines when it was revealed she was quarantining with ex Bruce Willis.
The couple were social distancing with their children, Rumer, Scout, and Tallulah. Folks thought it was strange that Bruce wasn't spending indoor time with his second wife, Emma Heming Willis, and their two daughters. Rumors started flying that Bruce was no long with Emma and he and Demi were back together, but those rumors proved to be nothing more than supposition.
Article continues below advertisement
Bruce and Demi's daughter, Scout, shared how her mom and dad ended up social distancing with one another in Idaho. Originally, they were all supposed to socially distance together as one big blended family: Emma, Bruce, and their two daughters, with Demi, Scout, Rumer, and Tallulah all under one roof.
However, an unfortunate incident occurred at a park where one of Scout's younger sisters accidentally poked her foot with a needle she found at a park. Bruce and Emma took her to the doctor and, while they awaited the test results, Bruce went to Idaho early to meet up with Demi and his three other kids.
This all happened right before travel restrictions became insane, and the timing meant that Emma had to stay put in LA, while Bruce was in Idaho with Demi, matching pajamas and all.