Oh No! This 'Hell's Kitchen' Accident Has the Internet Buzzing
'Hell's Kitchen' has had its fair share of ups and downs, but a recent medical emergency has fans wondering: What happened to Drew?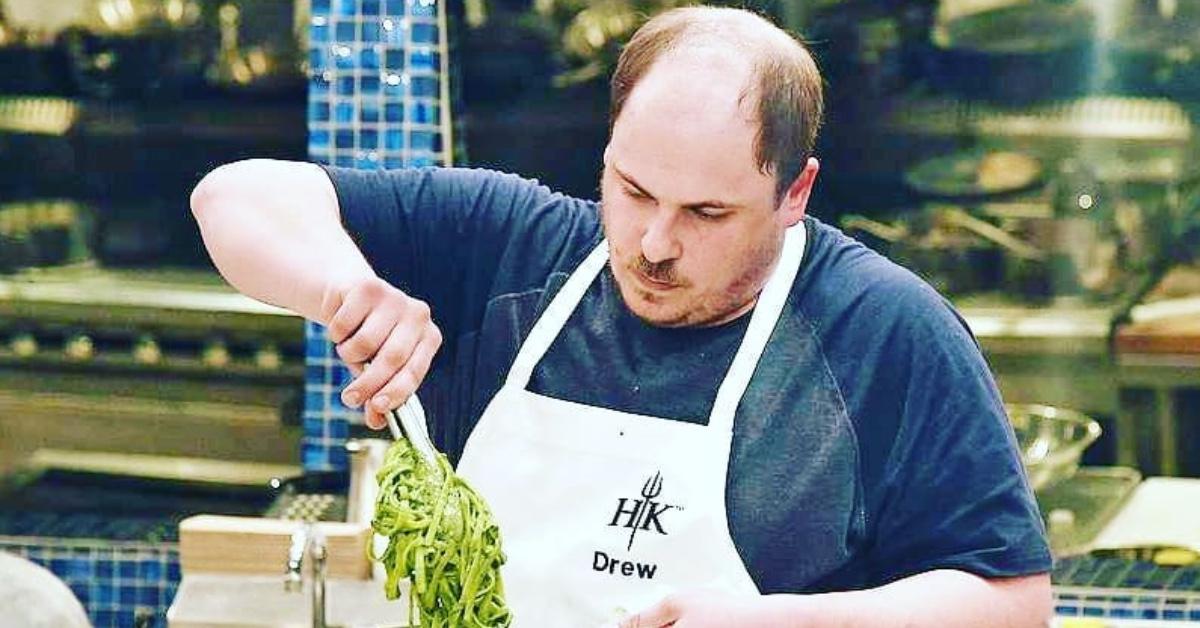 Arguably the most famous cooking show on television, the reputation of Hell's Kitchen precedes it. The show is a reality television competition hosted by Gordon Ramsay to compete for the role of head chef at a restaurant. The chefs compete in two teams of 20 that eventually narrow to 12 and then, a singular winner. After a surprise medical evacuation on Jan. 28, 2021, fans are wondering what happened to Drew.
Article continues below advertisement
Drew's unexpected departure left his team in a tight spot.
During the events of Season 19, Episode 4 of Hell's Kitchen, it appears that nothing was destined to go right. The previous episode, contestant Fabiola Fuentes was eliminated cruelly after Gordon claimed she "had passion but not much else," following her panic attack and dehydration after the last challenge. On Episode 4, several female team members of the Blue Team debated fiercely who would be next to go home.
Article continues below advertisement
Meanwhile, team member Drew began to experience full body cramps, and went to a medic to admit that he had been experiencing headaches, cramping, and dizziness throughout the day. The medics then took him to the hospital, forcing him to miss the Wedding Brunch Service Challenge and leave the Blue Team shorthanded.
The event itself also came with a few hitches, including the Blue Team serving raw steak and ultimately losing the challenge. Unfortunately, post-challenge it was also announced that Drew was not okay and would not be returning to the competition. Gordon then insisted that in order to even out the teams, a member of the Red Team would have to transfer.
Article continues below advertisement
After a quick decision and some determination, chef Amber was traded to the Blue Team to try and prove herself in front of more experienced chefs. Sadly, it looks like her efforts didn't last long, because after a series of snide remarks from fellow chef Declan, she promptly burst into tears. Luckily, she pulled it together just as guests began arriving, and the team completed the remainder of the challenge.
Article continues below advertisement
This isn't the first time people have experienced injuries or accidents on 'Hell's Kitchen.'
There are always a few pessimists in the group, but it appears that Hell's Kitchen might have a curse on its hands. Not one, not two, but 10 former competitors on Hell's Kitchen have all passed away over the years. While there's no real connection between the deaths and the show other than being competitors, it still has fans spooked to think about what happened to Drew.
While Gordon did not comment upon Drew's current status, not much else is known about Drew's health other than from an Instagram post thanking the cast and crew for their efforts and wishing them all the best. Fans and audience members alike hope Drew is on his way to a speedy recovery. In the meantime, we'll have to see how the remainder of the season turns out!
Catch Hell's Kitchen on Thursdays at 8 p.m. ET on FOX.