Former NFL Lineman Ian Beckles Announced He's Leaving iHeartMedia Sports
What happened to Ian Beckles? The former Tampa Bay Buccaneers lineman is moving on from his iHeartMedia radio show amid on-air changes.
In the 1990 NFL draft, the Tampa Bay Buccaneers selected Canadian lineman Ian Beckles in the fifth round. He immediately started at right guard and proved to be a brilliant addition to the team. However, he departed as a free agent after the 1996 season and inked a deal with the Philadelphia Eagles.
Article continues below advertisement
After two seasons with the Eagles, he moved on to two other teams before retiring in 2000. Since then, Ian has explored various business ventures, such as publishing and radio broadcasting. He's best known for co-hosting the acclaimed Beckles and Recher Show on iHeartMedia Sports "95. 3 WDAE" in Tampa.
Now, despite the radio show's high ratings, iHeartMedia Sports recently announced its cancellation effective immediately. With that said, what happened to Ian Beckles? Here's what we know.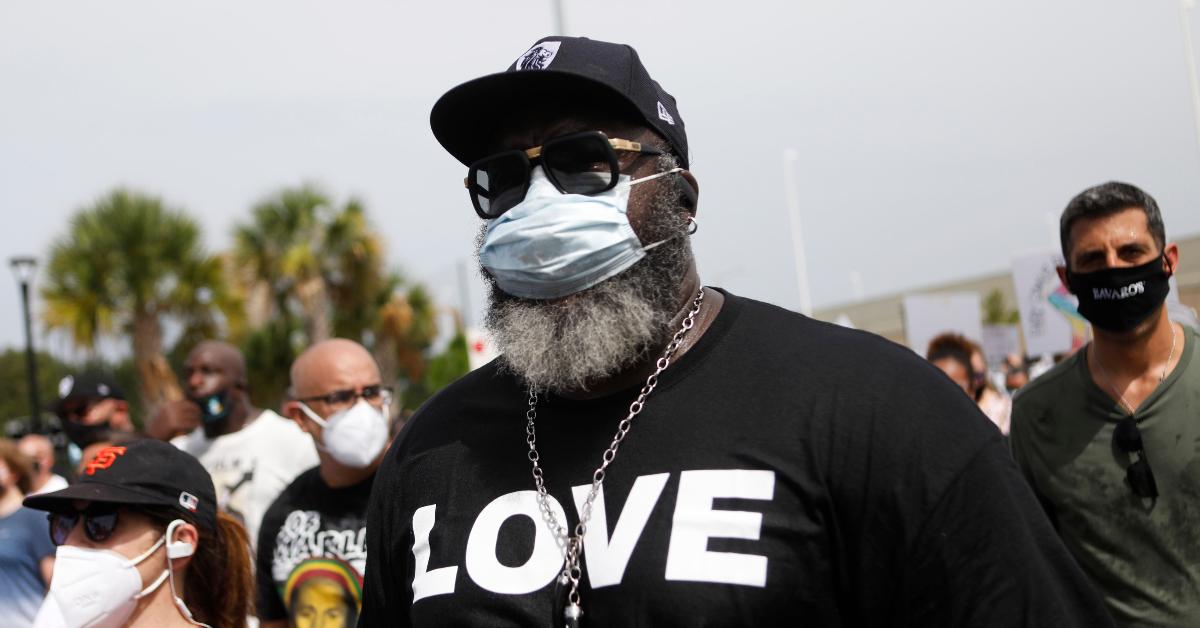 Article continues below advertisement
What happened to Ian Beckles?
On Oct. 21, iHeartMedia Sports "95.3 WDAE" shared via Twitter that they would debut a new lineup on Monday, Oct. 24. And, instead of Jay Recher continuing to host with Ian Beckles, he will now be working alongside Zack Blobner as part of the brand new midday show titled Jay and Z.
As expected, many listeners were confused why the station dropped Ian Beckles. Luckily, he addressed the situation and told his fans not to worry. "I just want to let all my fans know that I was just informed that I will no longer be working at iHeart," he stated in an Instagram video. "It's all good. Don't worry for me. Don't cry for me. I'll be fine."
Article continues below advertisement
Ian continued, "I was there for over 20-something years, and I was blessed to be there for even one year. Beckles and Recher will no longer be with us. They'll have a different lineup there on 95.3, but don't cry any tears for me. I'll be just fine. I'll land on my feet. I'll be doing podcasts and webcasts for a long time."
"Stay tuned for what's next," the 55-year-old former athlete concluded.
Article continues below advertisement
Ian previously stated he and Jay Recher had a "good relationship" off the air.
In January 2022, Ian spoke with Forbes about his café, Dignitary Tea & Kava House, and touched on his sports talk show on iHeartMedia Sports. He started off by admitting he liked genuine conversation and added that he thinks some radio and TV broadcasters "are arguing for the sake of arguing."
Article continues below advertisement
Regarding his relationship with now-former co-host Jay Recher, the pair were apparently like two peas in a pod. "We have a great understanding of what each other's strengths are, and I think that makes for a good show," Jay told Forbes. "We see eye-to-eye on so many things, and that makes it a joy to go to work every day."
Jay added, "It is always easier when you have a good relationship off the air as well. We hang out and will go to different events together. We have great communication, which I think is the key to any successful friendship or relationship."
We wish Ian all the best in his future endeavors.