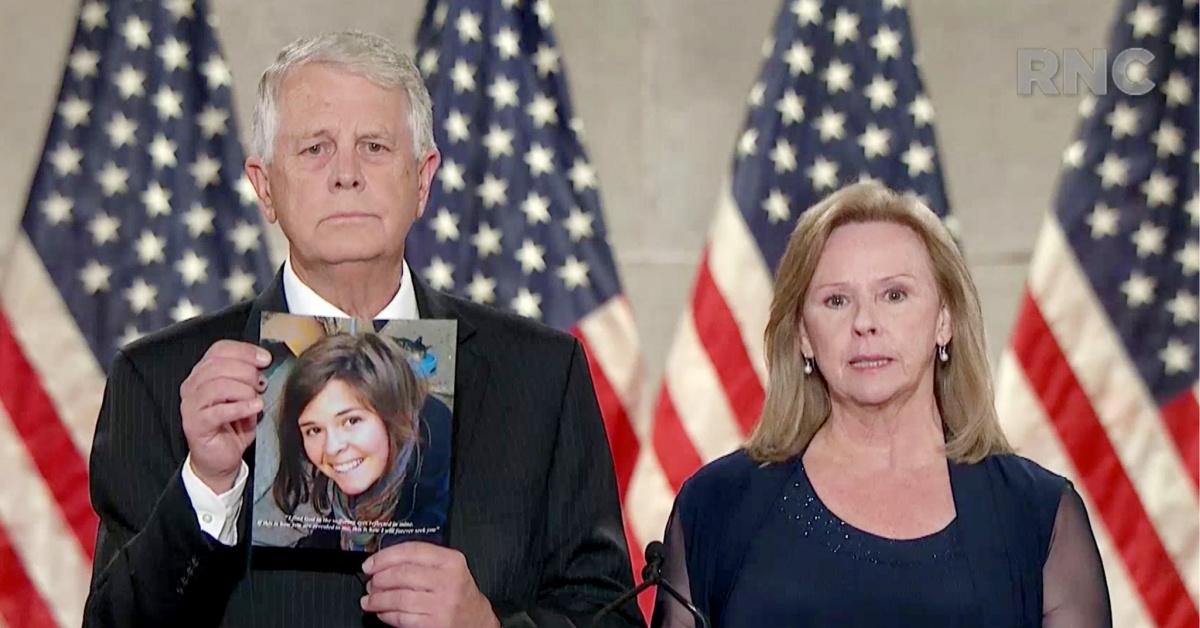 Human Rights Activist Kayla Mueller Was Killed After Being Held Hostage for 18 Months
If you were watching the vice presidential debate between Mike Pence and Kamala Harris, then there's a good chance you probably have a lot of questions. Both Pence and Harris covered many topics over the course of the evening, and given the regimented structure of the debate, they didn't have time to talk about each topic for very long.
Article continues below advertisement
At one point, Mike Pence drew attention to the fact that the parents of Kayla Mueller were in attendance at the debate, then went on to say that her parents believe Kayla would still be alive today if Donald Trump had been president when she was captured. Here's a brief summary for anyone who is unfamiliar with Kayla Mueller's story.
Article continues below advertisement
What happened to Kayla Mueller?
Kayla Mueller was an American human rights activist and humanitarian aid worker. She grew up in Arizona and was involved in several human rights initiatives throughout her life, including working in India with Tibetan refugees, helping African refugees in Israel, and volunteering for the International Solidarity Movement in the Middle East.
In December 2012, Kayla traveled to southern Turkey, where she worked to assist Syrian refugees. On Aug. 3, 2013, she crossed the border into Syria and headed to the city of Aleppo. At the time, Syria was in the midst of a still-ongoing civil war and was deemed highly dangerous for international aid workers. Kayla was captured by members of the Islamic State (widely known as ISIS).
Article continues below advertisement
She was held hostage for 18 months. Other captives who were held with her reported that Kayla was tortured and raped by former IS leader Abu Bakr al-Baghdadi. Throughout the time Kayla was held hostage, her family and the U.S. military made several attempts to rescue her. Tragically, the rescue attempts were unsuccessful. At one point, President Obama authorized a risky raid in an attempt to rescue Kayla, but she and other hostages had already been moved from the location. In February 2015, Kayla's captors announced that she had been killed.
Article continues below advertisement
In the years since Kayla's death, her parents have become staunch supporters of Donald Trump, appearing on stage at Trump rallies and even speaking during the 2020 RNC. "We put all our faith in government, but the government let us down," Kayla's father Carl said during his RNC speech. "President Obama refused to meet with us until ISIS had already beheaded other Americans. To this day, we've never heard from Joe Biden."
On Oct. 27, 2019, al-Baghdadi died during a raid ordered by President Trump. Kayla's parents have praised Trump for approving the mission and (as Pence referenced during the debate) are of the opinion that Kayla may have been rescued if Trump had been president during the time she was held hostage. "I still say Kayla should be here," Kayla's mom told The Arizona Republic. "And if Obama had been as decisive as President Trump, maybe she would have been."
At the vice presidential debate, Mike Pence laid the blame for Kayla's death — at least in part — at the feet of presidential hopeful Joe Biden (who was vice president while Kayla was held captive). After his remarks, Kamala Harris addressed Kayla's parents, saying, "I know about your daughter's case and I am so sorry. I am so sorry. What happened to her is awful and it should have never happened. And I know Joe feels the same way. And I know President Obama feels the same way."