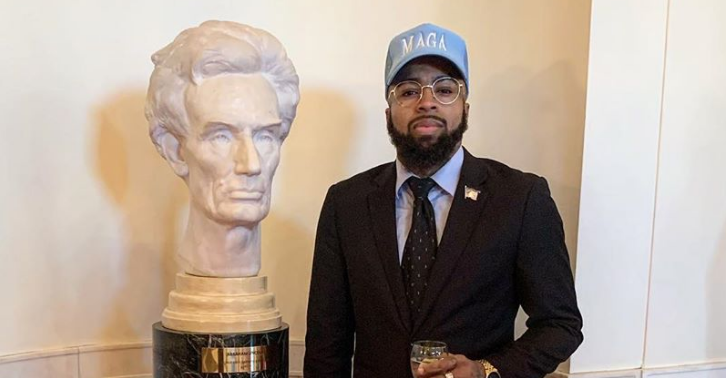 Social Media Personality KingFace Has Reportedly Died at 38
After facing a fatal illness, pro-Trump social media personality KingFace has reportedly died, according to multiple friends.
Popular pro-Trump social media personality KingFace, whose real name is Larry Henry, has reportedly died of a fatal illness on Sept. 29, 2020. Though little is known about what he suffered from at this time, friends and followers alike have come forward to celebrate his life and mourn his death, though few know exactly what happened to KingFace.
Article continues below advertisement
What happened to KingFace? The influencer died of a mysterious illness.
In August 2020, there had been reports that the conservative Instagram personality and musician had fallen seriously ill and that his condition was fatal. This prompted tons of KingFace's fans to flock to his social media accounts to inquire about his health, wish him a speedy recovery, and find out just what was going on with him.
KingFace's followers were left in the dark for the most part, until individuals close to him began responding on his behalf.
Isaiah Washington, a close friend of KingFace's, went online to update everyone concerned about the influencer's health and thanked them for their concern and well-wishes. He added that KingFace's wife asked for everyone to keep on praying for her husband, but there wasn't much more context provided on the Trump supporter's health condition.
Article continues below advertisement
On Aug. 26, KingFace's friend, Stefan Urquelle, updated his fans in an Instagram Live post on his condition. "KingFace is my best friend and my brother, so I'll speak for him right now. KingFace is in a coma. KingFace had a very bad kidney infection that spread throughout his body, and he isn't doing too good," Stefan said. "I know he's been in ICU since July 1."
Another friend, Bryson Gray, also shared that KingFace had been in a coma since July.
Article continues below advertisement
In late August, KingFace's wife, Marion Krouser, created a GoFundMe with the goal to "offset medical expenses, future rehabilitation expenses, family support, and also continuing King youth program."
Article continues below advertisement
On Sept. 29, friends and fellow influencers broke the news that KingFace had died.
On Facebook, fellow conservative influencer Rob Smith shared the news with his followers that he had been told that KingFace died. "I just got word that Kingface has passed away," he wrote, alongside a photo of them together. "Just a year ago we were taking this photo in NYC. Literally 6 months ago we were in DC for CPAC and got the chance to have a really in depth conversation. I got to know a really deep, intellectual, kind side of this man who had such an outsized social media presence."
"I'm glad that I got the chance to know him, glad that he changed the conservative movement in this way, and so blessed to have spent a bit of time with him," he continued. "I sincerely hope his family finds peace and let's all uplift them in prayer right now."
Many of KingFace's friends and followers echoed the sentiment online.
Article continues below advertisement
"I just can't believe it. I was fortunate enough to spend time with KingFace just a week before he was hospitalized. He was so excited to tell me about his latest project. If only I had known it would've been the last time, I would've hugged him even tighter. RIP my dear friend," wrote Gina Bontempo.
"RIP TO KINGFACE. One of the realest people I've ever met. He was the first person in the MAGA movement to post my music on Instagram. His video is the reason I bought the 'Big MAGA hat'. He was the first person to let me perform with him during blexit. RIP," Bryson Gray wrote.
Our thoughts are with KingFace's family and friends during this time.