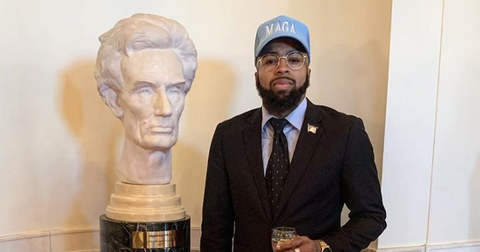 Social Media Personality KingFace Is Reportedly Facing "Fatal" Sickness
By Mustafa Gatollari

Updated
The relationship between race and politics isn't anything new and it's certainly a huge topic of discussion going into the 2020 election. Presidential candidate Joe Biden caused quite the stir when he appeared on The Breakfast Club and told Charlamagne tha God "you ain't Black" if you don't vote Democrat. There's been reports that Donald Trump's father was a KKK supporter, so it comes as a shock to people when Black voters, like KingFace, approve of him. But what happened to the influencer?
What happened to KingFace? Reports claim that the influencer is sick.
There's been reports that the conservative Instagram personality and musician has fallen seriously ill and that his condition is fatal. This prompted tons of KingFace's fans to flock to his social media accounts to inquire about his health, wish him a speedy recovery, and find out just what was going on with him.
KingFace's followers were left in the dark for the most part, until individuals close to him began responding on his behalf.
Isaiah Washington, a close friend of KingFace's, went online to update everyone concerned about the influencer's health and thanked them for their concern and well-wishes. He added that KingFace's wife asked for everyone to keep on praying for her husband, but there wasn't much more context provided on the Trump supporter's health condition.
Reportedly, KingFace and his family do not know what he is sick with.
Folks were still left wondering just what was going on with the internet personality. How serious was his sickness? Or was there something else going on with him and he was taking a break from social media for another reason?
A Twitter user provided a bit of context, claiming that he messaged KingFace's son on Instagram and was able to find out more information about his illness.
@spiritual_real posted what appears to be a legitimate exchange between himself and KingFace's son where he asks, "What is he sick with? Will he be better soon? Please give him our prayers."
The influencer's son replied with, "He will get better soon don't know what he's sick with all I know is he can't talk when he talks he losses his breath and can't breath [sic] but he is getting better soon."
If this interaction between the Twitter user and KingFace's kid is actually legitimate, then I personally don't think it's crazy to assume that KingFace may have contracted COVID-19. I was diagnosed with the virus myself and experienced very similar side effects, loss of breath and fatigue being the most prominent symptoms.
What's KingFace's real name and how did he come to be a MAGA influencer?
The e-celeb and conservative figurehead's IRL moniker is Larry Henry, and he was born in Florida. However, he moved to Brooklyn with his father at only 3 months old, after his mother handed him over to his dad to raise him.
He's currently living in Queens, N.Y. and maintains that he's been a Trump supporter for years, even back when the president was a real estate mogul.
KingFace says that he doubled down on his support of Trump after he became president and began implementing policies he deemed favorable and in the country's best interest.
It seems like the more vocal he is in his support of President Trump, the more appearances he books. Candace Owens recently had the personality on her program, and KingFace has amassed more than 140,000 Instagram followers to date.
Many people have conflated KingFace with singer Joy Villa, and some claim that the musicians are merely boarding the "Trump Train" in a bid to go viral and bring more attention to their artistic endeavors.