Sorry Anime Fans, 'KissAnime' Sounds Like It's Gone for Good
For fans of anime, trying to find how to watch the latest title or re-watch one of the favorites isn't easy. It's even harder now after what happened to 'KissAnime.'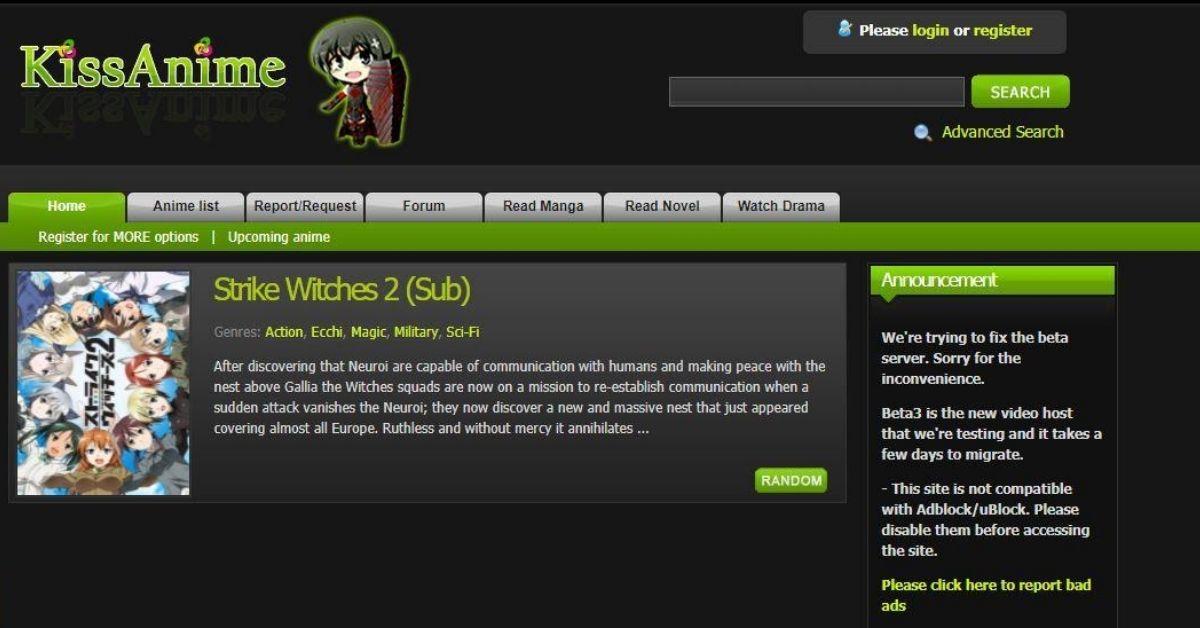 There's a massive subgroup of people all across the world that love the anime genre of movies and television shows. Many have been dubbed into English for more to enjoy and those who are fans of the style sometimes have to look far and wide to be able to watch the titles they're most interested in.
Article continues below advertisement
Thankfully, there are more streaming platforms popping up that offer nothing but anime titles, but for those who can't afford it or want another way often found themselves on KissAnime. However, after what happened to KissAnime, people are back to the search for pay-free titles.
What is 'KissAnime'?
For fans of anime, there aren't a lot of places that content can be watched from. While mainstream streaming platforms like Netflix are starting to build up their anime genre titles, most often people who are a fan of the content have to find another platform to watch the more obscure titles. Crunchyroll or Funimation are two that are available for fans of anime to subscribe to, but they're pricey, and that's where KissAnime came into play.
Article continues below advertisement
KissAnime was a site that hosted often pirated anime shows and movies, offered to view for free by those who visited the site. Its parent company also ran similar sites for other genres of entertainment including KissAsian, KissCartoon, and KissManga.
Article continues below advertisement
The site was loved by many who took to it in order to watch dubbed or undubbed anime, but when trying to access the site in mid-August 2020, visitors were met with a message instead of the site.
What happened to KissAnime?
Visitors were met with a white screen upon clicking to the KissAnime website instead of its typical black background green text look. Instead of the site populating with categories and new titles to watch, there was one sentence written on the white screen.
Article continues below advertisement
"All files are taken down by copyright owners," the message on the site read. "The site will be closed forever. Thank you for your supports."
On the Instagram profile that appears to be run by the same people who oversee KissAnime, there was a message posted letting their visitors and fans know what happened as well.
Article continues below advertisement
"Thank you guys for the support," it read. "Cause of this is the Copyright Issue. Since, many companies are not getting their revenue. It's time to say goodbye. But still Anime is in our hearts."
Article continues below advertisement
It seems the site was allegedly hit by copyright claims that forced them to close the site, as well as KissManga, after years of hosting content that was alleged to be pirated. The news hit the anime community hard, with many taking to Twitter to share how upset they were.
Article continues below advertisement
"Rest in peace Kissanime you will never be forgotten you were a legend and life just became even more dull without you," one person tweeted.
"A load of people used to use KissAnime but it got permanently taken down a few days ago," another wrote in all caps.
Article continues below advertisement
It seems to be hitting many in the community hard. Another tweeted, "KissAnime is gone and other pirate streaming sites are gonna meet the same fate." Adding, "A lot of the anime I've enjoyed can't be found on legal American streaming sites. So with a heavy heart I'm starting to feel like me and anime should go our separate ways."
With the shutdown of KissAnime, several scam sites have popped up trying to trick others into believing the site is open. The real one ends with the .ru and it's been taken down. Sorry, anime fans!