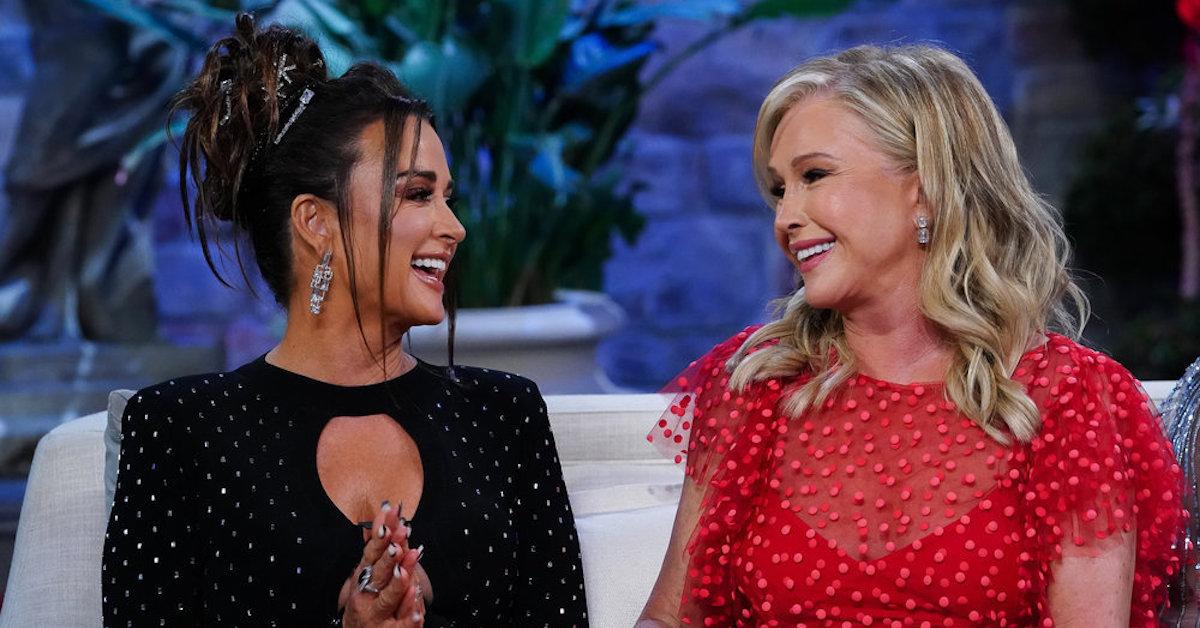 Kyle Richards and Kathy Hilton Opened Up About Their Late Mom on the 'RHOBH' Reunion
What Happened to Kathy Hilton and Kyle Richards' mom, Kathleen Richards? The reality stars have spoken about the matriarch of their family on 'RHOBH.'
While Kyle Richards has been on every season of The Real Housewives of Beverly Hills since the show debuted in 2010, viewers have been able to see a completely different side to the reality star since her older sister, Kathy Hilton, joined as a "friend" in Season 11.
Though Kyle's other sister, Kim Richards, was also a housewife for several seasons, fans have enjoyed seeing the fun rapport between the Halloween Kills actress and Kathy.
Article continues below advertisement
The two have giggled over a grill brush, they've bickered over Kathy's fan and her energy drink consumption in the middle of the night, and they've shared several serious moments while discussing their late mother, Kathleen Richards.
As longtime fans of RHOBH will remember, Kathy and Kyle were estranged for a period of time because the latter sister created a scripted series, American Woman, that was loosely based on their mom.
In Part 2 of the Season 11 reunion, which aired on Oct. 20, the siblings shared an emotional moment about their mom and her legacy.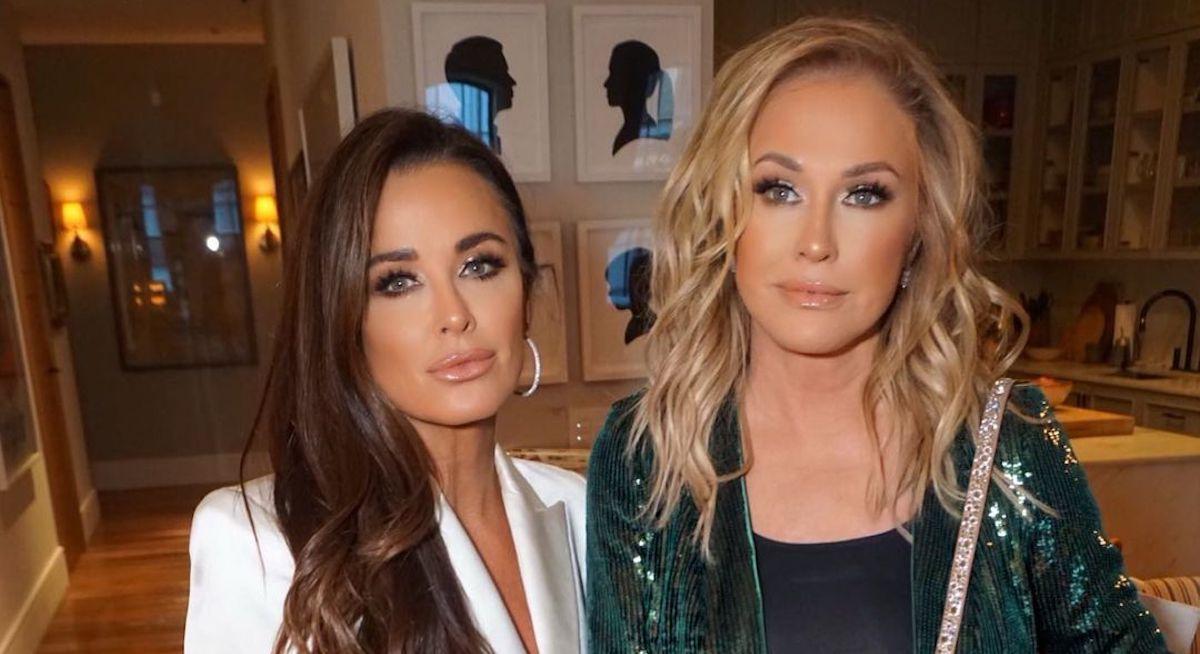 Article continues below advertisement
What happened to Kathleen Richards, the mom of Kyle Richards, Kim Richards, and Kathy Hilton?
Kyle, Kim, and Kathy all share the same mother, Kathleen Richards (née Dugan). Kathleen Richards was born in 1938, and she was first married to Kathy Hilton's father, Lawrence "Larry" Avanzino.
After Kathleen Richards and Larry split, she wed Kenneth Edwin Richards. She welcomed daughters Kim (1964) and Kyle (1969) before she separated from Kenneth in 1972.
Following her marriage to Kenneth, Kathleen Richards reportedly wed two more times.
All three of her daughters were child stars. Kyle and Kim continued their acting careers into adulthood.
The matriarch of the family passed away following a battle with breast cancer in 2002. Kyle and Kim were in their thirties when their mom died, while Kathy was in her early forties.
As RHOBH viewers will know, Kyle has gotten Mammograms on the show before in order to spread awareness, and to encourage others to also get checked.
Article continues below advertisement
Kyle and Kathy discussed their estrangement and their late mom on the 'RHOBH' Season 11 reunion.
Though Kathy and Kyle are the best of friends on Season 11 of the hit Bravo show, the sisters went through about a decade of on-and-off estrangement. Kathy wasn't happy when Season 1 of RHOBH aired and Kyle accused their sister, Kim, of being an alcoholic.
The mom of four also didn't like seeing Kim's sobriety play out in front of the cameras either.
Article continues below advertisement
Kyle and Kathy's differences came to a head again when Kyle began working on American Woman. While Kyle thought of the drama as a "love letter" to her late mother, her sisters did not like the idea of her potentially highlighting private family matters.
Once the show was canceled after one season in 2018, all three of the sisters were able to reconnect.
"My sister and I had a lot of setbacks in our relationship," Kyle said during a confessional on RHOBH. "And, then, I did American Woman and I think Kathy thought that I was going to disrespect our mother or our sisters."
On the second part of the reunion, host Andy Cohen asked Kathy and Kyle about their long separation, and their eventual reconciliation.
Article continues below advertisement
"I kept thinking about my mom, like 'what would my mom do?'" Kathy said about why the early seasons of RHOBH upset her. As the oldest sister, she felt a sense of responsibility to look out for Kyle and Kim.
Both Kyle and Kathy noted that the time they spent apart was a "waste."
"We wasted a lot of time," Kathy shared about the period of time when she didn't talk to her younger sister.
The 62-year-old grew emotional as she spoke about her late mother.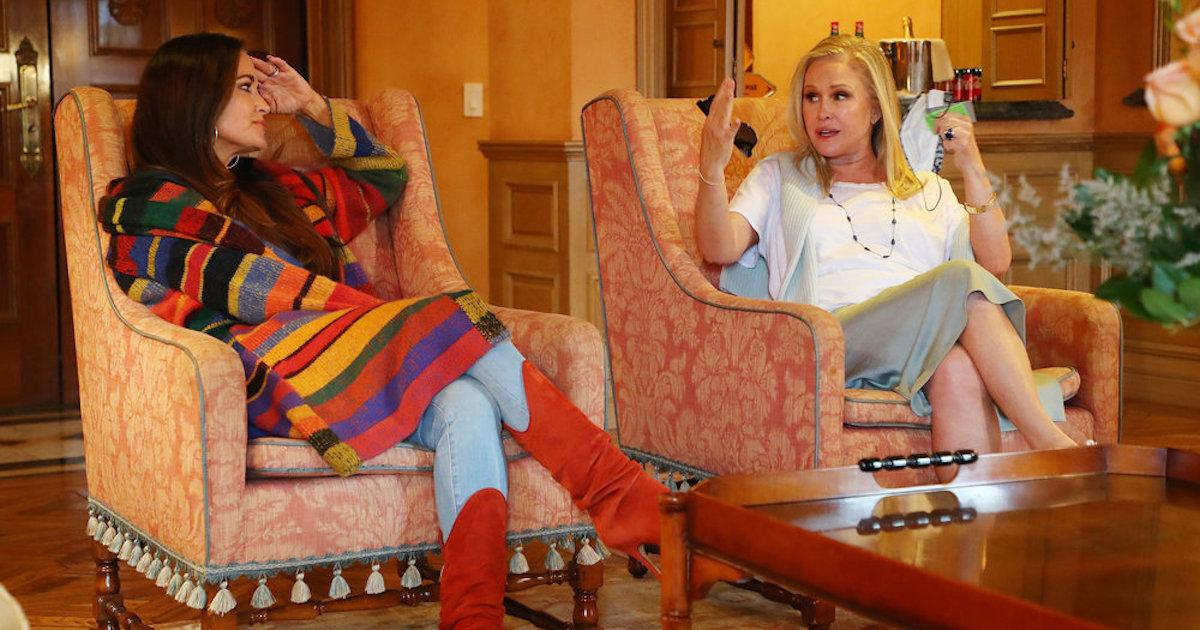 "The fact that she's not here anymore, it's very hard for me," Kathy added. She shared that she can't listen to recordings of her mom's voice, and she isn't able to talk to her mother's friends.
"I do feel like it's really hard for Kathy to talk about [anything] to do with our mom," Kyle said.
As Kathy became emotional, Kyle embraced her.
"Remember, she's so happy we're together," Kyle said during the final seconds of the episode.
The Real Housewives of Beverly Hills airs on Wednesdays at 8 p.m. ET on Bravo.