Browns Tight End David Njoku Is Raising Awareness After His Burn Injuries
After Browns tight end David Njoku showed up to a game sporting a full face mask, many wondered what happened to him. Here's what we know.
The Gist:
Browns tight end David Njoku burned his face and arm while attempting to light a fire pit at the end of September.
David has been able to play through the injury and has even been productive on the field.
David has said that he wants to use the injury to raise awareness about the damage that burns can cause.
Article continues below advertisement
The Cleveland Browns are fighting every week to earn a spot in the NFL playoffs, but recently, one of their players drew attention to himself for an injury that had nothing to do with football. Ahead of the Browns' game against the Baltimore Ravens on Oct. 8, 2023, Browns tight end David Njoku was seen entering the stadium wearing a flesh-colored mask with eye and nose holes. The mask covered his entire face.
Although we're in spooky season, David wasn't sporting the mask just to play dress up. In fact, he was wearing it because of an injury he'd suffered off the field, although it wasn't one that kept him from playing. What happened to him? We have all the details ahead.
Article continues below advertisement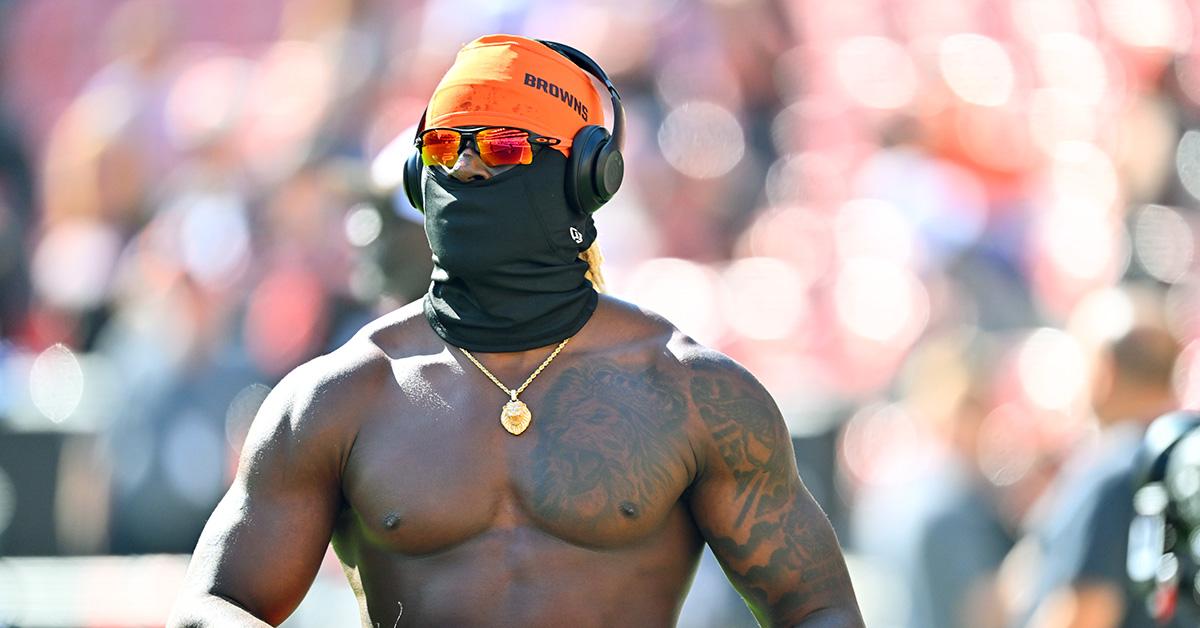 What happened to David Njoku?
David suffered burns to his face and arm on Sept. 29 while he was attempting to light a fire pit at his home. Reporting at the time suggested that David didn't go to the doctors, but did see the team doctor, who treated him for the injury. In a post to his Instagram Stories, David showed off his burned skin, making it clear that he was recovering, but also that the injury to his face was severe.
Article continues below advertisement
Ahead of the game against the Ravens, some Browns fans were worried that David wouldn't be able to play because of the injuries. He was listed by the Browns as questionable ahead of the game, but ultimately took the field and even led the team in receptions. He did switch from a tan mask to a black one upon taking the field, but other than that, the burns to his face and arm didn't appear to have an impact on his performance.
David has attempted to turn his accident into a positive and launched a clothing line around it. He plans to donate a portion of the proceeds to the American Burn Association.
"I want to use my platform to help bring awareness to an all too common issue," he said. "The doctors at University Hospitals Cleveland Medical Center were instrumental in my recovery, and I am forever grateful for their expertise and care."
Article continues below advertisement
"By working with the ABA, I hope to provide resources and support to burn survivors and their families," David added.
While it seems like David's injuries weren't as severe as they could have been, it's clear that he took the experience to heart and wants to be safer around fire in the future.
Football players are often inhibited by injuries they sustain on the field. In David's case, though, it was a fire pit that almost ended his season early. Thankfully, he was able to get the treatment he needed to continue playing for the Browns.