Fans Are Theorizing About the Cut Sitting Above Terry Bradshaw's Left Eye
Terry Bradshaw showed up to Thursday Night Football with a big gash over his left eye, and many fans are wondering what happened to it.
As a commentator, Terry Bradshaw has been a consistently entertaining presence for more than a decade. He's developed a reputation for his wackiness, which he often couples with trenchant analysis of football. In covering a recent game, though, some fans got worried about the state of Terry's eye without him having to call any attention to it.
Article continues below advertisement
What happened to Terry Bradshaw's eye?
When covering a Thursday Night Football game between the Tampa Bay Buccaneers and the Chicago Bears, Terry appeared to have a massive gash over his left eye. The wound was never discussed on the broadcast but was certainly big enough to be noticeable to Terry's fellow commentators.
It seemed to be an open wound that was held together with plaster, but we still don't know exactly how Terry wound up with it.
Article continues below advertisement
Because no explanation was offered during the broadcast, fans immediately began speculating about how Terry may have hurt himself. Some have suggested that Jay Glazer, who reports on injuries in the NFL, should do a story on Terry's cut.
Others offered more serious suggestions, wondering if Terry had fallen and cut himself. Either way, it seems he was healed enough to take part in the broadcast.
Here are some of the best fan theories surrounding Terry Bradshaw's injury.
Now that Terry has a reality series on E!, in addition to his duties as a football commentator, he may choose to keep the details of his personal life private. That way, viewers who wonder about Terry's cut have to tune in to an episode of The Bradshaw Bunch in order to find out how he hurt himself.
Of course, it's also possible that we'll never know the real reason that Terry appeared on air with such an enormous gash in his head.
Article continues below advertisement
As some on Twitter pointed out, though, the fact that they never addressed the wound on air led to more wild speculation than would have occurred otherwise. "All someone needed to do was say SOMETHING ABOUT the gigantic cut above Terry Bradshaw's eye... now we gotta make stuff up," one user wrote on Twitter.
Article continues below advertisement
Article continues below advertisement
Is Steelers quarterback Ben Roethlisberger to blame?
Terry recently teased an interview with Ben Roethlisberger, and while he called it the "best I've ever done," fans know there is a history between the two NFL quarterbacks.
"I'm really looking forward to this interview. I know they haven't always seen eye to eye however I would love for them to patch things up," one fan wrote. "Big Ben will always be my guy and I respect Terry Bradshaw and everything he did for the Pittsburgh Steelers."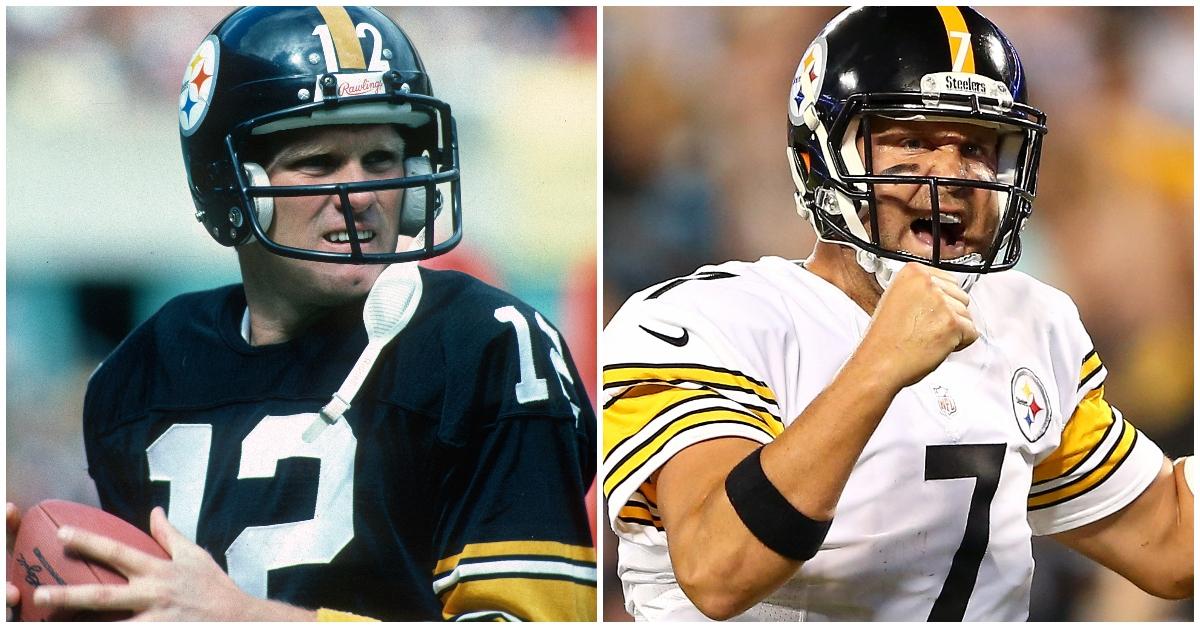 Another agreed, adding, "Terry Bradshaw is interviewing Ben. Well, that should be interesting."
Hopefully, Terry and Ben are able to bury the hatchet, Terry's eye heals, and he shares the details behind the injury on Fox NFL Sunday.