The "Device Event" in 'Fortnite' Has Finally Happened and the Agency's Donezo
What happened to the Agency in 'Fortnite'? The ""Doomsday Device" event was not kind to the long-standing map structure. Details on the event.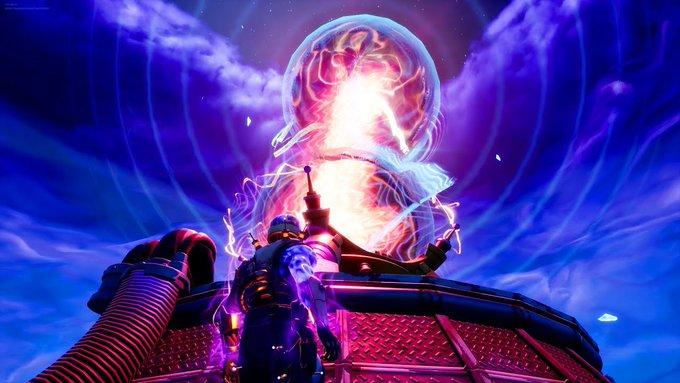 Fortnite's affinity for over-the-top, map-changing events seems to persist from season to season. Of course, there are always going to be those throngs of gamers who never want anything to change in a title, and while it seemed like just yesterday there were a bunch of folks complaining about the "Black Hole" that changed the map, now people are clamoring for the previous changes in light of these new ones.
Like those who demand to know what happened to the Agency.
Article continues below advertisement
Tons of players are getting the "checking Epic Services queue" message in 'Fortnite.'
Due to the massive numbers of gamers who logged in to experience the event for themselves, many were greeted with the maligned "Epic Services Queue" message when they booted up the game.
So what gives? Well, it's most likely directly attributed to the fact that the servers are being overloaded.
Article continues below advertisement
Whenever that message pops up, it's a direct result of a server issue. It's happened before when the massive Season 2 "Black Hole" event occurred, along with the Travis Scott in-game concert that provided Fortnite fans with a wonderfully trippy experience.
The only way to really "fix" this is, unfortunately, to just log out of the game, shut it down, making sure your internet connection is working, and then attempt to log back in. That's it.
So what happened to the Agency in 'Fortnite'?
Although data miners were able to pretty much confirm the fate of the building before the event actually happened, it was still pretty shocking to see the Agency's fate during the "Device Event" in Fortnite.
For a while now, pieces of the Doomsday Machine could be seen being built slowly but surely on various loading screens. More and more cables were being connected and it was only a matter of time before we saw what it was capable of.
Article continues below advertisement
And it was capable of a lot. On June 15, 2020 at exactly 2:05 p.m. EST, the countdown for the timer finally came to an end, and players who were logged in could hear the audible grunting of guards and sirens wailing throughout the map. Towers of metal began to grow out of the recently opened vents surrounding the Agency, breaking through the water's surface.
Article continues below advertisement
Then, a strange spherical object emerged from the Agency and started delivering electrical charges to the towers that flanked the building. At first, it was difficult to tell just what the heck the orb was used for, but before long, its purpose became apparent: it was a machination designed to battle a massive storm.
What's really cool is that the in-game event packed some intimate storytelling. In a rare moment of first-person narration, players were greeted with a scenario that featured Jonesy talking on a smartphone in a very mundane office environment. Several top-secret files were located on a table. The flashback only lasted a bit, and when players were catapulted back into the game, it was apparent that the island was encased in a huge water bubble.
Article continues below advertisement
The event effectively blew up the Agency and left several facets of the game's map altered forever. The purple storm which has been hovering over the map for quite some time has been replaced entirely with a force field of sorts that's now made of h2o. Players can interact with this water-wall if they like by swimming in it, too. But it will push you back if you try.
Article continues below advertisement
No official number of participants for the event have been released by Epic Games but it didn't take long for it to fill up. By 1:31 p.m. EST, Epic tweeted that it had reached capacity, so you had to show up pretty early to see it firsthand.
Thankfully, there are tons of videos online you can check out in case you missed it.
So what's in store for the fate of the island in Fortnite? At this point, it's anyone's guess, but it's cool to see that developers aren't resting on their laurels and are more than happy to shake things up from chapter to chapter.