Wait, Did Epic Games Seriously Just Blow up the Rig in 'Fortnite'?
One of the most recognizable landmarks in 'Fortnite' has undergone a rather explosive transformation. Here's what happened to the Rig.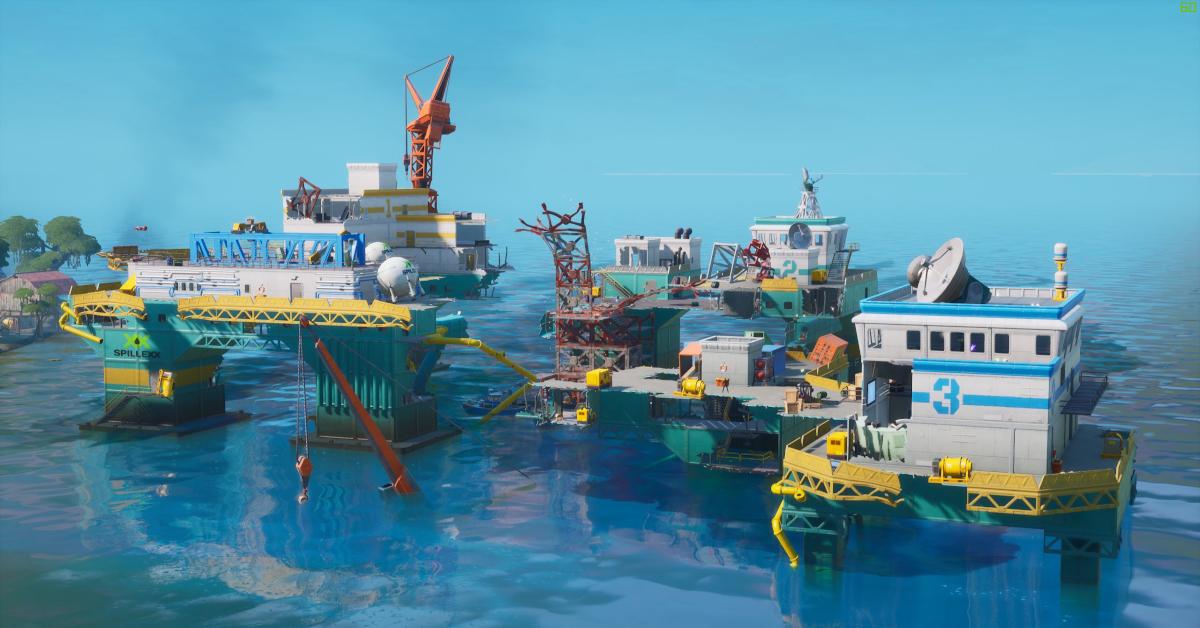 Fortnite's Chapter 2, Season 2 updates have made some big changes to the title in a variety of different ways. While fans of the game are no strangers to cosmetic upgrades, cross-promotional events tied in with major movie announcements, and cool new extras and challenges, Epic games always has a way of introducing new elements that have huge implications for the way Fortnite is played while keeping the Battle Royale spirit intact.
But most folks weren't prepared for what happened to the Rig.
Article continues below advertisement
The game's map is packed with a few significant landmarks and the oil tanker was one of them. After the Black Hole event effectively put the title out of commission and left players, literally, in the dark as to what was going to happen with the major update, they noticed a ton of changes were made to the beloved map they were used to exploring and fighting in for years.
Article continues below advertisement
Like when the loyalty quest with Brutus resulted in a huge skull being plastered in the Grotto wall for SHADOW, which is starting to look like just the beginning of significant environmental changes to the game's map.
TNTina's Oil Rig has also undergone a pretty remarkable transformation: the entire thing was just... blown up. Which makes sense, you know, given the fact that explosions are kind of Tina's thing.
That's what the culmination of TNTina's loyalty quest results in, along with a slew of SHADOW henchman lurking the premises, even if their logo hasn't been placed in a visible location on the Rig.
Some think that if people sided with GHOST, aka, the more "heroic" of the two factions, that the Oil Rig would still be standing. But, again, this is TNTina we're talking about and she just loves blowing stuff to smithereens... so maybe not.
Article continues below advertisement
What changes have been made to the Rig in 'Fortnite'?
As of now, the entire middle of the Rig has been effectively removed as a result of the destruction, which makes the structure that much more difficult to get through. This is most likely going to have a huge effect on henchman and scanner challenges for players — it probably won't be your go-to destination for that in-game activity anymore.
Article continues below advertisement
The good news is though that the helipad on the Rig is actually functional now, ever since Epic Games decided to make good on its promissory tease of helicopters in Fortnite. So The Rig could receive a ton of foot traffic just by virtue of it being a spawning location for the newly added aerial vehicles.
If things continue to go the way that they are, then there are probably more landmark locations that'll see some big changes. We've still got some more GHOST vs. SHADOW loyalty quests to bang out, like Skye, who's tied to The Shark location. After that, it's Meowscles and the Yacht, and Midas' spot: The Agency.
Article continues below advertisement
There are a lot of players who believe we're going to see a completely SHADOW domination of the game's world map to help set the stage for Season 3. The spies-at-war theme is something that Epic appears to be doubling down on, and to have a "fight the evil power" narrative formulated for the game's third season could be a cool way to keep things fresh for gamers.
Article continues below advertisement
The last bastion for GHOST appears to be The Agency, so we'll see if that falls under SHADOW control by the end of this season. What do you think's going to happen?