Here's Why You Shouldn't Straighten Your Hair When Wet
While it may seem appealing to straighten your hair while wet in the mornings to save some time, here's what really happens to your hair.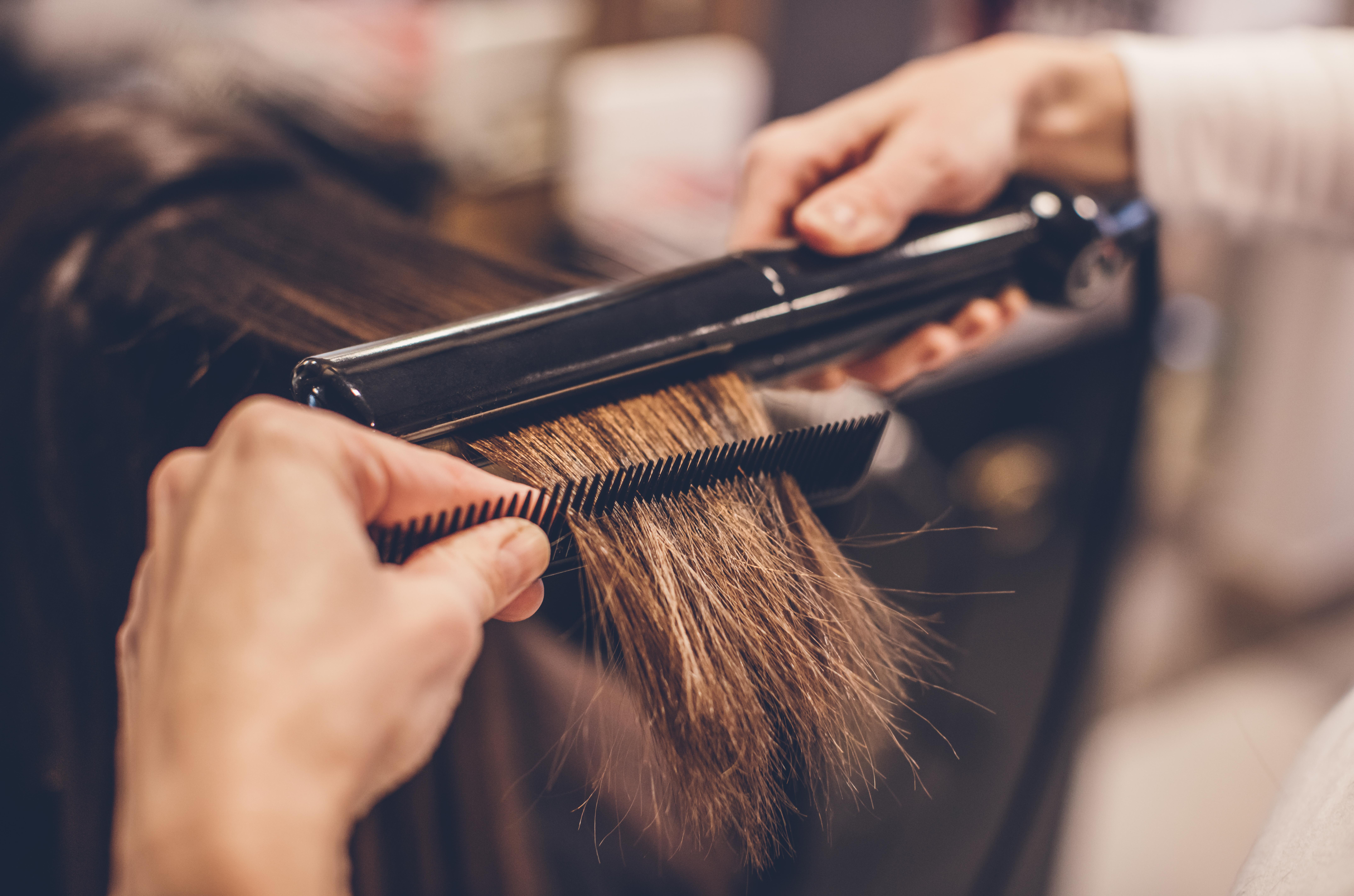 Let's face it — no one's morning routine is perfect. You likely promise yourself you'll get out of bed with enough time to shower, style your hair, and eat breakfast, only to roll out of bed late and frantic for time.
And while wet-to-dry straighteners may seem like an easy purchase to save some extra time in the morning, the truth is that skipping the drying time may be more damaging than helpful. Here's what happens when you straighten wet hair.
Article continues below advertisement
Can you straighten your hair when wet?
The question shouldn't really be about whether you can, but rather whether you should. Of course, we've all been in a rush one hectic morning and slapped our sizzling hair between the plates of our flat iron, hoping desperately to save a few minutes. But the truth is that doing this harms your hair more than it helps it — and straightening your hair when wet constantly will cause massive damage.
Article continues below advertisement
"When you use a flat iron on wet or even just damp hair, your hair is sandwiched between super-hot plates that dry and shape your hair in a matter of seconds," L'Oreal writes.
Even if you spray a more-than-necessary amount of heat protectant before taking your flat iron to your freshly-washed hair, the product won't actually prevent the heat damage you're causing.
"Using a flat iron on wet hair is so damaging," says Nicole Heney of Blushing Brides to SheFinds. "When you use a tool like a hot flat iron on wet hair, the wet hair will actually maximize the heat to dangerous levels. Flat irons are damaging as is, but on wet hair they are much worse."
According to Michelle of the beauty blog Lab Muffin, using a flat iron on wet hair causes the water in your hair to literally pop, which explains the sizzling noises your hair makes.
Article continues below advertisement
This is because the water "explosively evaporates," breaking the hair strand as it does so, causing damage to the hair. While doing this once won't irreparably kill your hair, making this your go-to method is a bad idea.
Article continues below advertisement
Here's how to quickly straighten your hair when wet.
If you're in a pinch and don't have the time to dry and straighten your hair, you have a couple of options. If you know you're running late before you hop in the shower, you can tie your hair up in a shower cap and opt for some dry shampoo to freshen it up instead. Doing this will save you some time in the morning, and you'll likely only need to do a quick pass over your hair to straighten any unruly bits instead of going over your whole head.
But if your hair is really in need of a wash, then the recommended method is to straighten it while blow drying it.
To do this, you'll need a blow dryer and a round brush. Apply heat protectant and section your hair in two-inch chunks. Using the round brush, brush up and under the section, focusing the blow dryer on the hair. Continuously rotate the brush to ensure you're working your way down the hair shaft while smoothing it at the same time. Repeat this process on the other sections.
Even if you don't have the time to fully dry your hair, using this method will ensure your strands adhere to a straighter look, smoothing them out more gently than a flat iron would.