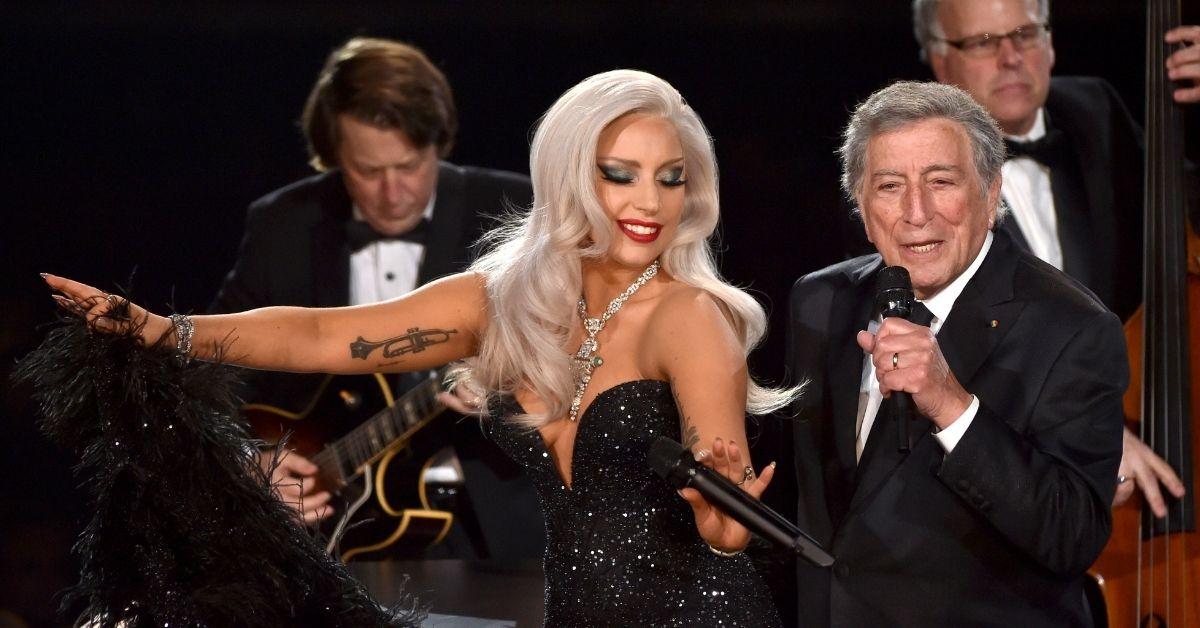 A Look at Lady Gaga and Tony Bennett's Unlikely Yet Incredibly Sweet Relationship
The internet never stops. A paparazzi shot of two celebrities casually grabbing coffee could have Twitter yakking for days. Fortunately, we are here to explain all that is confusing in Hollywood, like Lady Gaga's relationship with Tony Bennett.
Article continues below advertisement
The "Bad Romance" singer paid tribute to him during the 2022 Grammy Awards while performing a mashup of songs from their joint 2021 album, dubbed Love for Sale. A montage of photos of them danced on the screens behind her as she performed.
This was probably no surprise to fans who have been following their relationship for years. But if you're just jumping in, you might have some questions. Keep scrolling for the tea on Lady Gaga and Tony Bennett's relationship.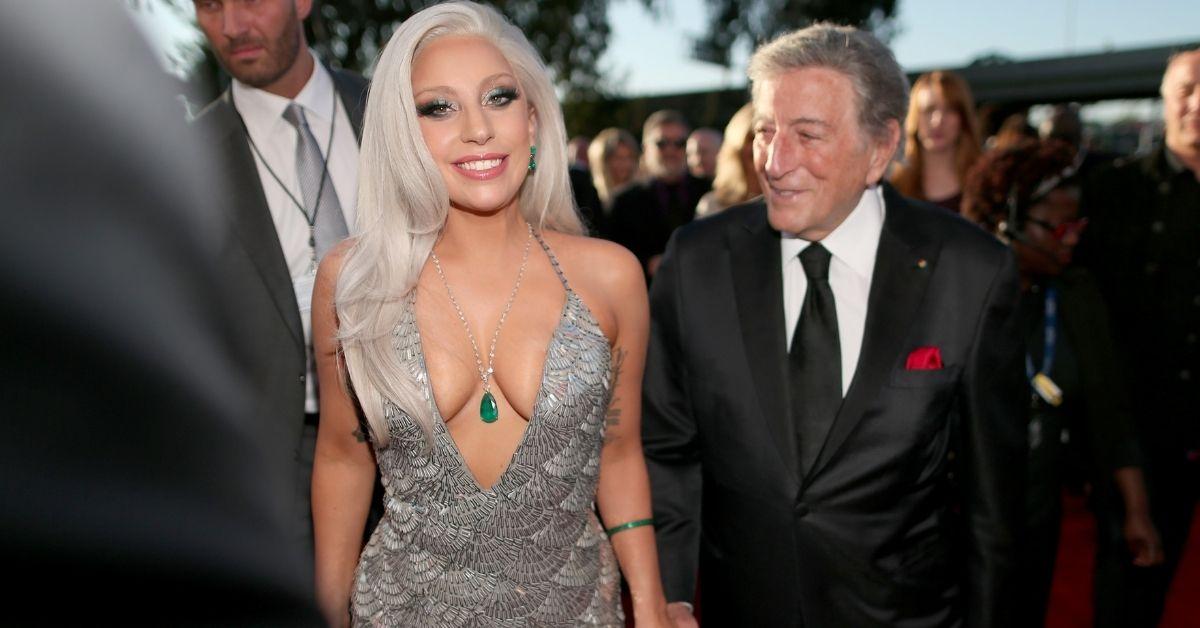 Article continues below advertisement
What type of relationship do Lady Gaga and Tony Bennett have?
Lady Gaga and Tony Bennett are close friends who have bonded over their love of music. Per People, their friendship started in 2011 after she performed Nat King Cole's "Orange Colored Sky" at the Robin Hood Foundation gala in New York City.
Tony, a seasoned jazz crooner, was impressed with Lady Gaga's voice. Although she has cemented herself as a pop artist in the industry, he saw a lot of potential in her as a jazz singer. He asked to work with her.
That year, they teamed up to sing a cover of "The Lady Is a Tramp" for Tony's album Duets II.
Article continues below advertisement
Their friendship and musical partnership continued to blossom. In 2014, they released their first joint album together, Cheek to Cheek. Naturally, that album was a success and they decided to put out a second album together. Love for Sale was released in September 2021.
Article continues below advertisement
Tony Bennett sketched Lady Gaga for the 'Love for Sale' cover. He also once sketched her nude.
Friends are comfortable around each other, right? In 2011, Lady Gaga was Vanity Fair's January cover girl. In addition to her magazine spread taken by famed photographer Annie Leibovitz, a nude charcoal sketch of her also appeared in the issue.
Per E! News, Tony Bennett was the artist behind it, which ultimately proved just how comfortable the pair was with each other. Later the piece was auctioned on eBay, with proceeds going straight to charity.
Article continues below advertisement
Tony also sketched a more recent headshot of Gaga for the Love for Sale album cover. In their video for their rendition of "I Concentrate on You," Tony is seen drawing Lady Gaga, who tears up after the final reveal. "Tony, it's beautiful," she said. "It's so beautiful."
Tony Bennett introduced Lady Gaga at the 2022 Grammy Awards.
Although not physically present at the 2022 Grammy Awards, Tony hyped the crowd up for Lady Gaga via a pre-recorded tape. She performed a mashup of their songs "Love for Sale" and "Do I Love You." Then, she ended her performance on a heartfelt note, saying, "I love you, Tony, we miss you."
Article continues below advertisement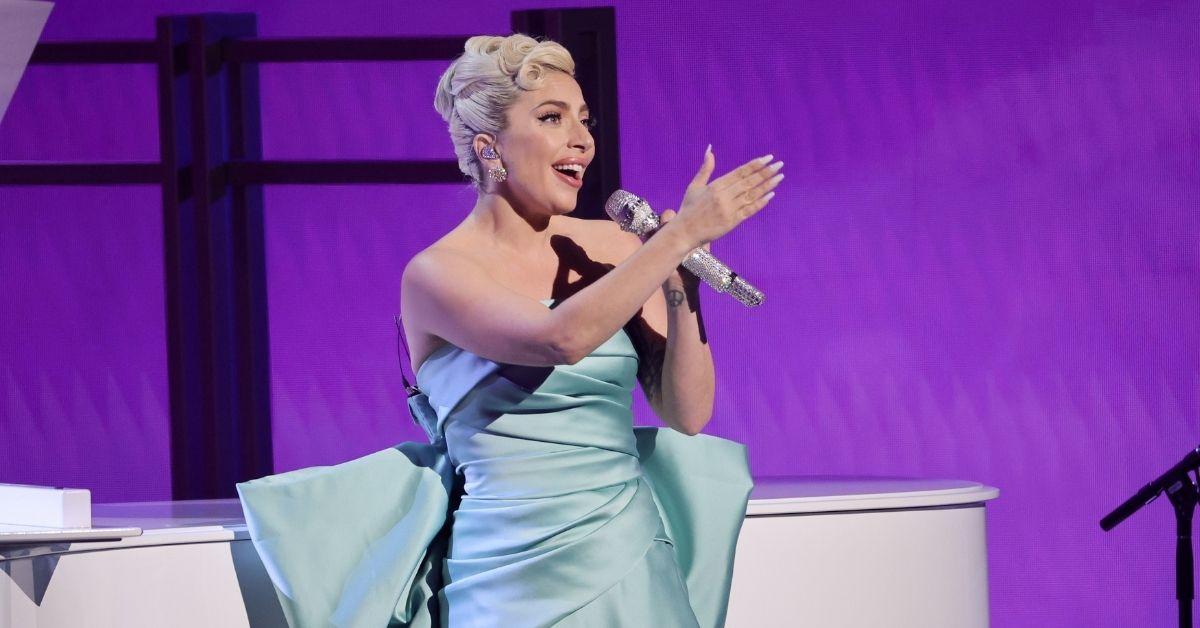 Tony had officially retired on doctor's orders in August 2021 at age 95, per NPR. In 2016, he had been diagnosed with Alzheimer's disease but had kept it a secret from the public for five years.
In an upcoming Paramount Plus documentary titled The Lady and the Legend, Lady Gaga and Tony Bennett will discuss the making of their last album together. For the most part, Lady Gaga has been the sole promoter of their album since Tony's retirement.