"What Killed Mickey Mouse?" The Latest TikTok Trend Has Fans Worried Over the Disney Mascot
What killed Mickey Mouse? Folks on TikTok are hopping on the latest trend about the current living status of the popular Disney mascot.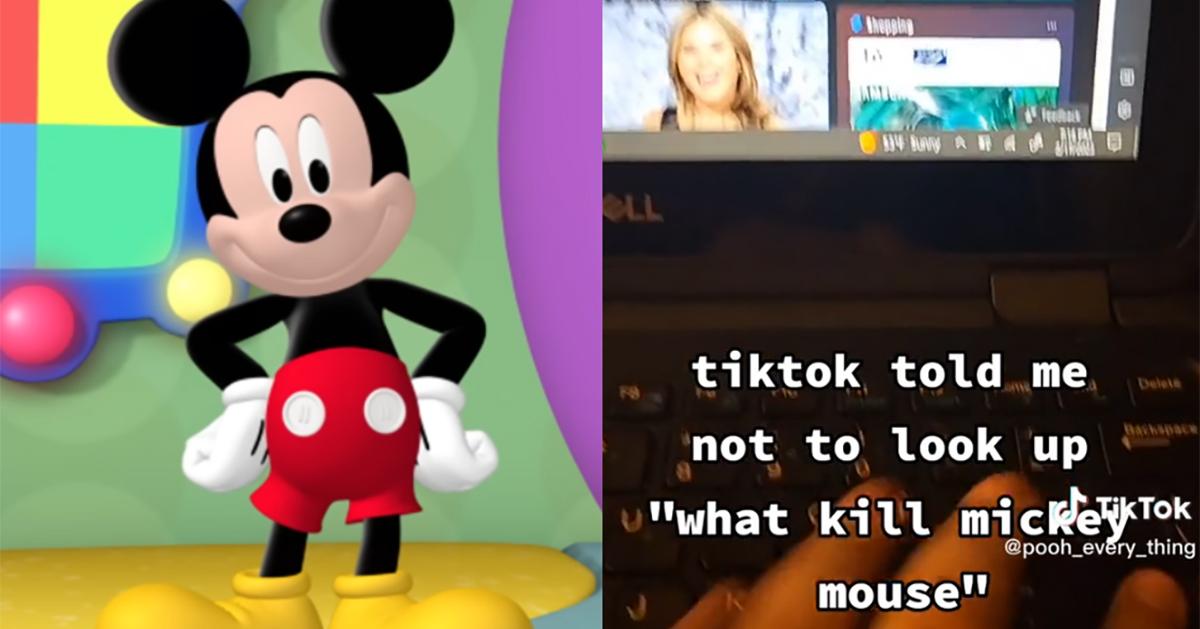 Who's the subject of the darkest TikTok trend you'll see? M-I-C-K-E-Y, M-O-U-S-E!
A social media platform like TikTok is home to all sorts of strange trends and new fads that folks on the app can't get enough of, whether they take the form of strange dances, new diets, or visiting a library honed in on the latest memes. But lately, folks have kicked up a disturbing trend where they inquire about the living status of one of history's most recognizable mascot characters.
Article continues below advertisement
In recent news, folks have taken to asking "what killed Mickey Mouse" and sharing their reactions on TikTok.
The iconic Disney character was created in 1928 (originally introduced as Steamboat Willie) and has served as the de facto poster boy of the hyper-popular brand.
With Disney as a franchise celebrating 100 years in 2023, the death of its mascot would certainly put a blemish on the milestone. Why are folks looking this up? Did Mickey Mouse actually die? Here's what we know.
Article continues below advertisement
Folks on TikTok are Googling "what killed Mickey Mouse".
It's always sad to hear news about a popular celebrity passing away, but the internet is no stranger to death rumors and hoaxes of a similar nature. It's gotten to the point where fans have to check out multiple sources to see if the news on someone's passing is true or false. It can get even more confusing if trending news on someone's death doesn't exactly go into detail.
It's here that Mickey Mouse comes into play. Folks on TikTok are currently looking into details on the supposed death of the Disney mascot.
This requires clarification, though. Mickey's death isn't what's trending. Rather, it's the fact that people are looking up what led to Mickey's death.
The latest TikTok trend involves people googling "what killed Mickey Mouse" or a search inquiry of similar wording. Rather than post an answer or explanation, folks post their shocked reactions to whatever it is they find. Googling it now will likely only pull up news on the trend, but people have found some interesting results.
Article continues below advertisement
People have reportedly found results stating that Mickey's heart supposedly "exploded," causing the mascot's untimely end. Another posited that fellow TikTok icon Wednesday Addams killed Mickey after the eponymous Netflix series became a global phenomenon. Others have even found disturbing art of Mickey being caught by a mouse trap, as well as a "lost episode" of a classic black-and-white Mickey Mouse cartoon that depicts his grisly end.
To be perfectly clear, Mickey Mouse is not actually dead. The mascot character is alive and well and continues to appear in several Disney animated series, shorts, and related Disney projects. News about his death on TikTok is highly exaggerated, though folks on the platform are still hopping on the trend regardless.
As one of the most popular and beloved Disney characters of all time, it's safe to say that Mickey Mouse will most assuredly outlive all of us.