Spotify Wrapped 2022 Introduces Two New Features and Users Are Obsessed
What's new on Spotify Wrapped 2022? The viral marketing campaign is back for yet another year, and with it came a few new features.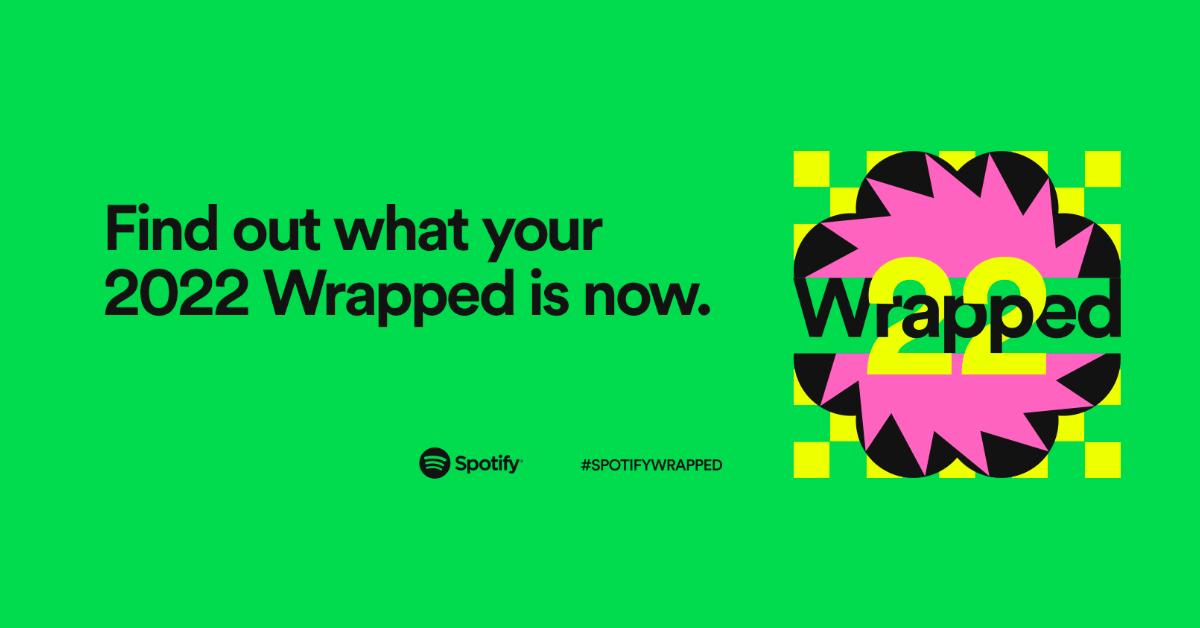 After waiting (im)patiently, the moment we've all been eagerly anticipating has finally arrived: Spotify Wrapped 2022. Yes, the annual campaign is back for another year and offers users the chance to explore the endless ways they connect through music each and every day. However, things will be a tad bit different this time around.
Article continues below advertisement
According to Alex Bodman, vice president and global executive creative director at Spotify, 2022 is all about "emergence. We've emerged into a reality of culture hyperdrive, where everything is happening all at once." Therefore, he and the rest of the Spotify team decided to switch things up for this year's Wrapped experience — how so? Well, through new features, of course!
On that note, stick around as we unveil what's new on Spotify Wrapped 2022.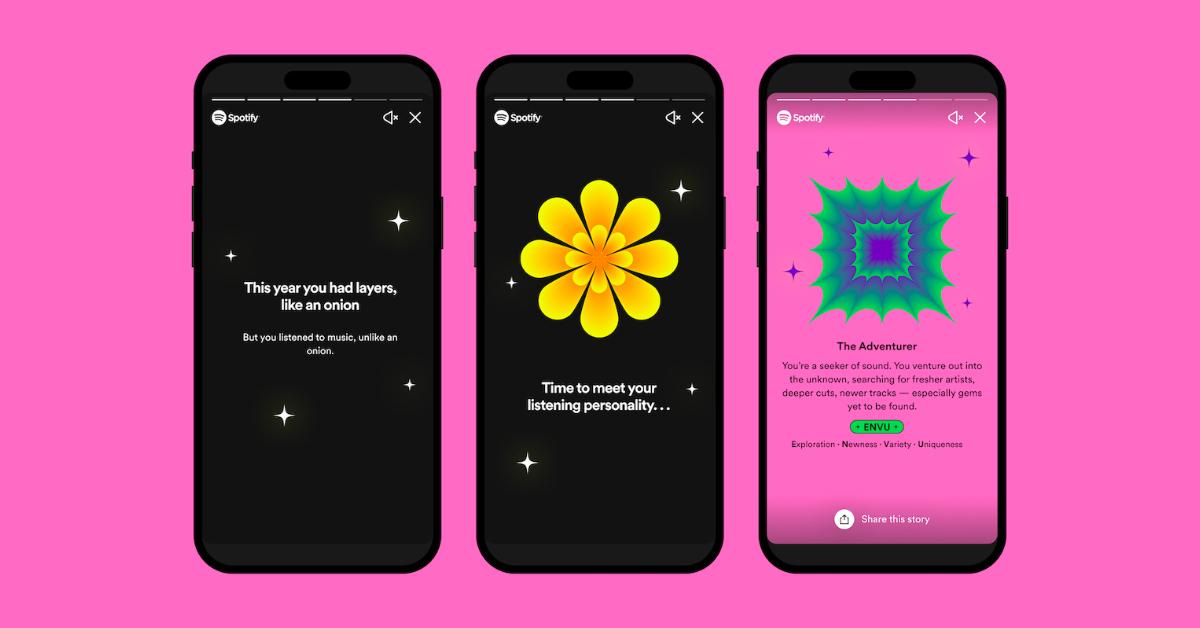 Article continues below advertisement
So, what's new on Spotify Wrapped 2022?
Although this year's Spotify Wrapped experience is loaded with fan-favorite features (e.g., most listened-to songs and artists, as well as favorite music genres), it also introduces fans to exciting new ones that allow users to dig into their listening habits more deeply. Plus, these new features will reveal what makes each and every listener unique.
So, what are the new features? Enter your "Listening Personality" and "Audio Day."
Spotify Wrapped 2022 introduces "Listening Personality" and "Audio Day."
When tapping through your personalized Spotify Wrapped 2022 interactive story, you'll come across an interesting slide that reads, "from sunrise to sunset, you kept it interesting." The experience then delves into the user's "Audio Day," which Spotify describes as "an interactive story that gives you a peek into how your music taste evolved throughout the day."
Article continues below advertisement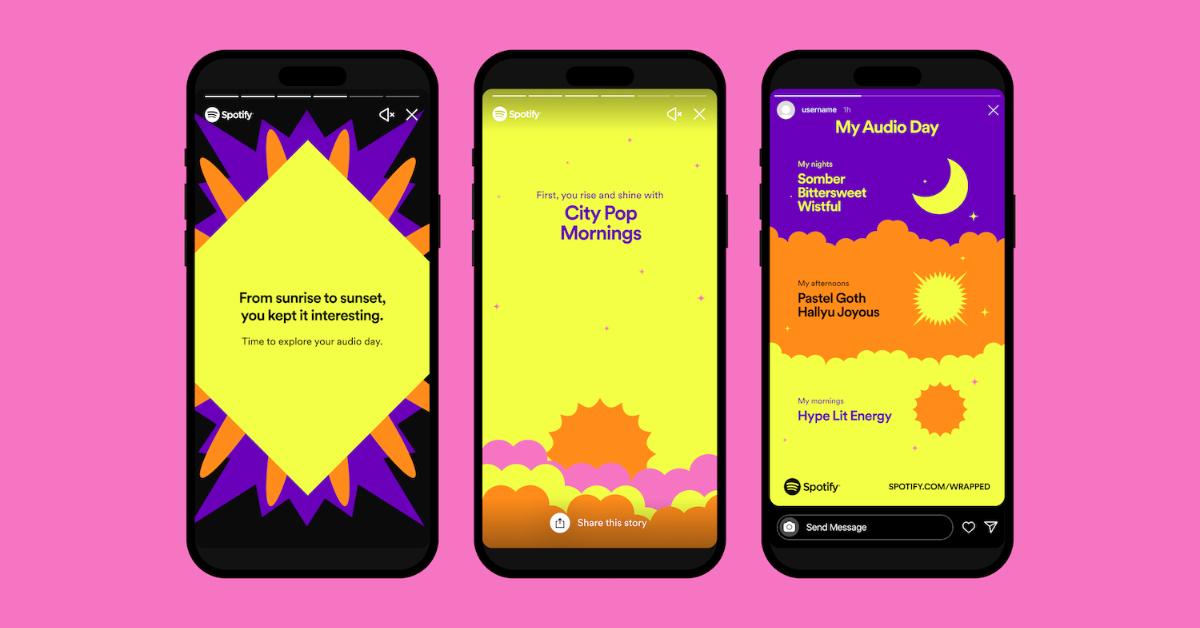 The streaming service notes that the feature "showcases the niche moods and aesthetic descriptors of the music you listened to during morning, midday, and evening time periods." Now, there are endless options, and many are sharing their results on social media. However, we have decided to share ours in hopes that you will bask in the glory of our listening habits:
Morning: Charming Easygoing Victorian
Afternoon: Hopeless Romantic Comforting Yearning
Evening: Confident Energy Silly
Article continues below advertisement
As you continue tapping through your personalized story, you'll eventually come across a humorous slide that reads, "this year you had layers, like an onion ... but you listened to music, unlike an onion." The following display informs users that it's time to meet their listening personality.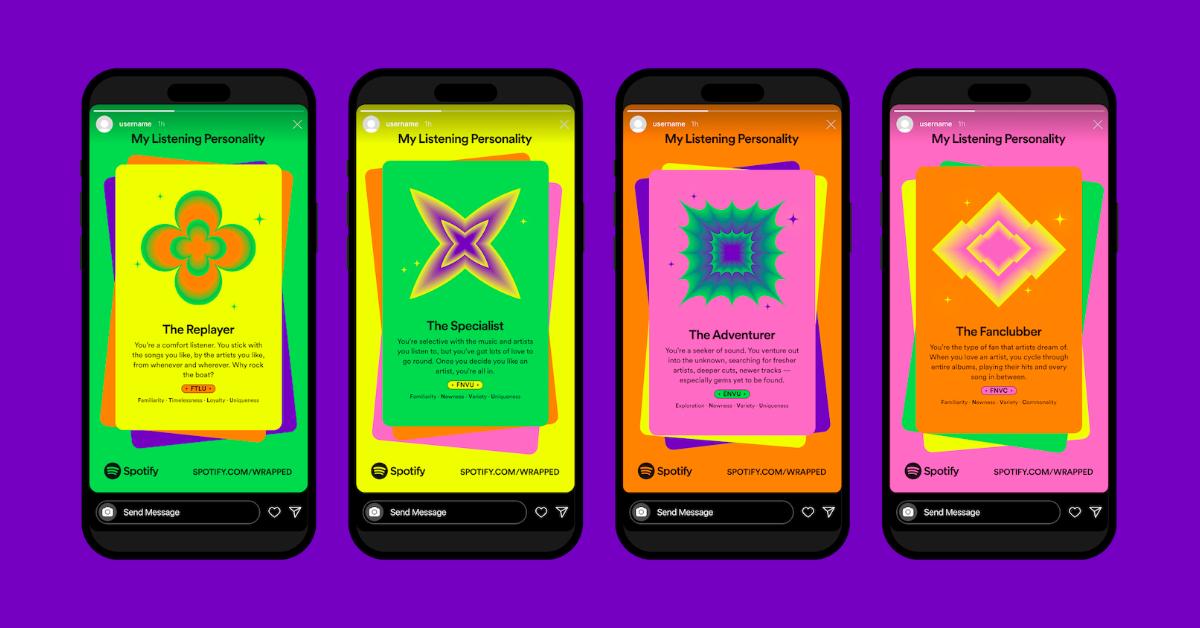 Article continues below advertisement
According to Spotify, the "Listening Personality" feature brings a whole new layer of personalization to the Wrapped experience. The streaming platform created 16 different listening personality types for Wrapped 2022 that "not only tells you about the music you listen to but what that says about your music taste."
Every user's listening personality is made up of four metrics, and here's how you can think about them:
Familiarity (F) vs. Exploration (E): Do you mostly listen to your favorite artists over and over (F), or do you sample a lot of new artists (E)?
Timelessness (T) vs. Newness (N): Do you listen to brand new music right when it comes out (N), or do you wander the vast catalog of all the music ever made (T)?
Loyalty (L) vs. Variety (V): Do you find yourself going back to the same tracks and playing them on repeat (L), or do you like to spin through a lot of music before repeating (V)?
Commonality (C) vs. Uniqueness (U): Do you listen to mostly popular artists along with millions of fellow fans (C), or do you look deeper for someone less well known (U)?
Article continues below advertisement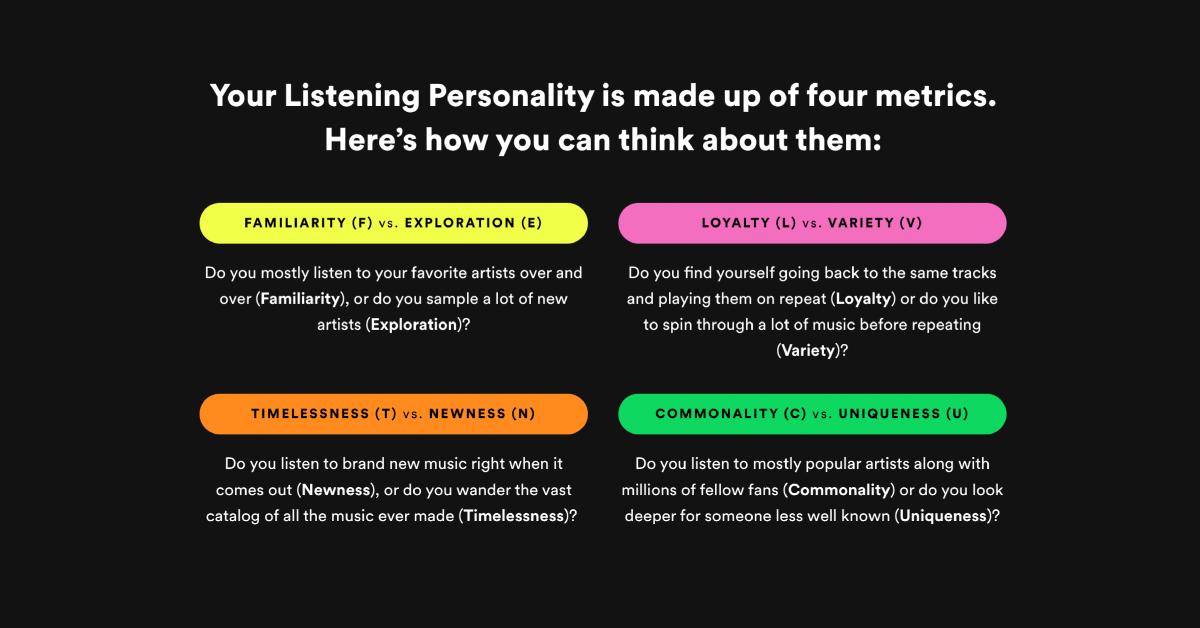 As for the learning personalities, here are all 16 options:
The Adventurer
The Early Adopter
The Deep Diver
The Devotee
The Replayer
The Connoisseur
The Maverick
The Fan Clubber
The Top Charter
The Enthusiast
The Time Traveler
The Musicologist
The Nomad
The Voyager
The Jukeboxer
The Specialist