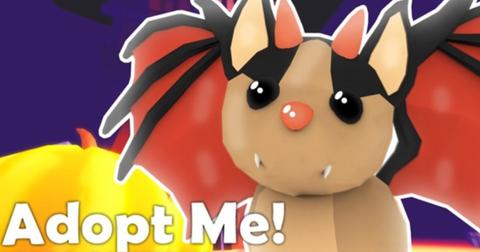 Is There Going to Be a Halloween Event in 'Adopt Me' This Year?
By Abi Travis

Updated
If you're looking for a wholesome game to play in your free time, you really can't go wrong with Adopt Me on the Roblox platform. Raise cute animals? Dress them up in cute costumes? Decorate your cute house in a magical (and cute) world? Yes, please. Sounds like a literal dream come true.
Article continues below advertisement
In past years, Adopt Me has held a Halloween Event in October. Now that we've officially entered the month of Halloween, people are starting to wonder what the plan for this year is. Is Adopt Me holding a Halloween Event this year? And if so, when does it start?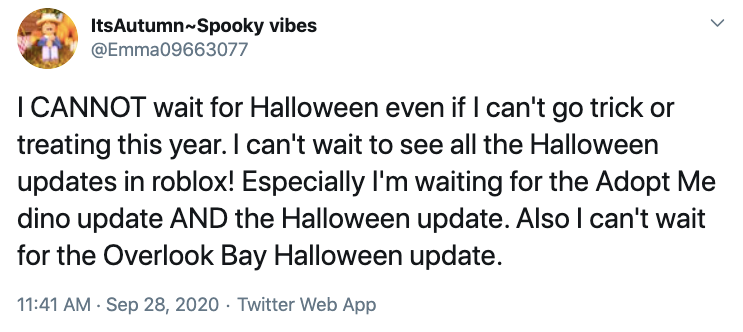 Article continues below advertisement
When does the 'Adopt Me' Halloween Event start this year?
2019's Adopt Me Halloween Event was part of a huge update to the game. Players could earn Candy by participating in events and activities in the game, then use that Candy to purchase exclusive items at the Candy Trading Shop. The playground was replaced with a bunch of minigames, and the school was turned into a haunted house.
And, obviously, there were limited edition pets to be adopted, like the Zombie Buffalo, Bat Dragon, Evil Unicorn, and Shadow Dragon. Obviously, there was a lot to like about the event, and it makes sense that people are looking forward to this year's event — if there is one.
Article continues below advertisement
Last year, the Halloween Event didn't start until Oct. 18 and it lasted through Nov. 1. If Adopt Me does roll out a Halloween Event for 2020, there's a good chance it might be on a similar timeline. However, as of right now, Adopt Me has not officially announced that there will be a Halloween Event at all. That could be due in part to the fact that they're focused on rolling out a different major update.
Explore Fossil Isle and help bring Fossil Eggs to Adoption Island! 🦖🥚

Fossil Isle excavation event starts TOMORROW (10/02)
🕙10AM PST
🕐1PM ET
🕕6PM BST (search '10AM PST local time' to find out what time it'll be for you!)

Watch on YouTube (+bonus!): https://t.co/thT1kavGd5 pic.twitter.com/fAyLt7x8fX

— Adopt Me! (@PlayAdoptMe) October 1, 2020
Article continues below advertisement
The Fossil Egg is coming to 'Adopt Me'!
Although there has still been no word of a 2020 Halloween Event in Adopt Me, there is another huge update that officially launched on Friday, Oct. 2. The update started with the Fossil Isle Excavation Event, in which players could visit Fossil Isle to search for fossils and bring DNA samples to the lab for analysis. As players find fossils, they'll be able to unlock holograms of Fossil Pets such as the Pink Dodo and T-Rex.
The Excavation Event has been rolled out to celebrate the Fossil Egg, which will be coming to the game on Oct. 10, 2020. This is similar to the way the Christmas Egg was brought to the game in previous years.
Article continues below advertisement
Finally, players' dreams of adopting dinosaur pets are coming true! However, since the Fossil Egg update is so large and involved, it may mean that players are not getting a Halloween Event this year. Until there's official word, we'll just have to hold tight and stay tuned — keep an eye on the official Adopt Me Twitter account for more information!
If we don't get a Halloween update this year, that would definitely be a bummer. That being said, being able to adopt dinosaurs is a pretty darn good consolation prize.