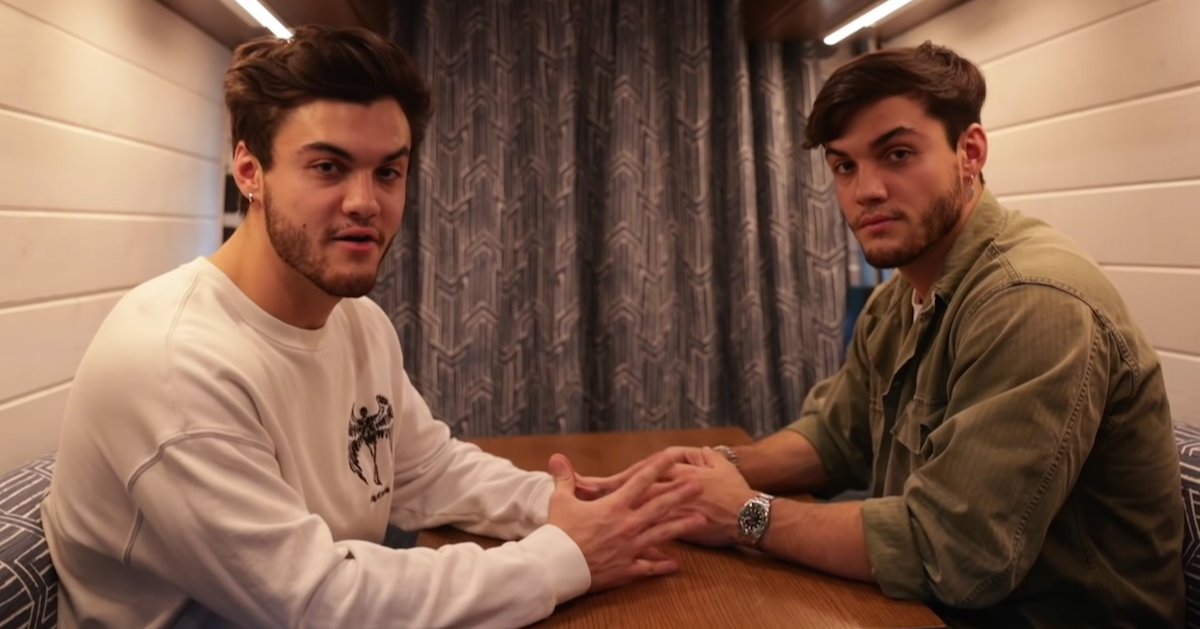 The Dolan Twins Traded in Their $2 Million L.A. Digs for a Tiny House on Wheels
Ethan and Grayson Dolan aka The Dolan Twins have gone through a lot of different life experiences in the public eye at just 19 years old. They rose to fame on Vine, the short video sharing app, and they shifted gears toward a YouTube career when the app became obsolete. They've since bought a $2.15 million home in San Fernando Valley, dealt with the death of their father, Sean Dolan, and they've revealed that they'll be posting new content less frequently to get a rest.
Article continues below advertisement
While the twins seemed to be beginning a more steady lifestyle away from the public eye, they have once again shocked fans with their latest announcement: they wanted to live in a van so they could travel around the country.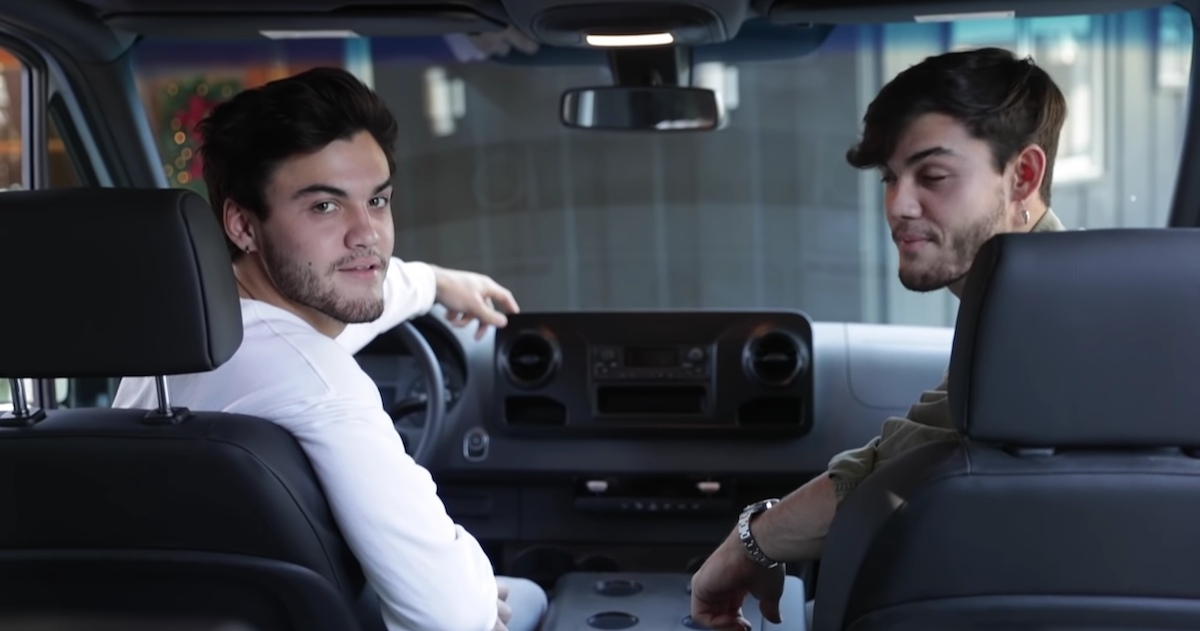 Article continues below advertisement
Where do the Dolan Twins live now? Details on their luxury van life. 
After dropping more than 2 million dollars on their 3,000 square foot California home, the brothers decided to drive across the country in a van. They picked up a standard white van, and decided to film their renovation, which was mostly done by Grayson.
They noted that they were inspired by the tiny home trend that has swept the nation, and the videos that builders have posted of tiny house renovations.
The Twins renovated the van to include insulation for when they are traveling to colder places. They also added cabinets for storage, an armoire for their clothes, and a banquet with a table that folds out to serve as the base of their bed. They will be sharing the king-size bed with their cameraman while they film their journey.
Article continues below advertisement
According to their self-made van rules, the boys must do everything in the van, and cannot go to any outside facilities. That includes showering, but the van does not have its own shower.
But, they admitted they might need to make some exceptions, and they ultimately used public showers and bathrooms at truck stops.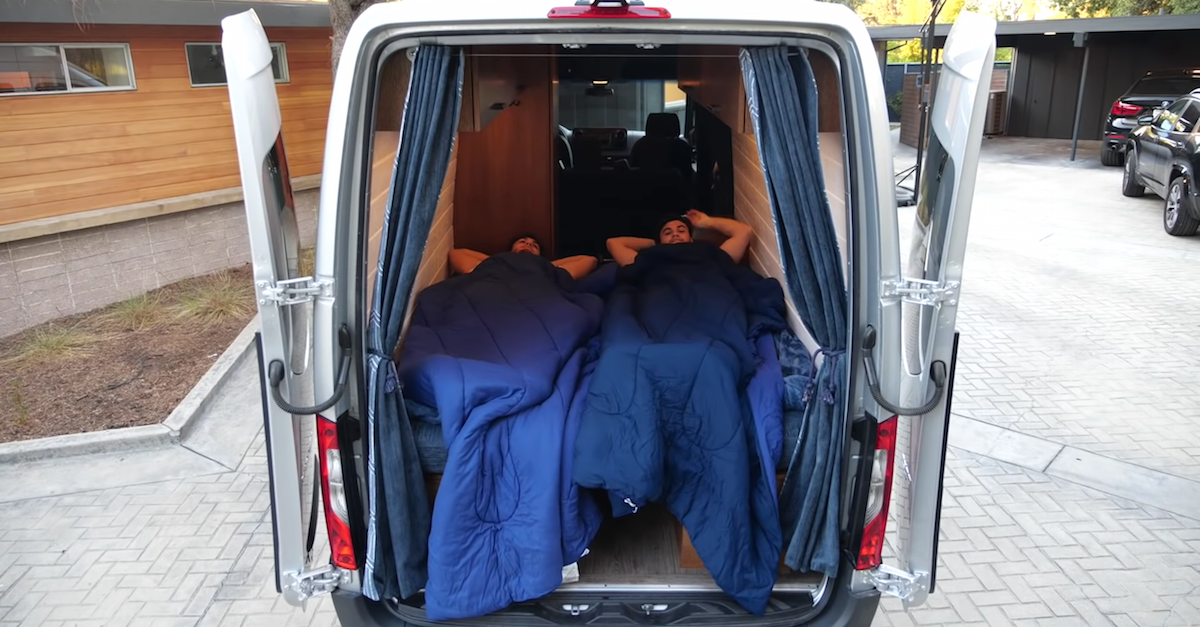 Article continues below advertisement
Their first stop was to drive to Keystone, Colo. because they wanted to see snow. They then aimed to drive to Tennessee, but they got stuck in a snowstorm in Kansas. They ended up driving through some icy and dangerous conditions, but were in the clear once they made it to St. Louis, Mo.
By the time the van trip was over, the Dolan Twins had driven an average of 900 miles per day, and they had split the driving.
Details on the Dolan Twins' hometown. 
When explaining to viewers where their road trip was going to take them, the Dolan Twins said that they were headed to their childhood home in New Jersey. That's right: the Dolan Twins got the van to drive from California all the way to the Garden State. They put their journey into their GPS and discovered that it would take a whopping 38 hours and span across 2,700 miles.
Article continues below advertisement
Clearly, money is not an issue for the teenage influencers, so the drive was not done to save money on plane tickets or hotel rooms. The brothers chose to do the drive as an experience that would be a series on their channel.
They told the camera that their upbringing had a large role in their desire to drive the van across the country.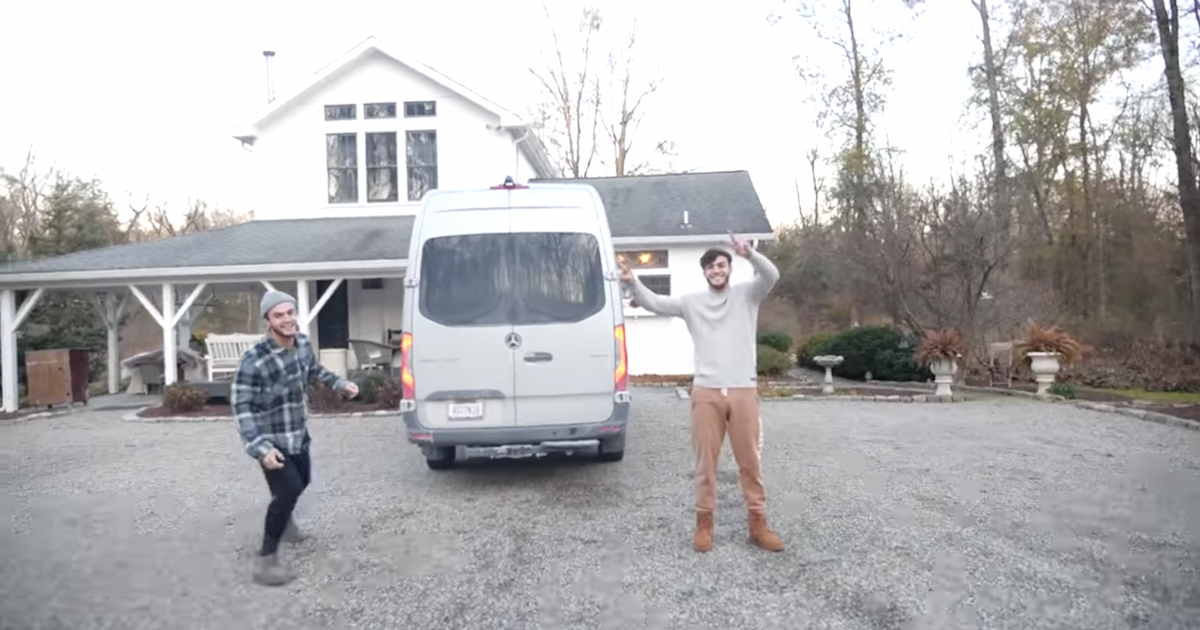 Article continues below advertisement
"We grew up in the middle of the woods in New Jersey. After moving to L.A., we haven't really gotten that much woodsiness," Grayson shared in their "Van Tour" video.
"We also love traveling, and that's something we haven't really gotten to do as much as we wanted to," Ethan confirmed.
"With this new home, we'll have much greater access to the great mother outdoors," Grayson finished before showcasing the new interior of the van.
The Dolan Twins grew up in Long Valley, N.J., which has a population of under 2,000. They previously described their town as "rural," and farmlike, and they got into filming videos to have something to do.
When their long trip was finally over, the twins parked their van outside of their mom's house. They promised viewers that this wouldn't be the last time we'd see the van.
Watch below to see Grayson and Ethan's epic van trip, which included a potential alien sighting and weather issues.