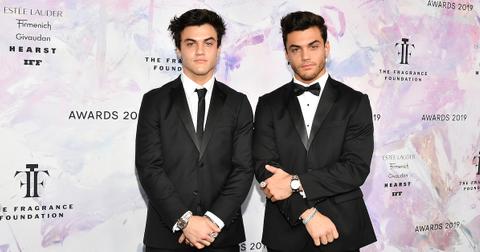 The Dolan Twins Are Having a Rebrand Moment
By Pippa Raga

Updated
If you're at all familiar with the wild world of YouTube and the young people who make more money on there than many of us will in our lifetimes, you've more than likely stumbled upon twin brothers Grayson and Ethan Dolan, affectionately known online as the Dolan Twins.
The 19-year-olds rose to fame in 2013 on the now-defunct six-second video platform called Vine. They were quickly signed to AwesomenessTV, under whose auspices they produced video content under until signing on to the much bigger William Morris Endeavor in 2018.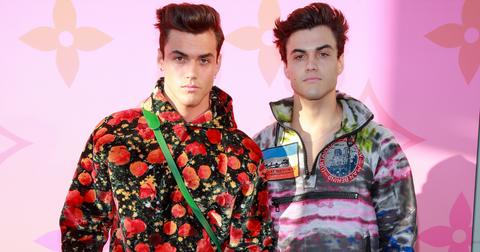 Who is the Dolan Twins' cameraman?
Fans of the Dolan Twins know that Grayson and Ethan's lives move fast. It seems like just yesterday the two formed The Sister Squad with fellow YouTuber stars James Charles and Emma Chamberlain.
But now, the twins are taking a step back from it all following the grief and stress that their father's death has caused for them. To recap, their 50-year-old dad Sean Dolan passed away in January 2019 after spending his last two years battling cancer.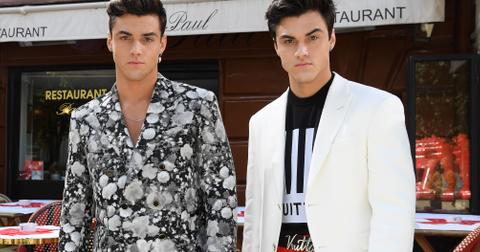 The devastating loss naturally changed Ethan and Grayson, who had to take to Twitter in the days following their father's death to tell fans not to show up uninvited at his funeral. "If you are a fan of Grayson and I, we love you and appreciate you so much," Ethan shared to his 7 million followers.
"The best way you could support us during this tough time is to NOT show up at our father's wake or funeral. Thank you guys and please please please respect my wish," he wrote. Grayson made a similar plea on his account, asking his followers to "send your love through social media only!"
Now, the brothers have taken a step back from their signature pranks and always-on personalities to slow down a bit. Recently, the twins locked away their phones for a week, have spent some time traveling, and are now working on a custom van they plan to live out of.
They also announced they would no longer be conforming to the Tuesday upload schedule they set up for themselves over the past five years. "We feel like it's stunted our growth," the twins announced in a video they recording alongside Shane Dawson. "We gotta stop posting weekly."
With regards to the person who films their videos, the last person said to be their cameraman was one Joe Francione, a photographer with a large following himself — though it's unclear whether Joe still works with the twins today.
That said, Grayson and Ethan do a lot of their own filming and editing themselves — and their skills complement the others.' "Grayson doesn't really know how to work cameras," Ethan told Refinery29. "I do the technical part of editing that Ethan never learned," countered his brother.
Follow the Dolan Twins on YouTube to stay up to date with this new phase of their lives.