'Black Ink Crew's' Ceaser Emanuel and Suzette Samuel Have Broken Up
Who is Ceaser Emanuel from 'Black Ink Crew' dating? Is he still dating instagram model and realtor Suzette Samuel? Here's what to know.
If you're an avid viewer of Black Ink Crew, you know that boss Ceasar Emanuel's love life has been a bit chaotic over the years. While the entrepreneur has long been linked with various women in the entertainment industry, he hasn't been serious with any woman besides his ex-fiancée and former cast member, Dutchess Lattimore.
Article continues below advertisement
However, things have definitely changed over the last few years for the Black Ink Crew creator. While Ceasar has been focused on building his Black Ink empire, he has also been taking things seriously on the romantic front. In fact, he has been dating Instagram beauty and realtor Suzette Samuel for quite some time. But, that relationship has now come to an end.
Not only has the couple cut ties, Ceaser and Suzette are making serious accusations against each other. Keep reading to get the 4-1-1.
Article continues below advertisement
Ceaser has accused Suzette of releasing the dog video because he ended their relationship.
The drama is always on overdrive with members of Black Ink Crew. Fans of the VH1 series are likely aware that Ceaser and Suzette are no longer an item. Additionally, Ceaser has found himself in hot water after being fired from VH1 due to a viral dog abuse video. But, the tattoo mogul claims that not only is the video old, but it was also released by Suzette as a form of retaliation.
In a June 27, 2022, interview on Kiotti Brown's On Tha Radar podcast, Ceaser flat out said that Suzette's actions are a twisted sense of "entitlement."
"Even my ex," Ceaser told Kiotti while recounting people in his life he's helped who went on to betray him. "It's like bro, you pulled that out of your a-- because I left you? Like this is what I'm saying ... the entitlement. If I can't have him, nobody can have him."
Article continues below advertisement
However, Suzette says otherwise. In a June 27, 2022, interview with The Shade Room, Suzette shared that she's not responsible for sharing the video and claims that Ceaser tries to "control" people.
Article continues below advertisement
"I'm not the only one who had access to that video," Suzette told the outlet. "Three people have that video. Ceaser is beefing with two of them. Why would I leak the video?! He was threatening me that if I left, he would have production make me look crazy this season. So I sent a text saying, 'You know I have this video of you, so when the show airs in September if y'all [n-word] make me looking crazy, I'm ending all of y'all.'"
Interestingly, Suzette also shared that some of Ceaser's enemies attempted to break into their Atlanta residence, which prompted her to move.
Article continues below advertisement
Even worse, Suzette has also accused Ceaser of abuse. Suzette shared an image of a bruise on her shoulder area on June 27, 2022, which she claimed happened during Christmas 2021. The realtor told the outlet that they cut ties after the incident and got back together. However, the straw that broke the camel's back was infidelity.
Article continues below advertisement
Suzette alleges that Ceaser was vacationing with another woman in Jamaica before his birthday. Sadly, Suzette claims she found out the news while she was getting ready to celebrate Ceaser's birthday at a party she put together for him.
Article continues below advertisement
Suzette and Ceasar previously made headlines due to an incident with his daughter Cheyenne.
Fans of Black Ink Crew know that Ceasar's daughter Cheyenne has always been important to him. And although he has not dated her mother Crystal, they had a good co-parenting relationship with each other.
Article continues below advertisement
However, things came to a screeching halt once Cheyenne accused Ceasar of abusing her.
In January 2021, Cheyenne took to Instagram Live to allege that Ceasar had beat her and dragged her out of the shower. She also said that Ceasar broke down doors to get to her and threw a speaker at her head.
The situation reached a new level once Suzette took to her own Instagram story. Suzette claimed that Cheyenne wanted hundreds of dollars worth of wigs and never wanted to do chores around the house. She continued to rant about Cheyenne's weight and questioned who raised her.
Not to mention, the abuse claims prompted Ceaser to file a lawsuit against Crystal along with holding a press conference, as shown on Black Ink Crew Season 9.
Article continues below advertisement
This caused many fans to take sides on the issue. While many people believe that Ceasar should have handled the situation better, others think that he truly did abuse his daughter.
Many fans pledged to no longer support the brand of Black Ink or watch the show; others brought up the argument that maybe his daughter is lying about the situation.
Article continues below advertisement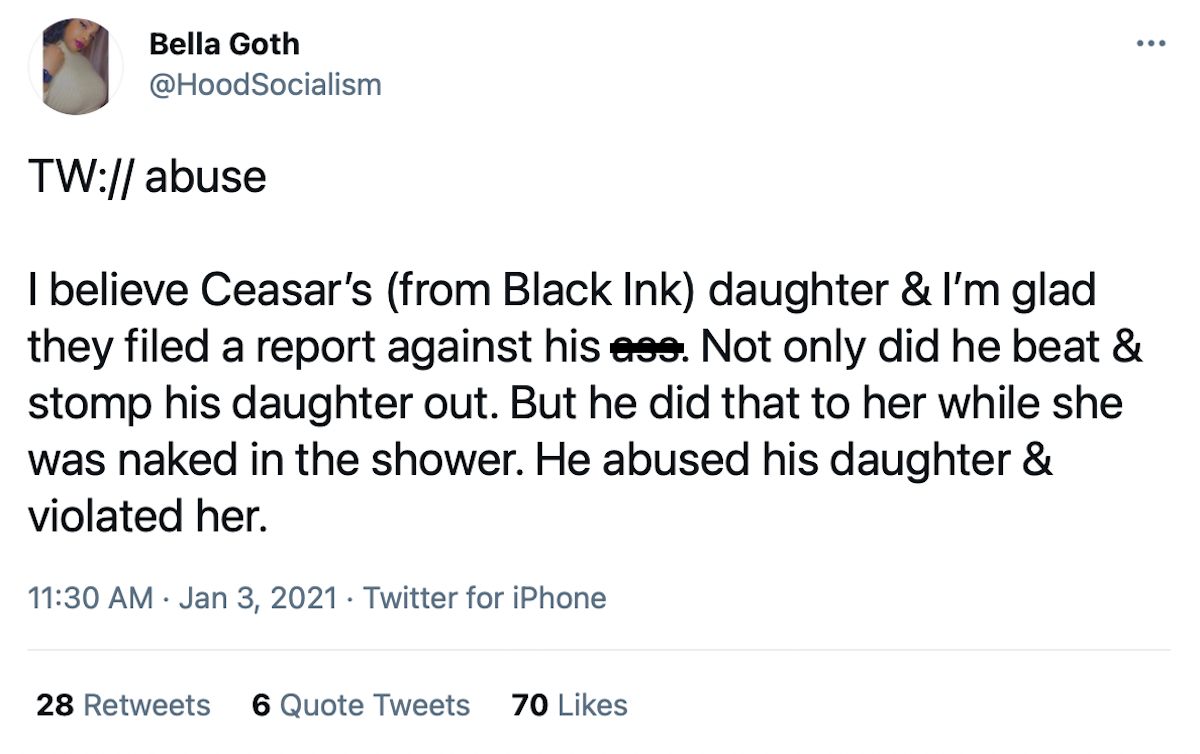 It's clear as a day that Ceaser and Suzette will not be getting back together, especially since abuse allegations have come to light.