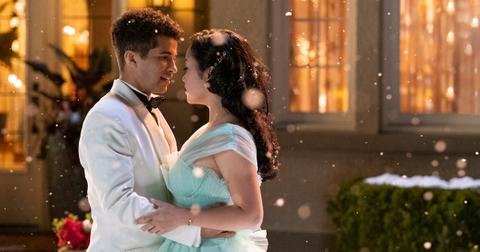 Meet Jordan Fisher, the Actor Playing John Ambrose McClaren in 'P.S. I Still Love You'
By Shannon Raphael

Updated
The Netflix original movie shot its stars Noah Centineo and Lana Condor into immediate fame, as people swooned over their chemistry (let's not forget the hot tub scene). A sequel was announced almost immediately, and now, the trailer for To All the Boys: P.S. I Still Love You is here.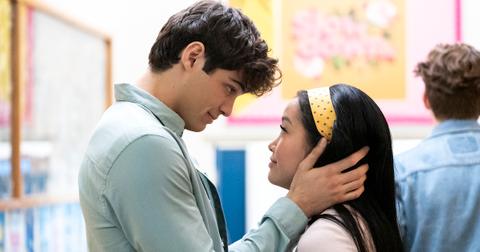 For those who shipped Lara Jean and Peter (aka everyone), there's some trouble in paradise as her former love, John Ambrose McClaren, is back in the picture. He received one of Lara's infamous letters in the first movie, and their unfinished business poses a threat to her relationship with Peter.
Who is John Ambrose McClaren played by? We have the scoop on actor Jordan Fisher, and the reason why the actor playing John Ambrose switched from the first movie to the second. 
Who is John Ambrose McClaren in P.S. I Still Love You? Watch out, Peter.
Of course, there could be no sequel for To All the Boys I Loved Before if things remained perfect between Lara Jean and Peter (as much as people would wish). In the first movie, John Ambrose McClaren was played by Jordan Burtchett, and viewers only briefly saw him in a flashback when Lara Jean discussed sending him a letter. 
According to the book version of the sequel, Lara Jean and John Ambrose formed a connection in middle school. John Ambrose was shy, and Lara Jean had a crush on him in eighth grade. He and Peter were even childhood best friends in the book version, and had joint nicknames of "Butch Cassidy" and "Sundance Kid."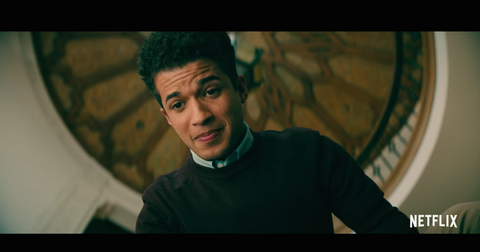 In the book, the two become connected again after John Ambrose gets Lara Jean's letter. They then become pen pals, and Lara Jean wonders if she made a mistake in being with Peter. But, based on the trailer, the plot of their relationship will be quite different from the books.
"I promise, I am not going to break your heart," Peter says in the trailer, and Lara Jean says the same thing back. But, based on what is hinted around in the rest of the teaser, that's not exactly going to be the case. 
In the trailer, Lara Jean runs into John Ambrose after she slips on some candy and falls to the ground. When she looks up, John Ambrose is there to assist her in getting up. 
The two then begin to catch up, and Lara Jean asks John Ambrose for the letter back. He says he won't give it back because he wants proof that someone liked him in middle school.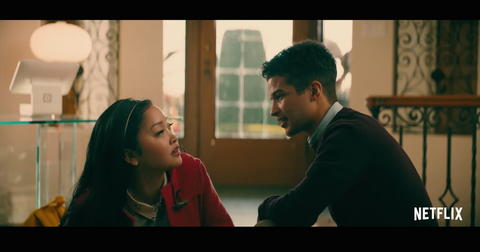 "Everyone liked you in middle school," Lara Jean responds.
"Yeah, but I didn't really care about everyone," John Ambrose responds. Oh no. 
The trailer didn't reveal if Lara Jean and Peter experience any issues in their relationship like they do in the book. The trailer also showed Peter giving Lara Jean a silver locket on the track where they first met, and them going on their first official date together. 
Who is Jordan Fisher, the actor that plays John Ambrose?
Though the name John Ambrose McClaren might ring a bell for those who watched To All the Boys I Loved Before, the actor playing him is new to the franchise. The producers of the film never explicitly said why the character was re-cast from Jordan Burtchett, who did appear in the first movie, to Jordan Fisher.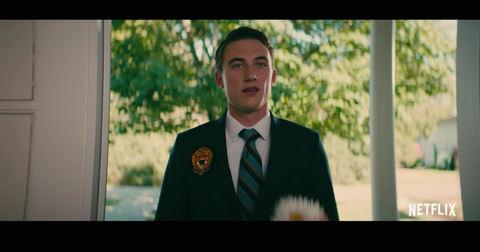 Jordan Fisher has had a long career before taking on the role of John Ambrose. He guest-starred on iCarly and had a nine episode arc as Jacob on The Secret Life of the American Teenager. He starred as a Seacat in Disney's Teen Beach Movie and he also played Holden on Liv and Maddie. 
He also further showcased his singing chops as Doody in Grease: Live in 2016, and as the main character, Mark Cohen in Rent Live. He's set to take on the starring role in Broadway's Dear Evan Hansen for a 16-week run beginning in January.
Jordan is seen dancing with Lana Condor in the trailer, which makes sense considering the fact that Jordan won Season 25 of Dancing with the Stars. It's safe to say that Jordan Fisher is bringing star power to the sequel.
Watch Jordan, as John Ambrose, threaten Lara Jean and Peter's relationship in To All the Boys: P.S. I Still Love You, which will be released on Netflix on Feb. 12, 2020. 
To see a glimpse of the movie, watch the trailer below.