Ree Drummond's Daughter Alex Is Married! Here's What We Know About Her Husband
By Lizzy Rosenberg

May. 2 2021, Updated 4:51 p.m. ET
The Pioneer Woman, aka Ree Drummond, is having a seriously eventful 2021! In addition to (probably) whipping up some incredible meals, wrangling some cattle, and enjoying family time, the Food Network icon is celebrating the marriage of her daughter Alex Drummond to her college boyfriend, Mauricio Scott.
Article continues below advertisement
Mauricio proposed on Sunday, Aug. 2, 2020, and he and Alex tied the knot on May 1, 2021. Keep reading to learn more about the Texas consultant and future Drummond family member.
Article continues below advertisement
Mauricio Scott seems to live by the motto "work hard, play hard."
Mauricio grew up in Dallas, Texas, where he worked as a math tutor and graduated from Coppell High School in 2015, according to his LinkedIn profile. After earning a bachelor's degree in industrial distribution from Texas A&M University in 2019 (where he and Alex met!), Mauricio went on to intern at PepsiCo as a sales intern before he landed his first full-time job as a consultant of customer experience at West Monroe Partners. 
In his spare time, Mauricio seems to enjoy traveling, spending time in nature, and snowboarding. In 2019, according to his Instagram page, he traveled to Peru where he hiked a mountain called Montana Winikunka. He went on to sail to Singapore, visit friends in Myanmar, and play with elephants in Thailand. Needless to say, it seems like Maurice is up for anything, and he clearly knows how to have a good time.
Article continues below advertisement
Who are Mauricio Scott's parents? He appears to be super close with his mother and brother.
Not much is known about Mauricio Scott's father, as most of his Instagram posts about his family feature his mother, Martha Moreno, and his older brother, Carlos. We don't know if his father is still "in the picture" or if they simply aren't that close. However, his mother graduated from Tecnológico de Monterrey in Monterrey, Mexico, according to Earn The Necklace. She now works for the Mexico-based snack company, Barcel USA, in Dallas, Texas, where she raised her two kids.
Article continues below advertisement
Mauricio and Carlos are of Mexican descent. Although Mauricio seems to regard Dallas as his true home, he frequently shows off his pride for his heritage on Instagram and was apparently quite active during Texas A&M's Hispanic Heritage Month celebrations. 
Article continues below advertisement
Alex Drummond's engagement ring is absolutely gorgeous.
Upon popping the question, Maurice presented Alex with an incredible ring that she showed off on Instagram. The ring, which is showcased in the last picture of her engagement post, features a large diamond in the center surrounded by several small diamonds lining the band. We're seriously in love.
Article continues below advertisement
Alex Drummond and Mauricio Scott married in May 2021.
"Our honeymoon baby is getting married tonight. (TMI?)" mother-of-the-bride Ree captioned a photo from what appears to be the wedding rehearsal on May 1.
Article continues below advertisement
Meanwhile, the groom's Instagram Story was filled with photos and video clips from his big day.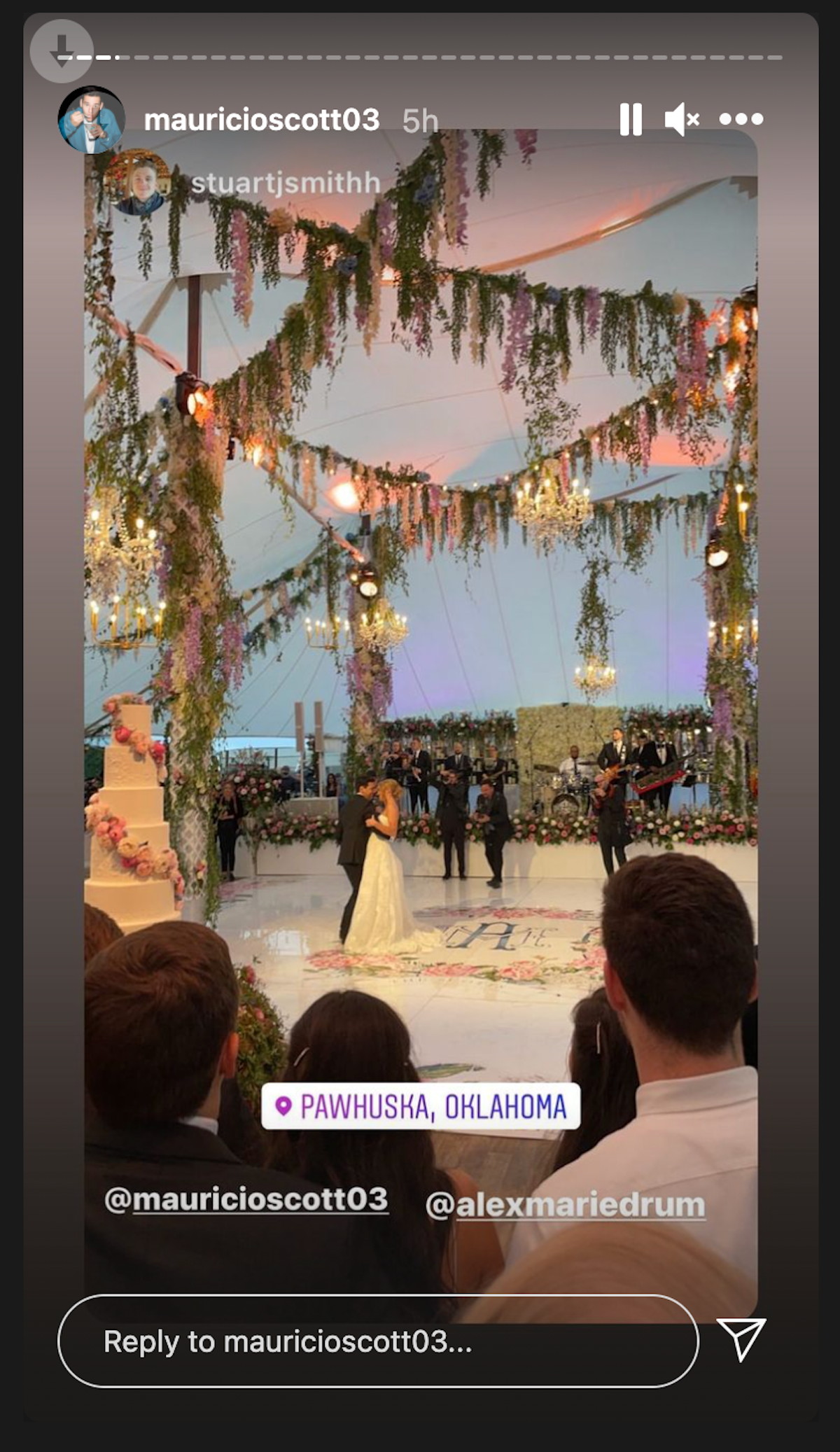 Article continues below advertisement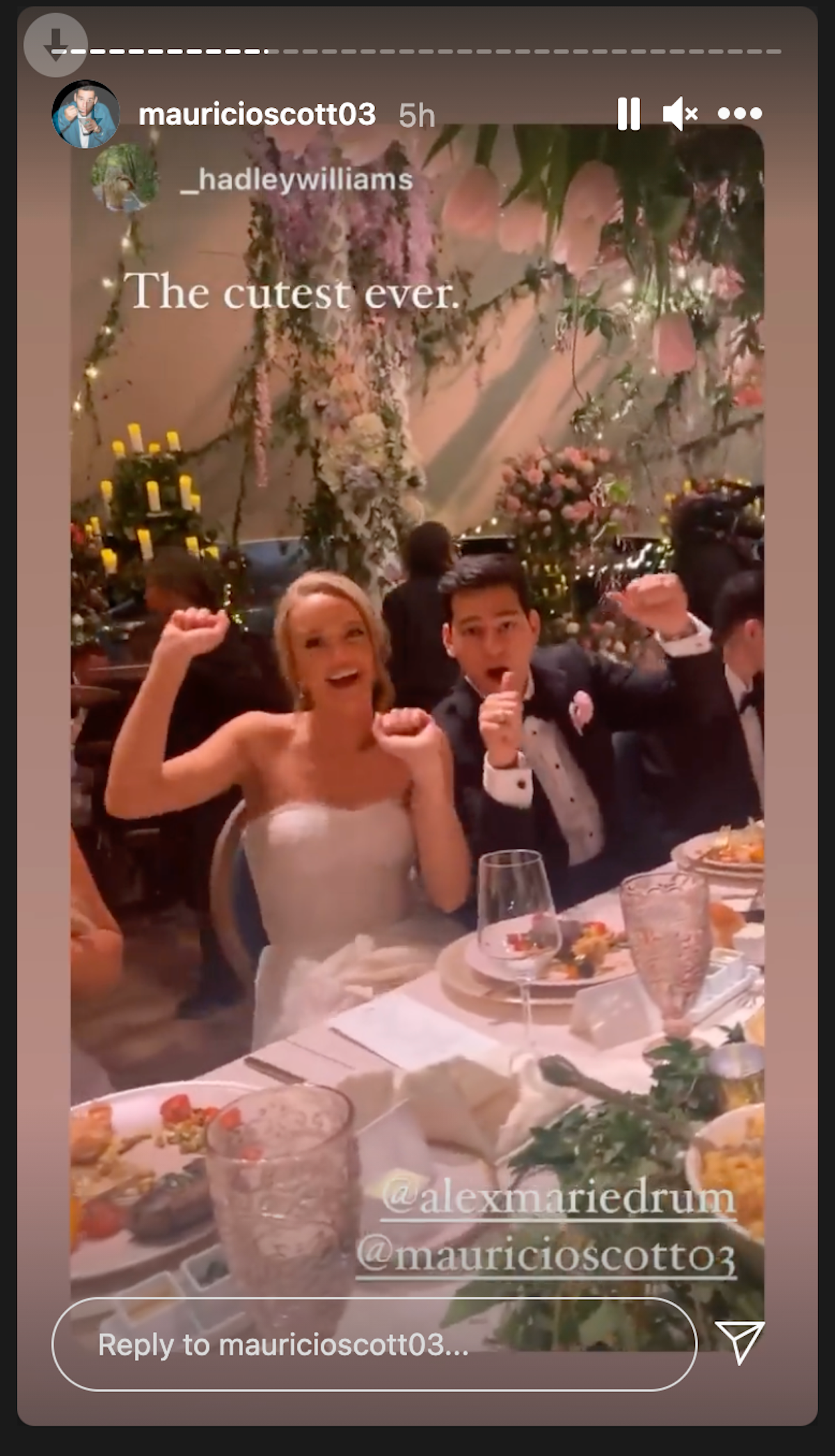 The wedding ceremony and reception looked absolutely gorgeous, right? (And we're sure the food was amazing.) We wish the Scotts and the Drummonds the best during these undeniably exciting times!