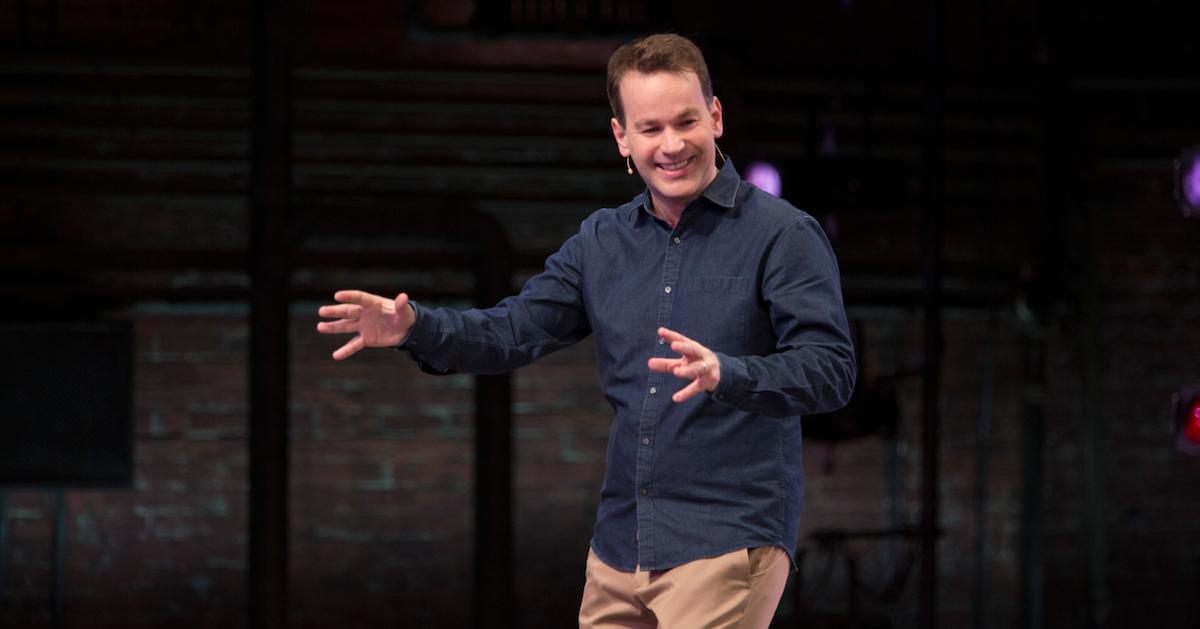 Mike Birbiglia Makes Fun of Parents Obsessed With Their Kids in His New Netflix Special
With the holiday season in full swing, it's the perfect time of year to stream content on Netflix. Mike Birbiglia is the latest comedian to launch a standup special exclusively on Netflix, and with his routine, viewers will definitely be remembering his name.
Article continues below advertisement
The New One is all about parenthood — and Mike's lifelong lack of desire to become a dad. But, the comedian is actually a father in real life, meaning he's taken on the chaos he spoke about in the special. Who is Mike Birbiglia? We have the details on his road to parenthood, and how his Broadway special is winning the laughs from fans.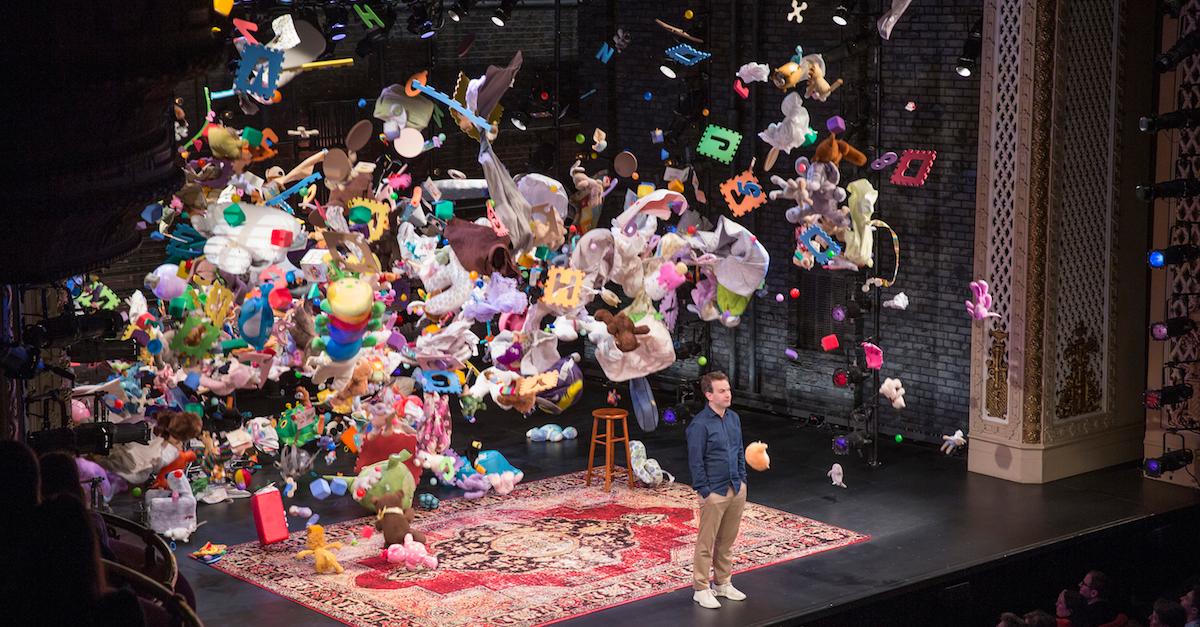 Article continues below advertisement
Who is Mike Birbiglia?
Originally a Massachusetts native, Mike got into comedy after graduating from Georgetown University in 2000. He moved to New York and his first big break was when he performed a routine on Late Show with David Letterman in 2002. He released several successful comedy albums, and his first major film role was in the indie Stanley Cuba.
After his indie film received praise at several film festivals, Mike was given a pilot order from CBS. He and actor Bob Odenkirk (from Breaking Bad) starred in the pilot, which never aired.
His 2008 off-Broadway, one man show, Sleepwalk with Me was revered by The New York Times and was even introduced by actor Nathan Lane. The show led to another comedy album, a movie, and a nonfiction book, all of which boosted his career.
Article continues below advertisement
The title of his popular show originated from a sleep disorder that Mike has. During one of his tours, he ran out of the second story window of the motel he was staying at as a result of his rapid eye movement sleep disorder (which is when people act abnormally while dreaming). He ended up injuring his leg, which required him to get dozens of stitches while touring.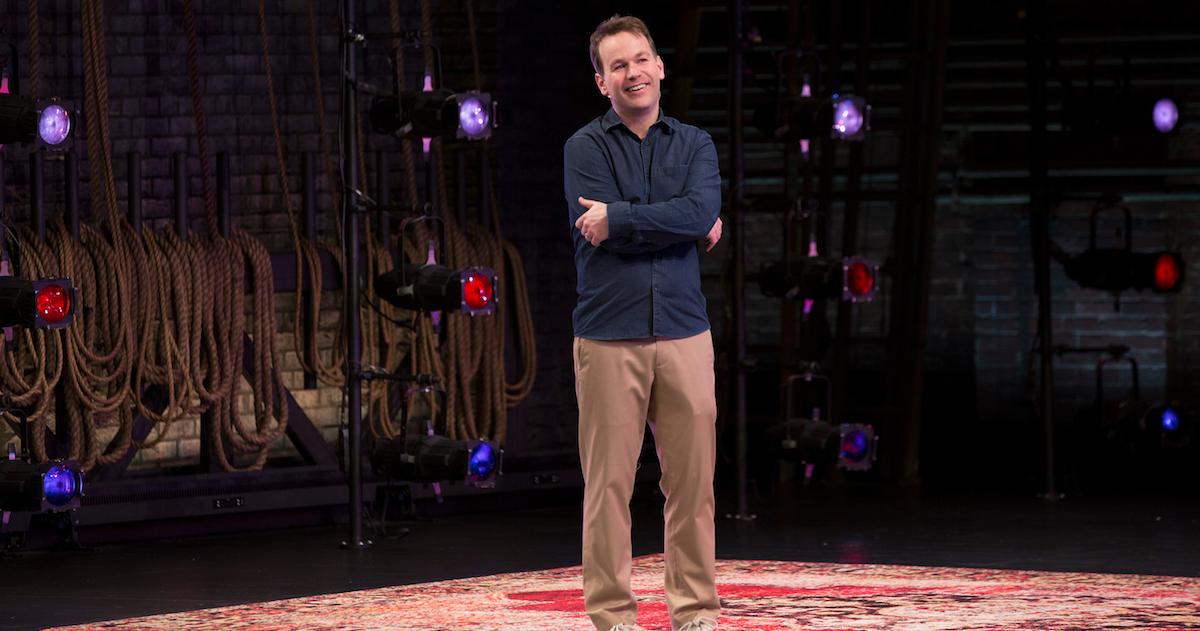 Article continues below advertisement
If you don't know him from his stand-up tours, you might just recognize Mike Birbiglia from shows like Girls, Inside Amy Schumer, and Broad City. He had a 12-episode arc on the Netflix series, Orange is the New Black, as Danny Pearson. He was featured in five episodes of the Showtime series, Billions, as Oscar Langstraat.
He starred in The Fault in Our Stars as the leader of the support group that Hazel and Gus meet at. He's also on the podcast This American Life as a regular contributor.
The New One is about Mike's resistance to parenthood — but he is a father.
Mike's latest Netflix special is the third one he's released with the streaming site, and it follows 2013's My Girlfriend's Boyfriend and 2017's Thank God for Jokes. His routine in The New One had a successful run on Broadway for several months, and it was picked by Entertainment Weekly as one of the top 10 comedy shows in 2018.
Article continues below advertisement
Like his other two specials, Mike has no issue discussing some uncomfortable topics (and revealing his deepest thoughts on certain subjects). The New One was initially written when Mike's wife, poet Jen Stein, was pregnant, into the time when their daughter Oona was around six months old (she's now nearly five). The couple was married for eight years before having a baby.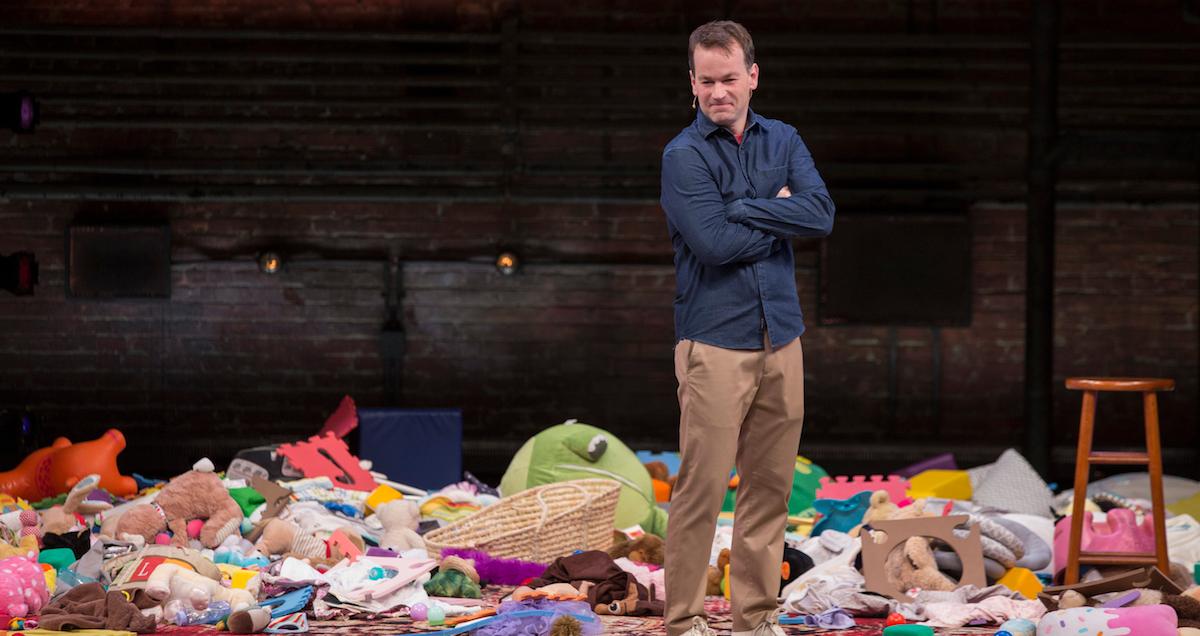 Article continues below advertisement
In the special, Mike details how he was reluctant to have kids because he had bladder cancer in his 20s, and he was concerned about potentially passing along those genes to a child.
He details how he never had a desire to have kids, and how people don't talk about how unnatural it is to have them. When he found out his wife was pregnant, he had a bit of an internal crisis, which is the crux of the special.
Mike also discusses being jealous of his daughter, and how he had a "low tolerance to children" before becoming a dad. He described the itch toward parenthood as an "infectious disease." But, the sentiments in the special aren't fully how he feels about fatherhood now.
Article continues below advertisement
"She's great," he said about daughter Oona to Decider. "It's funny because Jen always goes — because we're in like such a good phase right now, and I'm like uber-present and hyper-involved in everything... and Jen's always like, 'Isn't it weird going to your show and you're digging in and performing this existential crisis of when she was 6 months old, and it's like she's 4-1/2 and we go to the beach, and it actually is like a real joy?'"
Mike also said that, after performances, he always has a lot of audience members come up to him and thank him for being honest about the throes of parenthood.
The New One is now available to stream on Netflix. Mike will be releasing a book with the same name in 2020 that was co-written with his wife.