Who Is Tom Felton Dating? He Finally Addresses Emma Watson Dating Rumors
Who is Tom Felton dating? The 'Harry Potter' star was rumored to be dating Emma Watson, the Hermione to his Draco in the blockbuster films.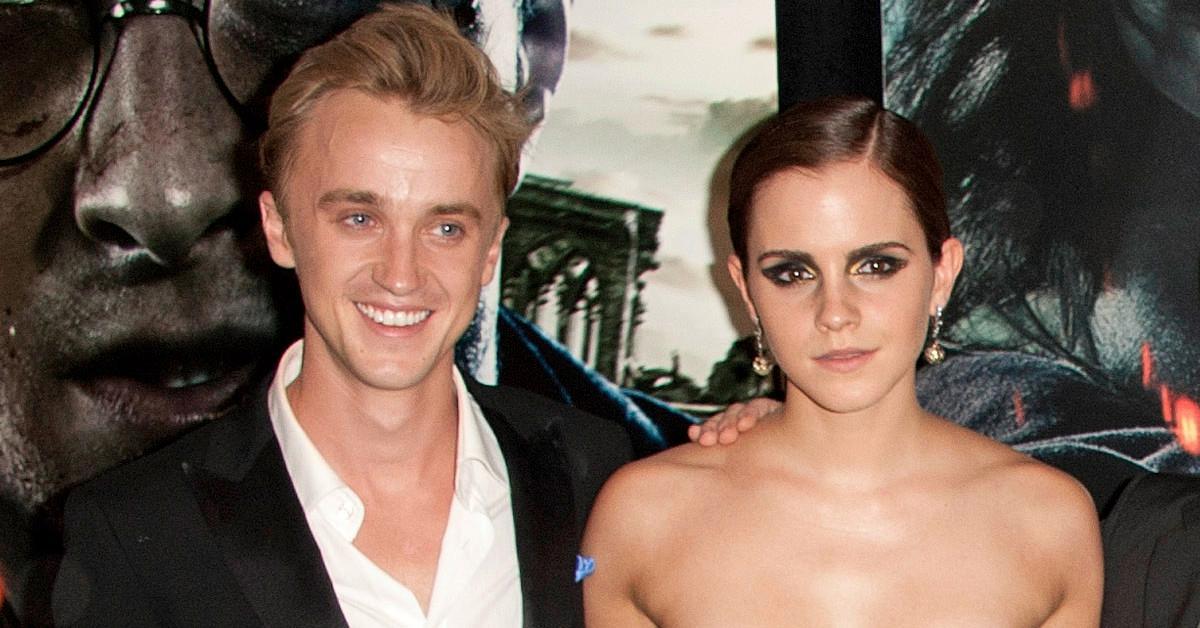 Even now, a decade after he put down Draco Malfoy's wand, Harry Potter fans are still dying to know who Tom Felton is dating — especially after co-star Rupert Grint commented on Tom's chemistry with Emma Watson.
Article continues below advertisement
Rupert, who played Ron Weasley in the Harry Potter movies, told Entertainment Tonight in 2019 that "there was always something" between Tom and Emma, the actress behind Hermione Granger. "There was a little bit of a spark," Rupert added.
So are Tom and Emma a couple? Here's the answer to that inquiry and other frequently asked questions about Tom.
Article continues below advertisement
Who is Tom Felton dating?
Tom certainly seems to be flying solo, if his Instagram photos are any indication. In fact, a source told The U.S. Sun that Tom signed up for the exclusive dating app Raya, a favorite of celebs looking for love.
"Tom's a great-looking guy with a good personality. But he's struggled to find someone to connect with," the source said. "Being an actor can be a hard life with travelling and being away for extended periods of time, so he's looking for someone who gets that lifestyle. He also needs someone who understands what it's like to be in the spotlight."
Article continues below advertisement
Then, of course, there are those rumors about Tom dating Emma, gossip that sends the hearts of Draco-Hermione shippers aflutter.
Daily Mail reported in November 2019 that the two former co-stars live close to one another in Los Angeles. "It's always nice to bump into her, see her at the beach, or over dinner, or whatever," Tom told the outlet. "She's an incredibly smart and lovely young lady, so it's always nice to bump into each other and slightly reminisce about old times, but also about looking forward to the future."
Article continues below advertisement
At the time, however, the actor said that he, like Emma, was happily self-partnered. In June 2021, Tom spoke to Entertainment Tonight about rumors of him dating Emma. Emma has been in a relationship with Leo Robinton for over a year, but that doesn't mean speculation about a Tom/Emma relationship has lagged.
Tom said, "We are something, if that makes any sense. We've been very close for a long time. I adore her. I think she's fantastic. Hopefully, she returns the compliment." When pressed about the possiblity of romance betwen the two, he clarified, "As far as the romantic side of it, I think that's a Slytherin/Gryffindor thing rather than a Tom and Emma thing."
Article continues below advertisement
Where is Tom Felton from?
Tom grew up and went to school in Surrey, England, attending Cranmore School and Howard of Effingham School in the county. A friend who ran a drama summer school nearby persuaded him to get an agent, and within two weeks, he was shooting a U.S. TV commercial, according to Surrey Life. Then came parts in the films The Borrowers and Anna and the King before his breakout role in the Harry Potter series.
What are Tom Felton's other movie roles?
Since his Hogwarts days, Tom has returned to the silver screen in Rise of the Planet of the Apes, Risen, A United Kingdom, and Ophelia, and he also appeared in the Netflix film A Babysitter's Guide to Monster Hunting. He is set to appear in the upcoming films Save the Cinema and Canyon Del Muerto.
Tom has also hit the small screen, starring in the TV shows Murder in the First on TNT and Origin on YouTube Premium. You may have also caught his recurring role as Julian Albert/Alchemy on the CW's The Flash.
Does Tom Felton smoke?