Blink-182's Coachella Reunion Was Historic, but Why Did They Ever Break Up?
Why did Blink-182 break up? Let's take a closer look at the dissolving (and eventual reunion) of the band, which performed at Coachella 2023.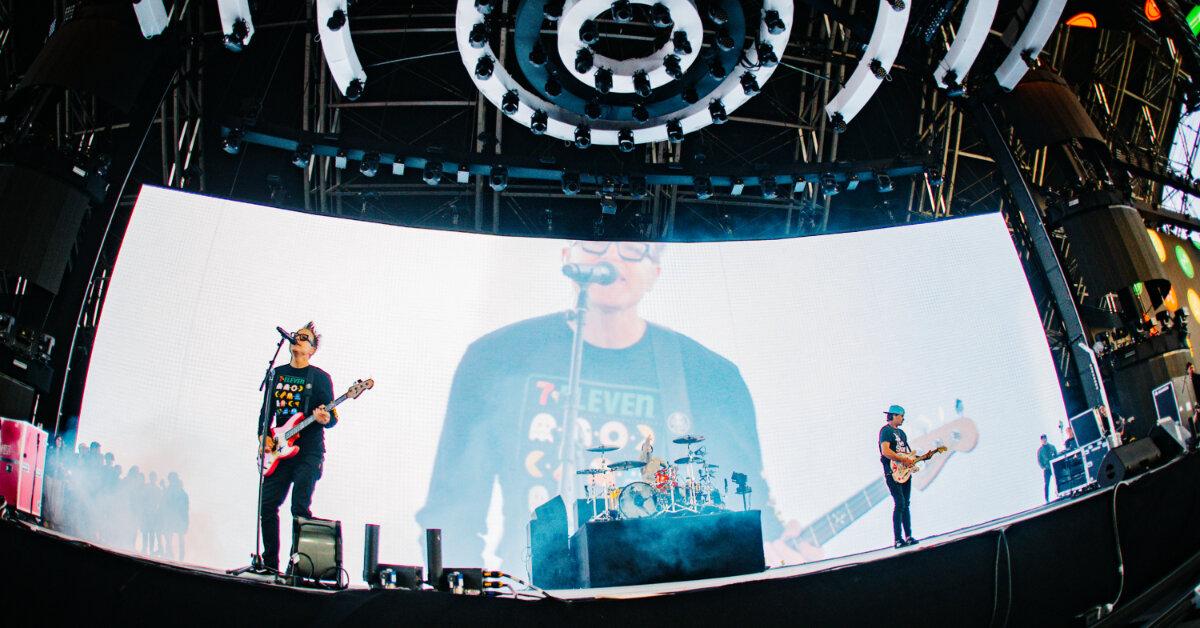 In the world of pop-punk music, it doesn't get much bigger than Blink-182. The band has been rocking out for legions of devoted followers over the last three-plus decades. In that time, they secured dozens of awards, multiple platinum records, and a permanent place in music history.
Article continues below advertisement
However, things have changed a lot with Blink-182 over the years. Most notably in terms of their lineup, which has shifted on several occasions. So, why did Blink-182 break up in the past? Let's take a look at their history.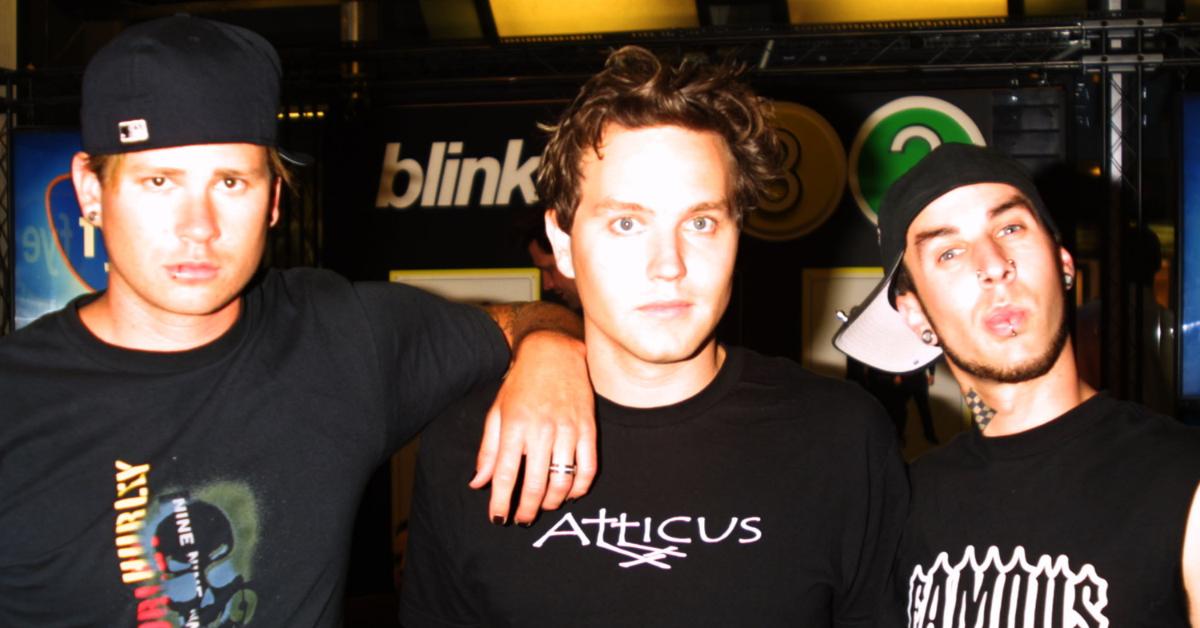 Article continues below advertisement
Why did Blink-182 break up?
When Blink-182 was formed in 1992, its lineup consisted of Mark Hoppus, Tom DeLonge, and Scott Raynor. However, friction began to come to light around 1998 when Mark and Tom decided to fire Scott due to his excessive drinking at the time.
His removal from the group led to their tour mate — the Aquabats' drummer, Travis Barker — filling in and eventually being tapped to become the full-time drummer for Blink-182.
Things went well between the trio from then until February 2005 when their label, Geffen Records, announced that the group was going on an indefinite hiatus. The issues at that time stemmed from Tom expressing creative differences from his bandmates; he also felt touring and recording was taking a toll on his relationship with his family. Conversely, Travis and Mark wanted to keep touring. The group realized that their priorities were different, so Tom exited Blink-182.
Article continues below advertisement
Fast-forward to 2008 and to Travis's harrowing plane crash, which killed four people and left Travis needing 16 surgeries. Tom and Mark rushed to be by their former bandmate's side in his time of need. Their reunion over that situation led to the group deciding to come together once again in 2009.
What followed was an international tour and the release of "Neighborhoods," but the vibe was still off between the group mates.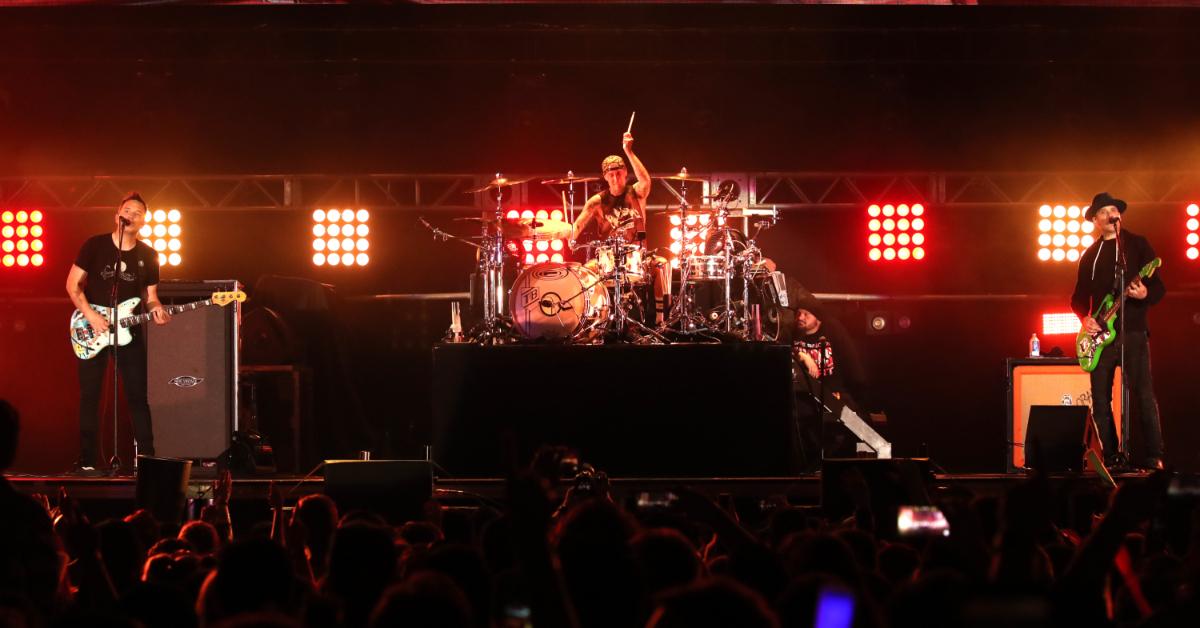 Article continues below advertisement
By 2015, those underlying issues came to the forefront once again when Tom revealed that he was looking to indefinitely depart from the group to pursue individual interests. Mark and Travis wanted to continue on with the Blink-182 moniker, so they enlisted Alkaline Trio guitarist and vocalist Matt Skiba to take Tom's place. Matt remained a member of the group up until 2021.
Blink-182 had their first live reunion in years at Coachella 2023.
In 2022, fans noticed that Tom updated his Instagram bio to include Blink-182 as one of the groups that he's a member of, fueling reunion rumors. Those came to reality when the group announced on Oct. 11, 2022, that Tom officially rejoined and that they'd be embarking on a world tour in 2023. Three days later, they released their new single together titled "Edging."
Then came the surprise that nobody saw coming: on April 13, 2023, Coachella announced that Blink-182 would be performing live the following day, marking the group's first live performance together with Tom since 2014. Their legendary reunion performance packed out the Coachella fairgrounds and saw thousands of fans tune in across the globe via livestream.
Blink-182 is also set to go on tour starting in May 2023.