Hobby Lobby Is Done Offering 40 Percent off Coupons, and People Aren't Happy
By Mustafa Gatollari

Mar. 14 2021, Updated 12:10 p.m. ET
Store deals and coupons are a funny thing. One minute you're going about your business perfectly fine and in no rush to go and spend your hard-earned cash. Then you catch wind of a deal that's too good to pass up. "Costco is selling Adidas yoga pants for how much?!" Before you know it, you and everyone in your family has the best leggings you've ever seen for the next five years.
The Hobby Lobby "holy grail" coupon is just like that. So why did the arts and crafts retail giant stop issuing it?
Article continues below advertisement
Why did Hobby Lobby stop the coupon?
If you aren't familiar with the company's fantastic coupon, it gives shoppers a whopping 40 percent off coupon to use on their purchases. It was a favorite of the store's shoppers, which is why many people couldn't believe what they were reading once the retailer made the announcement.
What's next, no more Macy's rewards points so you can buy a slightly different Izod shirt that's already on clearance for your dad on Father's Day?
Hobby Lobby explained its decision to discontinue the coupon in a Facebook comment, "By making this decision, we are intensifying our efforts to discount thousands of items every day. This will offer a better value instead of providing a discount on only one item with the coupon."
It didn't seem like people were buying the explanation. The general consensus boiled down to: Hobby Lobby's stopping their customers from saving money.
Article continues below advertisement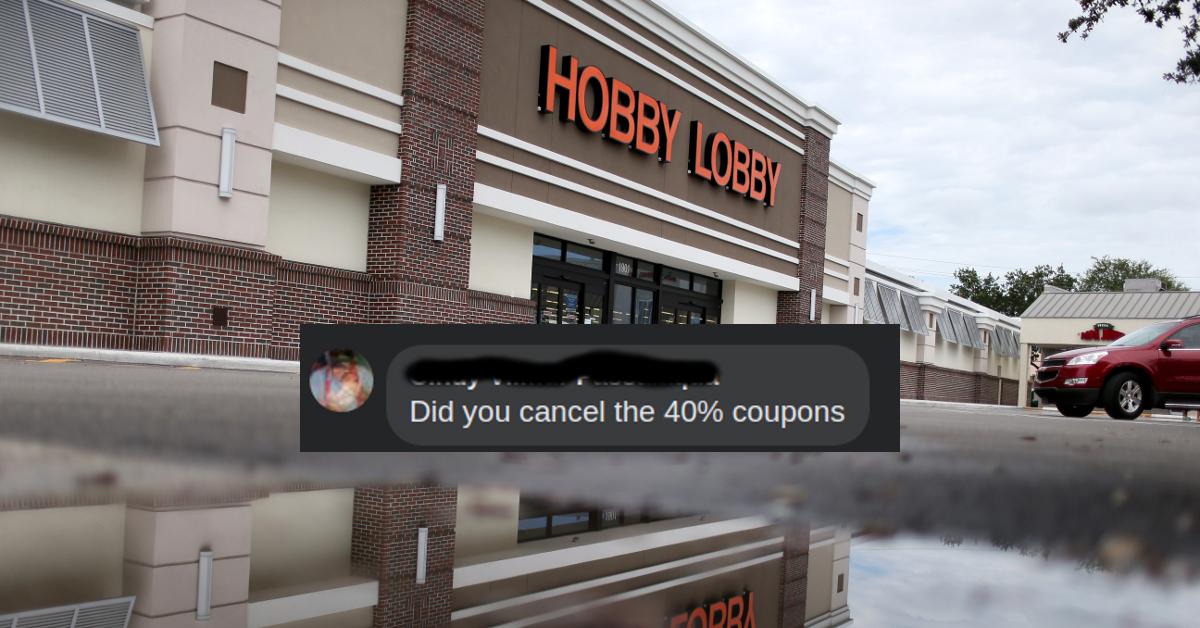 Tons of customers have been posting on Hobby Lobby's official social media pages expressing their discontent with the retailer's decision to stop offering the coupon. Bloggers have written articles about it. Twitter's upset with it. People want their 40 percent off coupon, and they aren't happy with the fact that Hobby Lobby's no longer handing them out.
Article continues below advertisement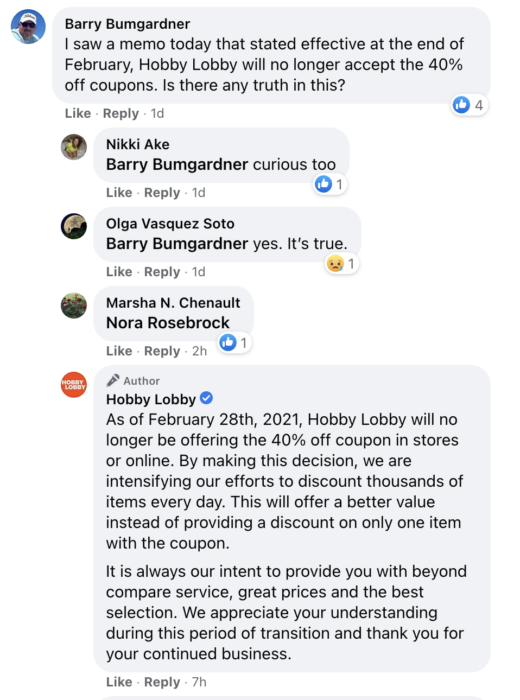 hobby lobby took away their 40% off coupon and I am NOT here for it 😠

— evenyG (@evenygar) March 6, 2021
Article continues below advertisement
So why did Hobby Lobby really get rid of the 40 percent off coupon?
Again, the explanation put up on social media doesn't really make sense to a lot of the store's devoted customers, so can there be another reason as to why the chain's decided to stop offering such a steep discount it has traditionally given to its shoppers? If it's a marketing strategy intended to "upset" customers — like Coca Cola did with changing its formula then reverting to Coca Cola classic — that could be one reason.
hobby lobby took away its 40% off one regular item coupon and I AM ACTUALLY SO UPSET and for the first time i'm considering pulling a karen because goddamn I WANT MY COUPON

— Lo (@blurrylorena) March 6, 2021
Article continues below advertisement
A customer told me hobby lobby has just stopped doing coupons? Frankly a good decision imo

— 🐴Lefse⚓️Literally A Furry (@CIoveHitch) March 10, 2021
Or perhaps it's like when IHOP, the International House of Pancakes decided to change its name to IHOB, the International House of Burgers, to try and get more customers in its doors during dinner time so people could enjoy some of their more savory post-morning offerings? It's causing a bit of a kerfuffle, so "bringing it back" might make people think that their voices are heard and will ultimately draw more eyes on Hobby Lobby.
But it could be for another reason entirely.
Article continues below advertisement
Went into Hobby Lobby and I get on phone to search for the 40% coupon!! I felt like a commoner paying full retail!! What is life? Bring back that coupon man. 😩 pic.twitter.com/mGK3xOIqNe

— ✌🏽❤️🌼🐶 (@Ms_EmAva) March 11, 2021
Hobby lobby discontinued their 40% off coupon today. Thanks Biden

— Kayla Miller (@oOKaylaMillerOo) March 10, 2021
It's no secret that retail outlets suffered tremendously during the pandemic. One would think that being stuck indoors all day only made more people want to take up new hobbies and occupy themselves with arts and crafts — the same kinds of delightful arts and crafts that Hobby Lobby sells.
However, there was some pushback at Hobby Lobby's CEO for staying open during the pandemic and encouraging staff to "tighten their belts."
So perhaps it's an economic decision more than anything else.