Don't Have the Tart Tycoon Skin in 'Fortnite' Yet? Don't Worry — It's Coming!
The Tart Tycoon outfit is one of the prizes of the #FreeFortnite Cup, but people still haven't received it. Don't worry — you'll have it soon.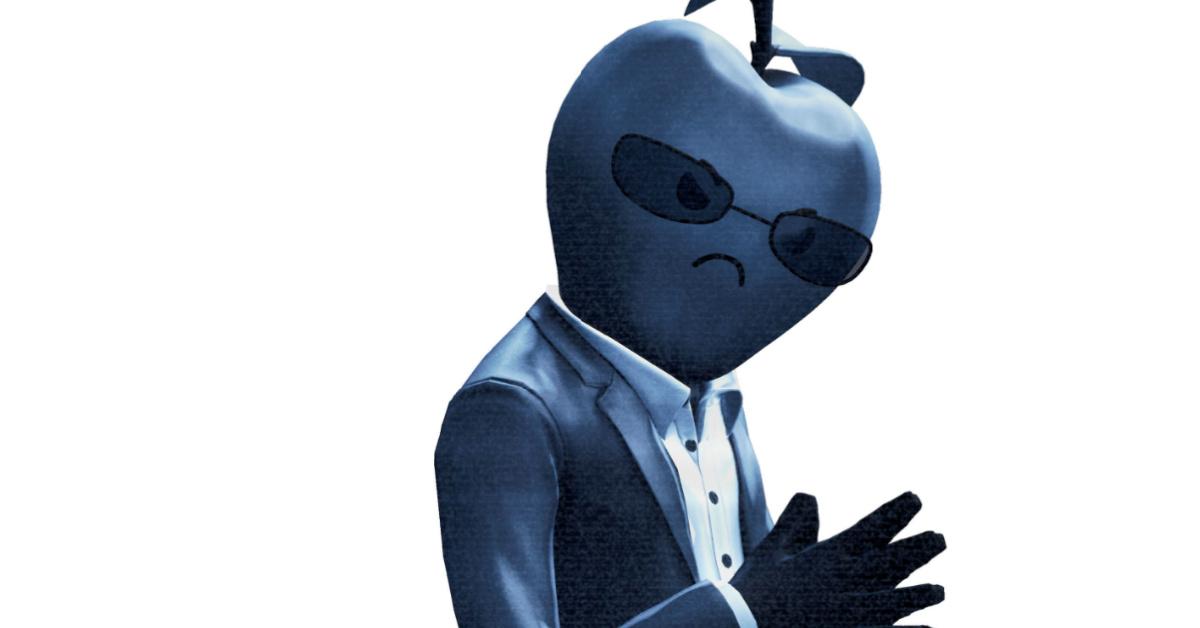 If you don't have more skins than you could ever possibly wear, are you even really playing Fortnite? Of course, no matter how many skins you already have, you obviously feel the need to keep collecting more — and that includes the new Tart Tycoon outfit. What better way to show your support in the dust-up between Apple and Epic Games than to deck yourself out in a literal bad Apple costume?
Article continues below advertisement
Getting the Tart Tycoon outfit is pretty straightforward. At least, that's what the info surrounding the #FreeFortnite Cup made it sound like. And yet, a bunch of people who qualified to receive the Tart Tycoon skin still don't have it. What's up with that?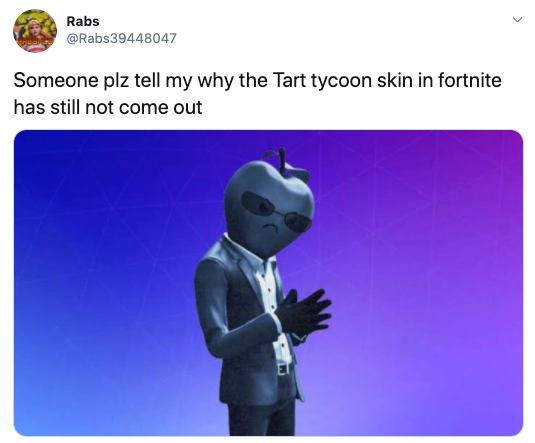 Article continues below advertisement
Why did I not get the Tart Tycoon outfit?
The Tart Tycoon outfit was made available as one of the prizes of the #FreeFortnite Cup which took place on Sunday, Aug. 23. The Cup was intended to mark one of the last days that the entire Fortnite community can play together. After Aug. 27 everyone will be moving on to Chapter 2 - Season 4 — except for players using iOS devices. Since Apple has removed Fortnite from the App Store, iOS players will be left behind.
What better way to show that Apple is the bad guy than by rewarding players with a villainous apple outfit? All you had to do in order to qualify for the Tart Tycoon skin was score at least 10 points in the cup. Points were earned for active time on the Battle Royale island (one point for every three minutes), eliminations (one point per elimination), and Victory Royales (10 points each). Getting 10 points wasn't that difficult. Getting the Tart Tycoon outfit, though? It seems like that was trickier than expected!
Article continues below advertisement
Many people were expecting the Tart Tycoon skin to be added to their account as soon as the #FreeFortnite Cup ended, but they were setting themselves up for disappointment. According to the #FreeFortnite Cup official rules, the "'Tart Tycoon' In-game Cosmetic Outfit will be granted directly to the applicable Winning Player's Epic account within 3 weeks of completion of the Event, or such other time as reasonably required by Epic for such grant."
Article continues below advertisement
In other words, if you don't have the Tart Tycoon outfit yet, you'll simply have to be patient. It should be added to your account within three weeks or so — that means you could be waiting until Sept. 13 before you can assume your evil apple identity.
Epic is also giving away 1,200 pieces of non-Apple gaming hardware — a pretty clever idea to entice people to play the game on other platforms. Some of the other prizes include gaming laptops, Playstation 4 Pros, Xbox One Xs, Nintendo Switches, Samsung tablets, and OnePlus 8 phones.
It still remains to be seen who will secure the Victory Royale in the real-life battle between Epic and Apple, but in the meantime, you can show your support for the battle royale game by continuing to play it — and, eventually, by playing it as an evil apple.