Apple Removes 'Fortnite' From Its App Store Because It Found a Payment Loophole
'Fortnite' fans who utilize iOS to play the game were shocked to discover that the title's been removed from Apple's App Store. But why's it gone?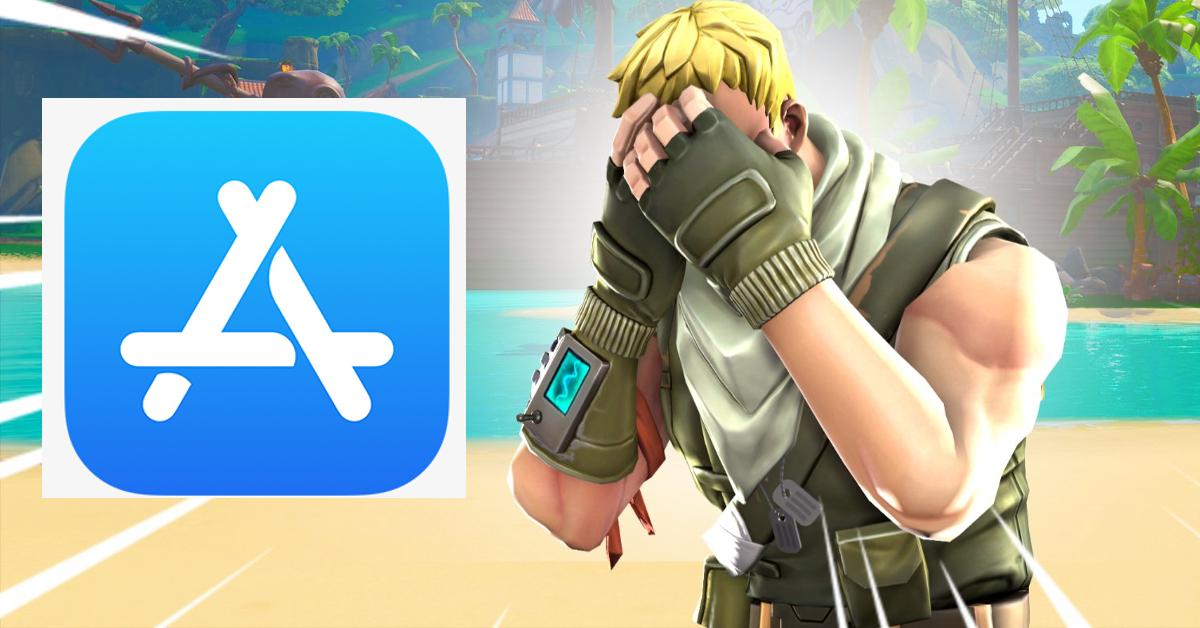 When it comes to protecting its business interests and bottom line, Apple really doesn't play. They went all-in on Samsung for allegedly ripping off the iPhone's functionality when it comes to icon displays and design. Hell, they sued another company called Prepear for using another tree-hanging fruit as its logo.
They also don't like not getting monetary kickbacks from developers who post to their App Store. Just ask Epic Games what happened to their Fortnite iOS app.
Article continues below advertisement
'Fortnite' is still on the Google Play Store, but it's gone from the App Store.
Strangely enough, the search engine giant turned software, mobile OS and affordable laptop powerhouse doesn't have any gripes with Epic Games' wildly popular title. You can still download Fortnite on the Play Store without any issues. The apps are also still available on Xbox and the PlayStation network.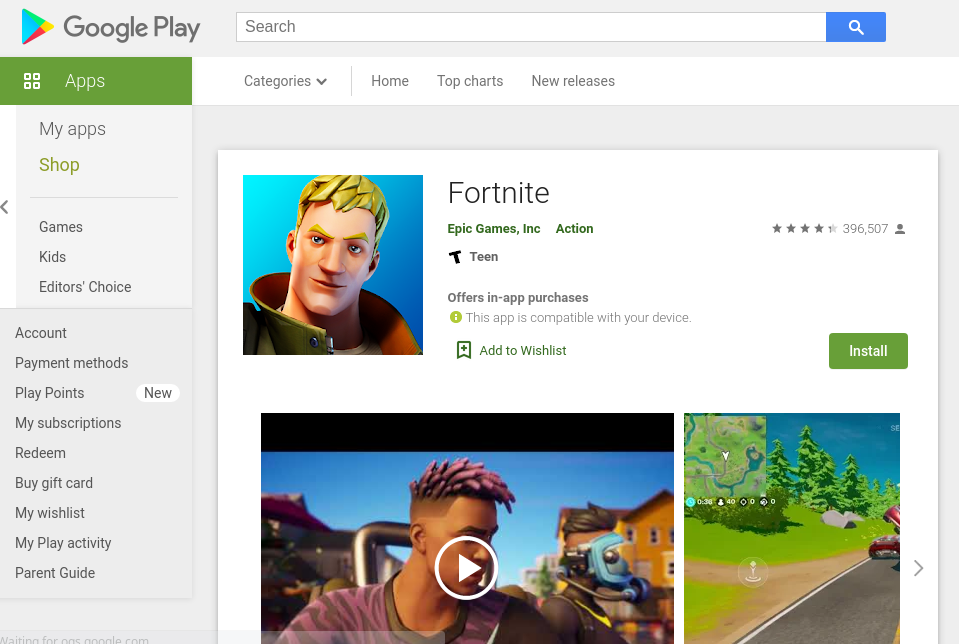 Article continues below advertisement
So what happened to 'Fortnite' on Apple's App Store?
Some people began speculating that there must be some sort of glitch on Apple or Epic Games' part, but it's been confirmed that this isn't the case. The Cupertino-based company has intentionally ditched Fortnite, barring it from appearing on the App Store, meaning that iOS users won't be able to install the game on their devices any longer.
Even though the message that's popping up is saying that the developer has removed the app from the store, it turns out that it's been intentionally taken out by Apple because Epic Games apparently found a workaround from Apple's "direct payments" policy for apps that appear on the store.
You see, Apple has a 30 percent charge for its platform fee. Meaning that they're taking a little under a third of all the profits a developer makes off of an app.
Article continues below advertisement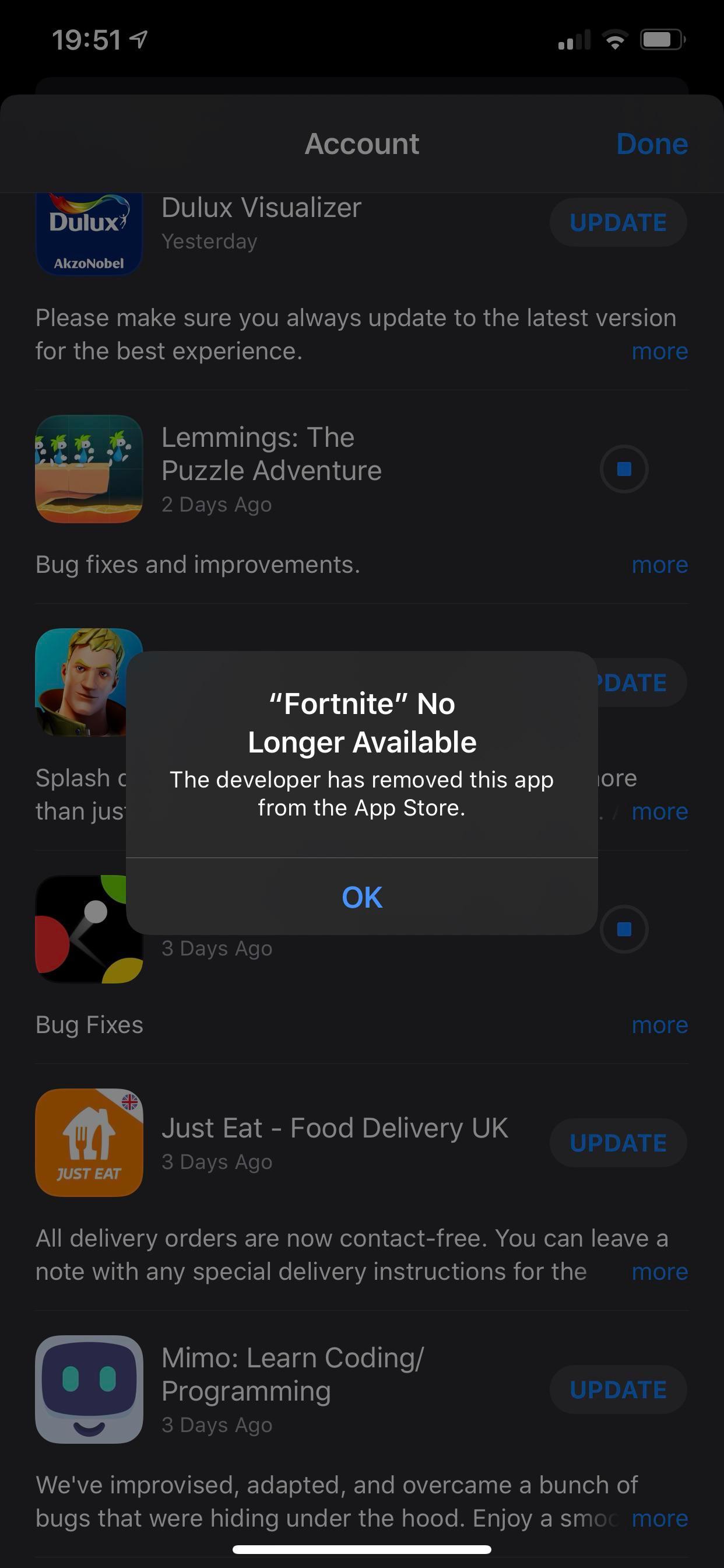 That's not to say you can't make serious amounts of money on the platform, but many devs have long argued that Apple taking $1 out of every $3 they earn on an application is kinda absurd, especially because Apple's really just providing hosting services and access to its user base. Which, let's be frank, is worth a heck of a lot.
The trouble came this morning when Fortnite announced a sale on V-Bucks through its application.
Article continues below advertisement
That, in itself, wasn't an issue because there was an option to pay through the App Store. Things began getting dodgy when Epic offered to allow users to not only pay them directly, but offered a discount on V-Bucks if they used the direct payment option in the game. So, you'd shell out $9.99 for 1,000 V-Bucks authenticating payment through Apple, and $7.99 if you bought it directly through Epic.
Article continues below advertisement
The discount was offered on PCs and consoles as well, along with Android versions of the game.
Apple really wasn't happy about this and wanted their V-Bucks cut, so they removed the game from its iOS ecosystem. Understandably, fans of the game were up in arms because Fortnite is a huge, huge deal. With a registered 350 million players worldwide, there were a lot of iOS users shocked the game was suddenly missing from the App Store.
Apple swiftly drafted up a statement to send to The Verge, explaining their position: "Today, Epic Games took the unfortunate step of violating the App Store guidelines that are applied equally to every developer and designed to keep the store safe for our users. As a result their Fortnite app has been removed from the store."
Article continues below advertisement
The statement continued: "Epic enabled a feature in its app which was not reviewed or approved by Apple, and they did so with the express intent of violating the App Store guidelines regarding in-app payments that apply to every developer who sells digital goods or services. Epic has had apps on the App Store for a decade, and have benefited from the App Store ecosystem - including its tools, testing, and distribution that Apple provides to all developers."
Article continues below advertisement
Apple wrapped up with, "Epic agreed to the App Store terms and guidelines freely and we're glad they've built such a successful business on the App Store. The fact that their business interests now lead them to push for a special arrangement does not change the fact that these guidelines create a level playing field for all developers and make the store safe for all users. We will make every effort to work with Epic to resolve these violations so they can return Fortnite to the App Store."
Apple has recently come under criticism for attempting similar "mafia" tactics when it came to educators. Tim Sweeney, founder of Epic Games, shared other instances of the tech giant trying to get a 30 percent cut of business people conducted over virtual applications hosted on their devices.
Article continues below advertisement
Article continues below advertisement
While software developers have a clear horse in this race, they're going to want to maximize their profits any way that they can. Tim does bring up a good argument: Should you charge people to continually use hardware that they already purchased? Are they just paying for the components? Or do they have to continually pay "taxes" for utilizing the software features on the devices that they bought?
Article continues below advertisement
Epic released a mock ad called "Nineteen Eighty-Fortnite" explaining their stance against Apple.
Using one of Apple's most iconic and classic commercials against them, Epic Games took a huge stand against the 30 percent cut the App Store has been taking from its developers, using avatars from its own game. You can check it out below:
Article continues below advertisement
It could be a smart move on their part, as people always seem to be in favor of paying less, especially when it comes to in-game purchases. But what could this mean for the future of app stores on platforms and "The Big Dogs" like Apple and Google getting a cut? Whatever the outcome's going to be, it seems like Epic has made a pretty big move and the ball is now in Apple's court.