"Overly-Attached Girlfriend" YouTuber Laina Signs Off for Good — Here's Why
Laina posted a final video explaining why she quit YouTube. Here's what the Overly Attached Girlfriend star had to say about social media and depression.
When she created her most famous character, Overly Attached Girlfriend, in 2012, Laina Morris hadn't expected to become an internationally recognized meme. So it stands to reason she also didn't know the toll that fame might take on her mental health.
Article continues below advertisement
Prior to posting her latest video, which she says will be her final upload, it had been 11 months since Morris posted to her YouTube channel. So while her "breakup" with the platform is by no means sudden, she did feel the need to explain to fans and subscribers her decision to leave YouTube for good.
So, why did Laina quit YouTube?
In short, Laina's final YouTube video, entitled "Breaking Up with You... Tube" explains that her decision to leave the platform is primarily to preserve her mental health. The video, which runs just short of a half hour, explains in great detail what was going on with her behind the scenes while she posted happy-go-lucky, humorous content each week.
Article continues below advertisement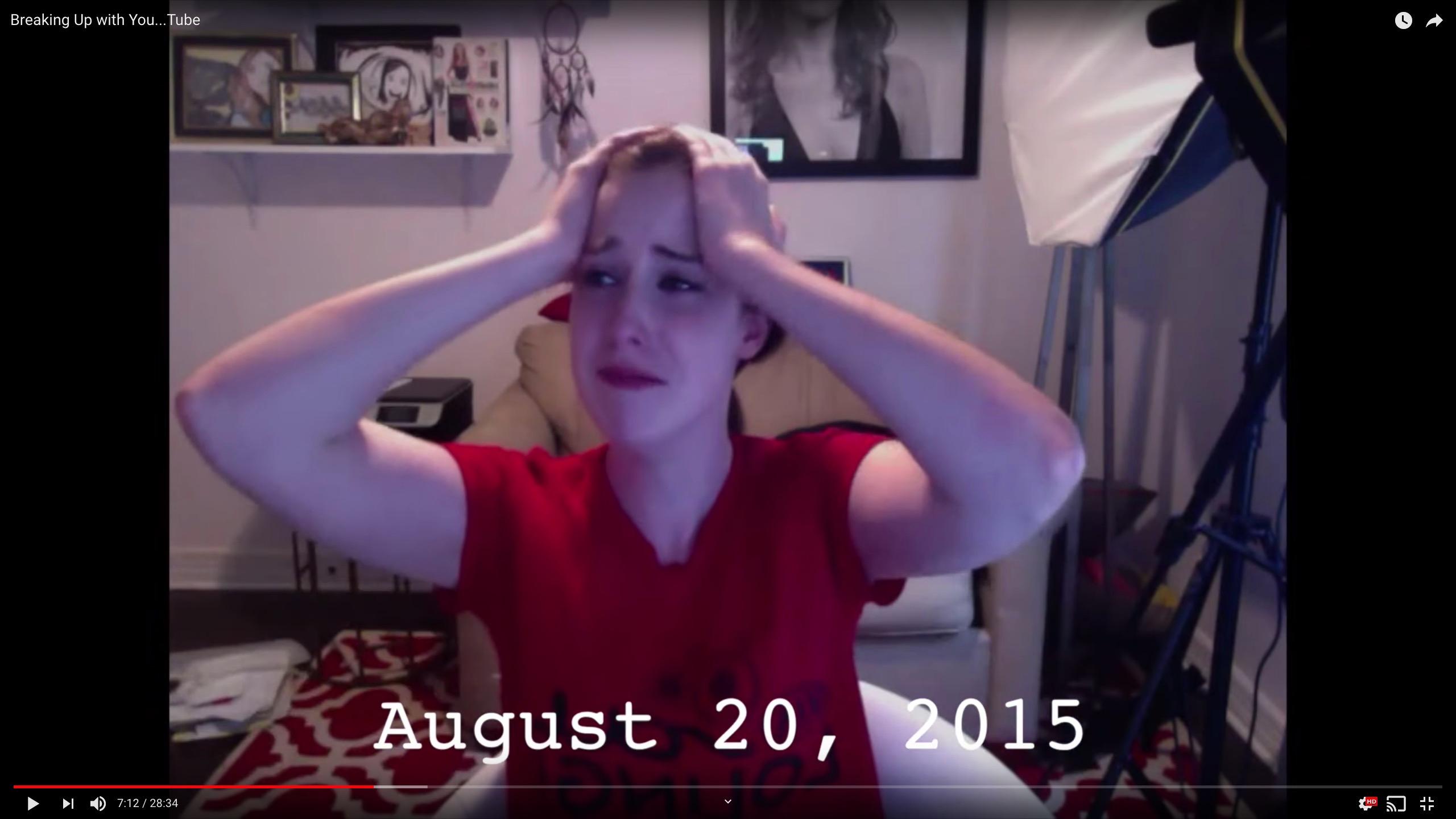 "I would be posting a happy, upbeat video, and then I would have, like, a breakdown, and then I would edit the video, post the video, and then have another breakdown," she says. As she was going through this depression, which she says felt "embarrassing" given her outward success, Laina started to record a video diary for herself.
Article continues below advertisement
She never expected to share it with anyone, but she inserted some clips from those videos in her goodbye video, despite the embarrassment they might bring her, in hopes they will help others.
She says she decided to take "a break" from YouTube in 2017. The decision coincided with a move from Texas to Arizona with her boyfriend, whom she had not mentioned before the July 24 video, but who she's been with "since before you ever knew who I was."
Article continues below advertisement
Though she expected it to be a small break, she took an entire year away from the platform, and since that penultimate video, stayed quiet for nearly another full year. During that time she says she went to therapy to address the issues she was struggling with privately and now finally feels confident that she's ready to say goodbye, though not without any emotion over the "breakup."
More important than giving herself closure as well as some closure to her fans, Laina also wanted to post one final video in hopes it will help others who struggle with anxiety and depression. She describes feeling shame for her need for therapy and medication, despite feeling nothing but support for others with the same medical needs. She even shared a clip from her video diary the day she picked up her first prescription for antidepressants.
Article continues below advertisement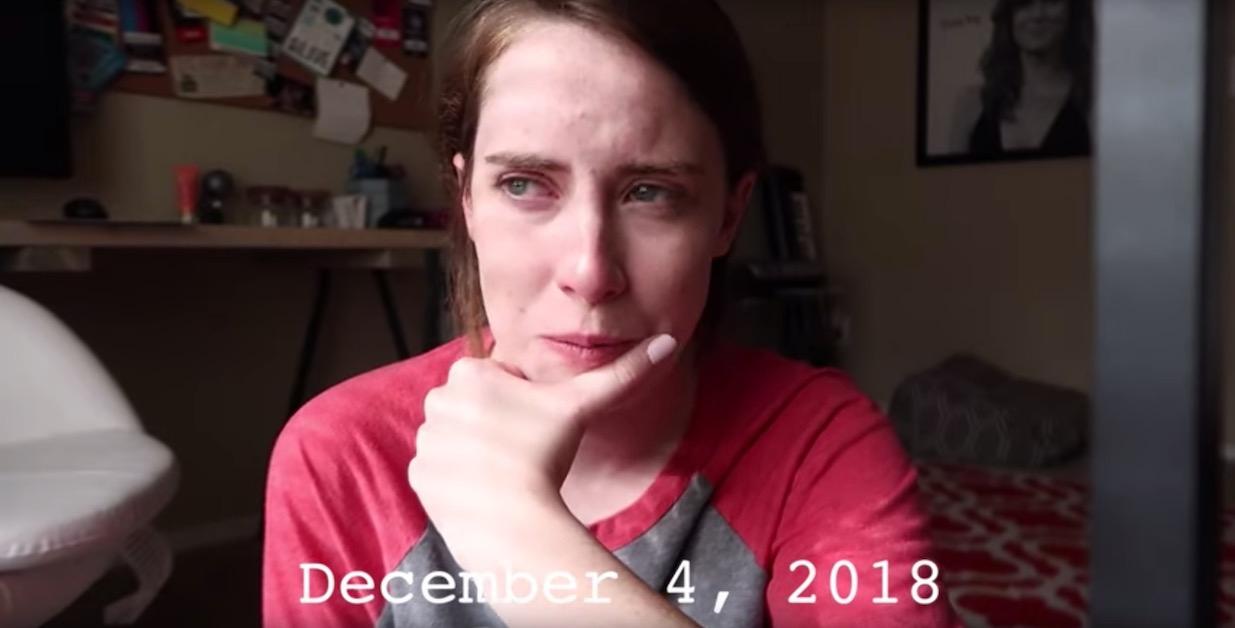 "I don't know why I'm afraid to take it," she says in the December 2018 diary clip the day she picked up her meds. "I think having to face that I'm not OK on my own is hard," she says. "it makes me feel weak for some reason, it makes me feel... I don't know, I'm just not OK."
Article continues below advertisement
Laina's struggle with shame over her mental illness is one a lot of people who have grappled with similar struggles have experienced. But now she realizes it was the best thing she could have done for herself. "One thing that really helped me to accept the fact that I needed it was seeing people talk about it," she says.
One of the people she cites as helping her find acceptance is Kristen Bell, who spoke candidly about having been on antidepressants for years when she appeared on Sam Jones's Off Camera Show.
Article continues below advertisement
Finding and implementing a treatment plan for her mental health and reaching a point where she no longer feels shame for needing medication has inspired her to reach out to others who may be grappling with the same issues because "at the end of the day, you are alone with you and your own thoughts and you need to love yourself." Laina got emotional after saying this and added, "I think I needed to hear that one come out of my own mouth, for some reason."
Article continues below advertisement
Laina then shared a tearful goodbye to her 1.2 million followers.
Aside from the mental health issues she was struggling with, Laina says she has grown up a bit, which has shifted her priorities and altered her relationship with the platform to the point where her feelings toward it were more positive than negative. "How does it feel to be broken up with by the Overly Attached Girlfriend?" she joked to her audience.
Article continues below advertisement
But she gave fans one of the sweetest and tenderest breakups imaginable, thanking them for their kindness and the opportunities they opened up for her. "It's all because of you guys and your support," she says. You gave me a confidence that I didn't have before YouTube, you have given me experiences that you don' t even know you've given me," she says.
"While this is really sad, I promise you that I know this is the right decision." She ended the video with "a fun, probably sad little montage of our time together, set to some music." The compilation is set to "I Will Remember You" by Ryan Cabrera.
So, even though that's all she wrote for Overly Attached Girlfriend on YouTube, she assures fans they can still follow her on Twitter and Instagram — as long as they don't follow her in real life.
If you or someone you know needs help, use SAMHSA's Behavioral Health Treatment Services Locator to find support for mental health and substance use disorders in your area: https://findtreatment.samhsa.gov, or call 1-800-662-4357 for 24-hour assistance. Laina also recommends Crisis Textline. You can text HOME to 741741 to receive free, 27/7 crisis support in the U.S. and U.K.