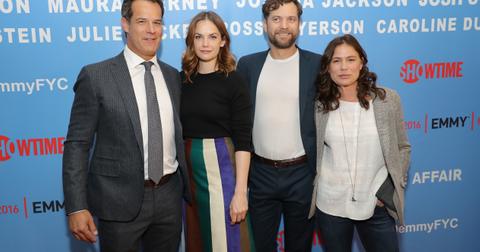 'The Affair' Fans Still Aren't Over Ruth Wilson's Shocking Exit as Final Season Approaches
By Samantha Faragalli Younghans
The final season of The Affair is quickly approaching, and as loyal fans gear up to say goodbye to the hit show, they have a slew of burning questions about the cast and more. But with Season 5 right around the corner, they know they will be missing one of the series' main characters. So, why did Ruth Wilson leave The Affair? Scroll down to find out!
Why did Ruth Wilson leave The Affair?
While Hollywood faces are typically open about why they exit shows, Ruth Wilson was not. In fact, in a CBS This Morning interview with Gayle King, she revealed: "I did want to leave, but I'm not allowed to talk about why."
When Gayle followed up by asking her if it had anything to do with equal pay, she replied: "I've never complained to Showtime about pay parity."
There were major suspicions that her departure was due to salary after her February 2018 interview with Radio Times, especially because she wouldn't give a clear reason as to why she left. "I definitely get less money than a male in my situation would. Definitely," she said at the time.
She then insisted that her co-star Dominic West makes more than her. "Yeah. I think so. Certainly when I signed up to that project, I would have got paid less. Then they [the producers] might argue, 'Well, he's already done a major American TV show so he's already got a level.' But even after a Golden Globe I'm not going to be on parity," she said.
"So he definitely gets more than me. I mean, I don't know what the figure is, but I'm sure he does," Ruth added.
But she never questioned him, she claimed. "It's sort of funny," she said. "It's quite hard to bring that up in a way. But it needs to be an open discussion and men need to help us out. I don't want more money, I just want equal money. Which means men have to take less."
What happened to Ruth Wilson's character, Alison Bailey, on The Affair?
During the shocking August 5, 2018 episode of The Affair, Ruth's character, Alison, was tragically killed off the show after a lifetime of heartbreak and tragedy.
She was murdered by her married boyfriend, Ben, and then her dead body was thrown into the ocean. However, her death was deemed a suicide.
And her death was long-planned even though fans were shocked. "Ruth wanted to leave the show. That was a request, so that was decided basically before we started writing," showrunner Sarah Treem revealed to The Hollywood Reporter. "It wasn't a discovery of any kind. That was very deliberate. And actually, we shot all of her work first. Her whole storyline was shot before we shot anything else."
Will Ruth Wilson return to The Affair for Season 5?
As far as we know, Ruth will not be coming back to The Affair for Season 5. She has not spoken out about it, and we imagine at this point she won't, especially because her character was killed off. Here's hoping for some flashback scenes, though!
When does The Affair return?
The Affair returns on Sunday, August 25 at 9 p.m. EST on Showtime. We cannot wait to see how the series concludes!